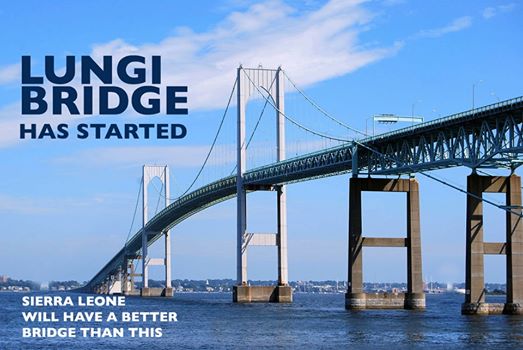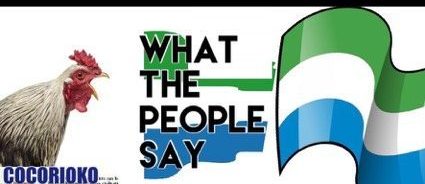 By Pro James Panga Massaquoi
When the government finally signs the proposed Lungi Bridge project which is estimated to cost a whopping $2.1 Billion United States dollars, it would become Sierra Leone's largest and most ambitious infrastructural project to date.
Feedback from the public on the aftermath of the commissioning of the bidding process is nothing good to write home about as many have described the project as unnecessary at a time when the government itself has labeled the economy as moribund and the 'worst since independence'.
The bridge is going to be six lane, 8 kilometers long from Lungi to Government Wharf with a construction period of 4 to 6 years.
According to Africa Confidential Report, some investors who were invited were asked to pay $200,000 for sight of the initial plans of the project. It's still unclear how many paid this amount. Some even hinted at corruption for the change in the initial cost of the proposed bridge from $800,000 to $1.8 billion and now $2.1 billion.
The design life of the bridge is 120 years, with potential to create 5000 jobs every year. The country, based on estimates, will benefit $11.2 billion in 25 years.
Many have described these projections as bogus and the entire project as unnecessarily expensive and a white elephant.
Comparatively, this project will make Lungi Bridge one of, it not, the most expensive bridge in the world. It definitely would be the most expensive in Africa.
"The Lungi bridge project is a brilliant idea but the cost of the project doesn't make sense given the economic woes and hardship people are suffering in this country," a lecturer at Njala University College said.
"Even when you compare the cost of this proposed bridge to other metered bridges around the world, it just doesn't add up why we need to spend that HUGE amount of money even at no cost to government, which is clearly misleading," he opined.
According to analysis, $2.1 billion which is the cost of the bridge is Le18 Trillion Leones and we need to provide a sovereign debt guarantee. Granted the project model is a BOOT which is to Build, Own, Operate, & Transfer and the cost will be recouped from the toll. The unanswered question is how much people will pay for it? "Our great great grand children will have to pay for this lack of discretion".
Our lecturer who is an economist noted that $2.1 billion dollars can build 150 ultra-modern hospitals; 2000 State Farms (No more importation of rice); two hundred 30 storey buildings to house 120,000 civil servants; 44,000 New Primary schools and 1,100 New Universities.
Why would the world's 5th poorest country in the world want to construct a bridge with $2.1 billion United States dollars? This proposed Lungi Bridge is 7 times
more expensive than the canceled Mamamah Airport project which was estimated to cost $400 million United States dollars.
Please see list of the world's most expensive bridges: 👇🏿👇🏿👇🏿👇🏿👇🏿👇🏿👇🏿
*Freeway Durango – Nazatlan and Baluarte Bridge – $1.46 Billion.*
*Jiaozhou Bay Bridge: Shangdong, China – $1.45 Billion.*
*Incheon Bridge: South Korea – $1.55 Billion.*
*George Washington Bridge, New York City – $1.1 Billion.*
*Cooper River Bridge, South Carolina – $836.9 Million.*
*Tacoma Narrows Bridge, Washington – $827.7 Million.*
A very big concern we as Sierra Leoneans must raise is, some of us are not too frown over the $2.1 Billion project that the SLPP government want to implement but the related life span of that very project which was estimated at 120 years which is relatively depreciable to the said amount. The project finishing/accomplishing period was estimated for about 4-5 years approximately, and the project contractors will be receiving a daily amount from all categories of vehicles tha
t uses that very bridge as transit point for 35 years consecutively.
This most expensive bridge in the whole of Africa will last for only 120 years whilst other lesser expensive bridges both in Africa as a whole, including some colonial bridges in Sierra Leone last for more than 600-700 years.
We are here jubilating and jumping that the current president is doing extremely well than his predecessor not knowing that they are doing all this at our expenses.
It's high time for us all as Sierra Leoneans to be wise, let's stop accepting fooling by politicians, because they are only there to enrich themselves and their familie.