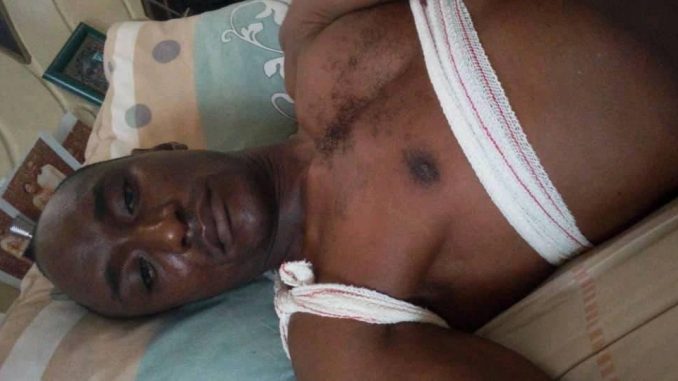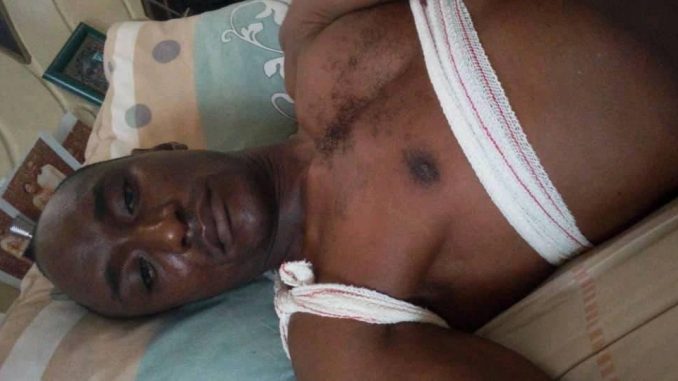 Hon Musa Fofana of C4C one of the victim's of yesterday's brutal assault on peaceful citizens who went to receive the Leader of C4C party. Chief Alhaji Sidique Sam Sumana. .God save Sierra Leone
Since he came to power last year, Maada Bio has engaged in systematic terrorism and violence against the people of Sierra Leone. He has turned the Police —A previously trained force in delivering efficient security under postwar circumstance– into a devillish force that is now only good at beating, injuring and maiming innocent citizens and firing teargas and live bullets at opposition party offices crammed with people.
The latest victim of police brutality under the present President Bio oligarchy is  former Vice-President, Alhaji Sam Sumana , who and his supporters were teargassed and violently refused entry into Port Loko District after he returned home from an international trip.  The report of this latest outrage by President Bio can be read in this newspaper and various other social media platforms.
President Bio is slowly pushing back Sierra Leone back into war and the international community, despite having their agents in Sierra Leone who are seeing all these atrocities and acts of impunity , are silent, though they know that it was these same violations of human rights that contributed to the last war.
The latest Police statement says that the Police stopped ex-VP Sam Sumana from entering Port Loko because he did not have a permit.
COCORIOKO  is at a loss to find where it is stated in the Public Order Act 1965 that a citizen needs a permit to enter a town . Only last week, the present Vice-President Mohamed Juldeh Bah entered Port Loko and staged political rallies. Why was he not asked for a permit ? Is it that there are now two laws for citizens of Sierra Leone depending on their political affiliation ?
The silence of the international community is stupefying to Sierra Leoneans. And if this nation goes back to war, it will be one of the major factors that will indict our international stakeholders and moral guarantors of peace for not handling the postwar dynamics in Sierra Leone well.