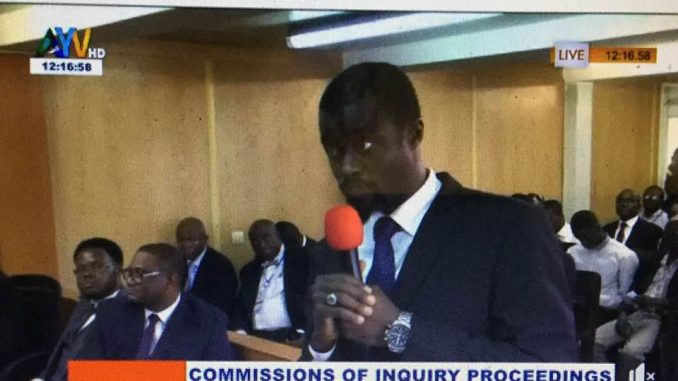 BY AMARA SAMURA
Lawyer Ady Macauley representing Palo Conteh and Madina Rahman in the ongoing Commissions of Inquiry submitted that his clients did not show up because they only knew about their appearance in 24hrs and the absence of the rules of evidence.
Macauley will have to file in for an adjournment to enable him and his clients prepare adequately to face the commissions.
[2/11, 12:10] Amara: The Former Head of the EOC, Dr. Bash -Taqi appeared before the Justice Biobele Georgewill Commission of Inquiry without a legal representation.
He was advised by Justice Georgewill to go and get a lawyer to defend him.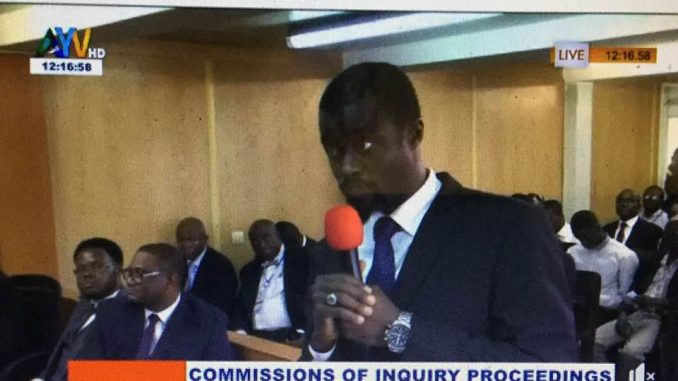 Witnesses in the ongoing Commissions of Inquiry have testified that billions of Leones were used during the Ebola scourge without any supporting documents.
This is in relation to Inquiries into the Emergency Response fund during the deadly virus led by Alfred Paolo Conteh.
[2/11, 13:02] Amara: Brima Thullah, Archivist for the ACC is in the dock to submitt Asset Declaration Forms for Ministers, Dept Ministers and other govt appointees that served between 2009 to 2018.
These are forms that were filled upon entering office.
According to Thullah the ministers and all other govt officials are yet to submitt their exit asset declaration forms , which is due in April this year.
[2/11, 14:04] Amara: Update on COI
Prosecution lawyer R B Kowa has now submitted his second witness,
Raymond Coker, who is the Deputy Accountant General at the Ministry of Finance.
Coker has submitted the payroll of former President,Vice President and other govt appointees.
Lead State Counsel in Commission No 2 has submitted the payroll as an exhibit.
However Lead Defence Counsel Lansana Dumbuya is still protesting that his clients should have received these documents before hand.
[2/11, 14:35] Amara: Update on COI
At Commission No 3.
Justice William Attugba has adjourned till tomorrow. He will resume tomorrow to give a ruling on whether the Commission should sit or not.
Lead Defence Counsel Lawyer Sorie Africanus Sesay says the commission should not sit because the rules of evidence are not in place as prescribed by Section 150 of the 1991 Constitution.
Lead State Counsel Musa Mewah argues that the defense should go to the Supreme Court to raise this matter.
[2/11, 15:35] Amara: Update on COI
As part of his testimony, Ibrahim Swaray said he was not involved is several key procurement decisions that were made by the then Minister of Health and Sanitation, Miatta Kargbo.
Firstly, he said his professional advice was not sought on the construction of the Ebola Treatment Center in Port Loko that costs more than Le 2 billion .
He also didnt know about the decision to give the contract of building a 90 bed treatment center at Kerry Town which costs Le. 1 billion 750 million. The above two contracts were awarded to CL Group.
Thirdly Swaray says he wasn't involved in the procurement of 20 ambulances. According to him, The then Minister decided to send Kawusu Kebbay to Dubai to negotiate on behalf of the country, breaking procedures in the process.
---
This was what transpired.
By Alimamy Issa Kamara
1. Ady Macauley Esq. announced representation for Madam Rahman and Alfred Palo Conteh.
2. Ady Macauley Esq. Submitted that he is taking a Jurisdictional Objection to the proceedings of the Commission of Inquiry with respect to his clients being examined or inquired into on grounds that the Instrument that established the COI did not comply with Section 150 of the 1991 Constitution of Sierra Leone.
3. He Further made an application pursuant to section 124 (2) of the 1991 CoSL for the Sole Commissioner to stay proceedings and refer the issue objected to, to the Supreme Court.
4. The Sole Commissioner asked Ady Macauley which rules of procedure of the COI he is relying on in taking the Jurisdictional Objection. Ady Macauley replied that there are no rules as the RoCC as prescribed by section 150 of the CoSL.
5. The Sole Commissioner asked Mr. Macauley why he did not file papers before taking the objection. Ady Macauley replied that his client were only informed of their Appearance today on Saturday Night via radio and social media and so did not have time to file the necessary papers. The sole Commissioner urged Robin Mason for the state to make sure that persons of interest are accorded fair trial by being notified of appearance well in time to enable them prepare their case.
6. Ady Macauley Contineously Objected to the Juriadiction of the Commissioner whenever any evidence is being tendered.
The Bottom Line is Alfred Palo Conteh and Madina Rahman did not attend the COI.