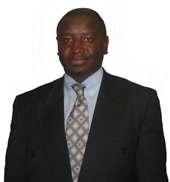 Some members of the Concerned Citizens for the Restoration of Democracy in Sierra Leone–A powerful lobbying group that helped to build international concensus for  overturning  the 1997 RUF/AFRC  coup-yesterday called for the arrest and prosecution of former NPRC Junta leader Maada Bio for alleged threats to overthrow a government in Sierra Leone.
Maada Bio this week in Freetown threatened that if the opposition All People's Congress ( APC )  returns to power following the 2007 elections, he will overthrow it again.
Cocorioko Publisher and Editor-In-Chief Leeroy Wilfred Kabs-Kanu , Morgage Banker and activist, Foday Mansaray and Proprietor of the America-Africa Delivery Services, Mr. Alex Mansaray , three of  the leading officials of the Concerned Sierra Leoneans organization,  are at the forefront of the protest against Bio's dangerous and terroristic threats , which have the potentials of destabilizing the country and plunging the country once more into another war.
The three officials had a meeting and released this statement to the press afterwards :
"As per our meeting today,  please deliver this message to Maada Bio and let it be known to all those who will read this newspaper that the Serra Leonean people  are really outraged by the answer given by Maada Bio in a recent interview."
"This is an attack on the peaceful existence of the Sierra Leonean people. This  is an attack on the very existence on the rule of law.  Maada Bio's comment went beyond imagination and demonstrated what  people like Mr. Bio  will  do for power. This in fact is a crime amounting to treason  for  which Mr Bio  should be arrested and tried. He should be used as  an example that barbarism, rampant corruption and disrupting the peaceful  existence of Sierra Leoneans have no place in  the civilized world. Maada's  junta soldiers were  the very ones who  infiltrated  the military and turned  the army upside down through Foday Sankoh and  a bunch of idiots to bring Sierra Leone down to her knees through a bloody 12 years war and a lost generation for the next 50 years. Is this the kind of people  who want to rule Sierra Leone ?"
"At this junction, we the people will post a web page as well as establishing free phone lines  to  present to His Excellency  the President , Dr. Ahmad Tejan Kabbah, our demands  to bring Mr Maada Bio to justice.This should at this point interest all those who love Sierra Leone — especially those who swore to uphold the rule of law , to prosecute`this incident and to take all necessary precautionary measures to send a strong message that Sierra Leone's  democracy is here to stay."
"Just this statement by itself is enough to send enough doubts in potential investors interested  in Sierra Leone that our country is not safe."
"We the people  also want to know more about Bio's real estate holding here in America and Ghana  and what his real relationship  is with his  so -called Ghanaian friend. We are further requesting the U S State Department  TO TAKE A CLOSER LOOK AT MR BIO'S  LINKS TO AL-QUIEDA DURING  HIS FORMER MILITARY GOVERNMENT'S  RULE FOR 3 YEARS. "
Below is a transcription by the SALONE TIMES  newspaper of the statements from Maada Bio that have caused such anger against him. He made the statements during a panel discussion and Call-In Program on one of Freetown's FM  radio stations.
CALLER: Bio took arms to overthrow a constitutionally elected government.
Now he feels it's fair for him to ask people to democratically elect him.
Secondly, if it's democracy he's talking about how can he justify human
rights abuses such as the killing of 21 (sic.) people without justice,
without going to court? Does he think the people are fools?
BRIG. (RTD) BIO: I'm sure that the person (the caller-ED) is an APC
supporter. I've never regretted overthrowing the APC because the APC at
that time was not a democratic party .  it was an authoritarian government
which was responsible for most of the problems we face today. It laid a
very strong foundation for the problems Sierra Leone faces today. It caused
people to "toe line" for rice and petrol, it caused the war…If that APC came back
today and did the same thing, I'm ready to overthrow
them again.
them…There's no way I regret overthrowing the APC and it's one of my
greatest achievements.We have the new APC and we have some very good  people in there. We will
encourage them to be part of the new democratic dispensation.Talking about the 29 people (executed), as a member of that government (the
NPRC-ED), I take collective responsibility but it was a decision by an
individual, as well-stated in documents .
COCORIOKO  is working on an exclusive interview with Maada Bio on the issue at hand and his Presidential aspirations.