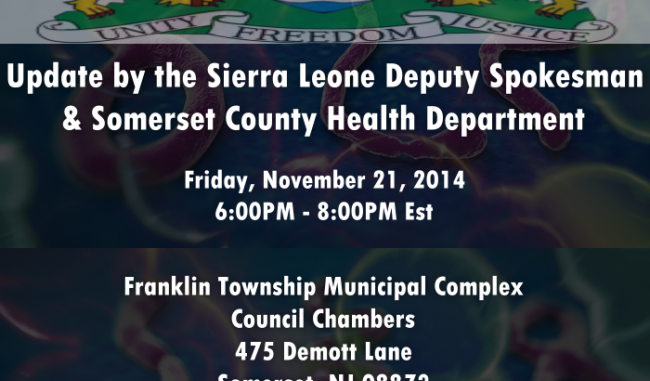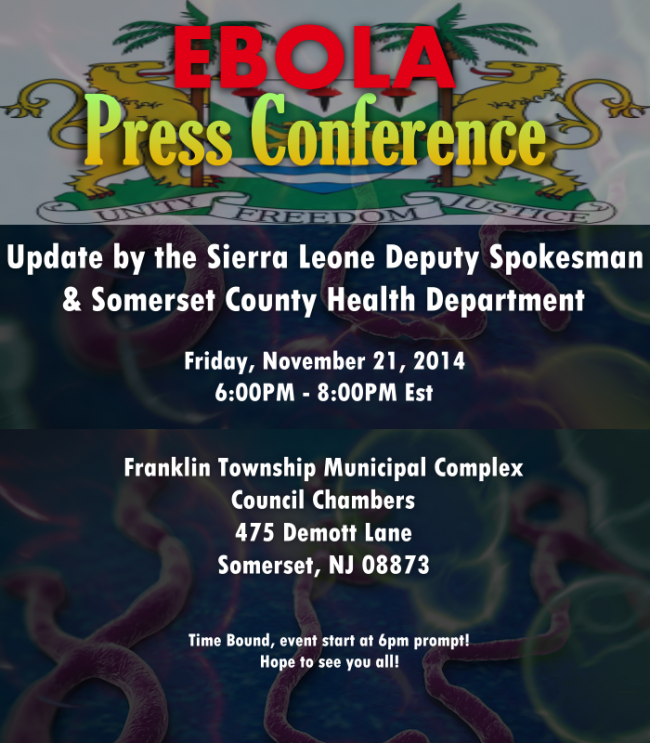 CONCERNED CITIZENS OF SIERRA LEONE FIGHTING AGAINST EBOLA
November, 15th 2014.
                                                                PRESS CONFERENCE ON EBOLA
The Concerned citizens of Sierra Leone in New Jersey will be hosting the Deputy Government Spokesman of the Republic of Sierra Leone, Mr. Agibu Jalloh, at a PRESS CONFERENCE to be held on Friday, 21st of November, 2014, from 6:00pm to 8:00pm prompt at Franklin township Council Chambers : 475 DEMOTT LANE. SOMERSET. NEW JERSEY 08873.
A presentation on the outbreak of Ebola in Sierra Leone, challenges, achievements, government intervention, the economic and social impacts, international support etc will be made. The program will be concluded with a question -and- answer session which hopes to address concerns, questions and the risk associated with the scourge.
For further details please contact
Hon. Leeroy Kabs kanu , 732 763 8981
Mr. Foday Mansaray 732 208-6100            Dr Victor Fakondo  732 4858384
Mr Dauda Mansaray 7328464682               Mr Hindolo Bannett 848 5654783
Ines Konjor    732586156                    Mr. Melborne Garber 609 9158507
Mr Pavi Jalloh,  7329175628                        Mr. Nabe Tarawally 7322071490
Ms. Fanta Kallon,  7326721435                    Mr. Alimamy Turay 732 7634779
Mariama Fadika                                              MS Susan Bona 570 9262669
Alpha Alhassan Kanu 7328034700              Mr. A H GABISI  732 5522390
DJSLY 6784997759                                         Ms. KADIE KAY 908 3428176
Please bring your family and friends to this all important press conference.
! THANKS FOR YOUR SUPPORT!