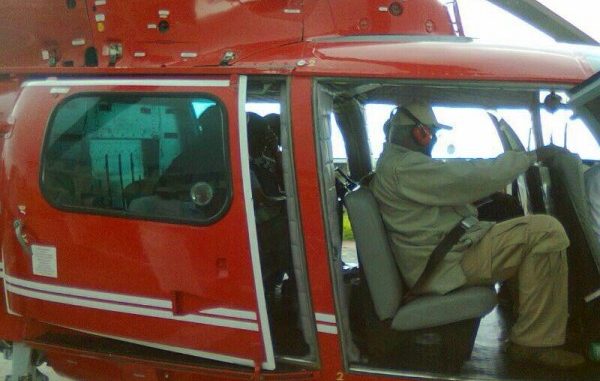 By KABS KANU :
He has certainly booked his place in the pantheon of Sierra Leonean heroes and by the time this is all over, three characteristics that epitomize his personality will be cause for celebration –Courage, tenacity and positive action.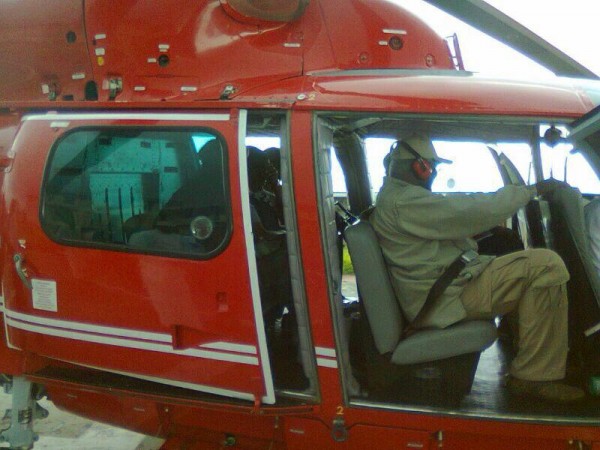 PRESIDENT KOROMA IN A HELICOPTER HEADING FOR THE EBOLA HOT SPOTS . THE HELICOPTER WAS LATER FOUND TO HAVE MECHANICAL PROBLEMS. PHOTO CREDIT : STATE HOUSE
He will be IMMORTALLY known as the President who presided over the nation when it was hit by its worst crisis ever, an excruciating crisis that threatened the future of the nation .But more importantly, he will be known as the President who led the nation through that crisis to victory, a feat that often provides Presidents a special place in the history of their countries. WHOEVER BELIEVES VICTORY OVER EBOLA WILL NOT MAKE PRESIDENT KOROMA A HERO ONCE AGAIN HAS NOT STUDIED WORLD POLITICS.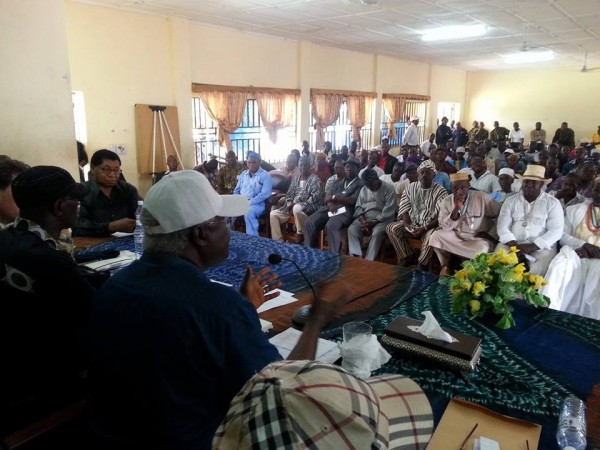 PRESIDENT KOROMA ENGAGING COMMUNITY LEADERS , CHIEFS AND THE PEOPLE : PHOTO CREDIT : STATE HOUSE
Some of the most famous world leaders whose names feature prominently in their nation's roll-call of heroes — war time President George Washington, who even became the first ever head of state to become a prisoner of war; First and Second World War leaders F.D. Roosevelt and Harry Truman of the U.S and Winston Churchill of Britain , earned their fame and immortal respect because they led their countries to victory from difficult situations . President Koroma will earn the same distinction when Sierra Leone would have defeated the ebola scourge. Nations a;ways lionize and consider heroes Presidents who extricate them from intricate situations. The opposition and anti- EBK  zealots will not like it, but this is the reality of life.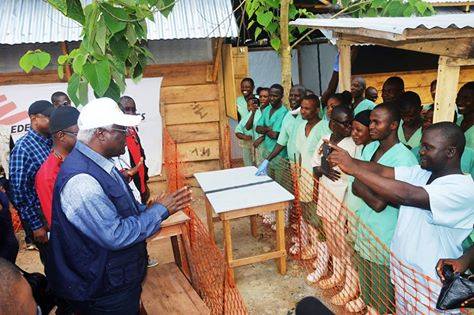 EVEN STUDENTS WERE NOT LEFT OUT IN PRESIDENT KOROMA'S SOCIALIZATION AND SENSITIZATION BLITZ : PHOTO CREDIT : STATE HOUSE
The President's detractors and antagonists will not like to hear this. The knives will be out once again for another "praise-singing article",(When they praise satanic elements and nation-wreckers it is not praise-singing and sycophancy ) but one has to be an idiot not to see victory in the making and who stands head and shoulders above all to inherit the praise. . The Devil's disappointment is God's appointment. Ebola ravaged our nation beyond measure and the tears are still in our eyes and will remain there for long. But what Satan meant for evil, God has turned into good. Praise be the name of the Lord. Through Ebola, we now have one of the best health care delivery systems in Africa, ready to combat any other outbreaks of ebola and other diseases.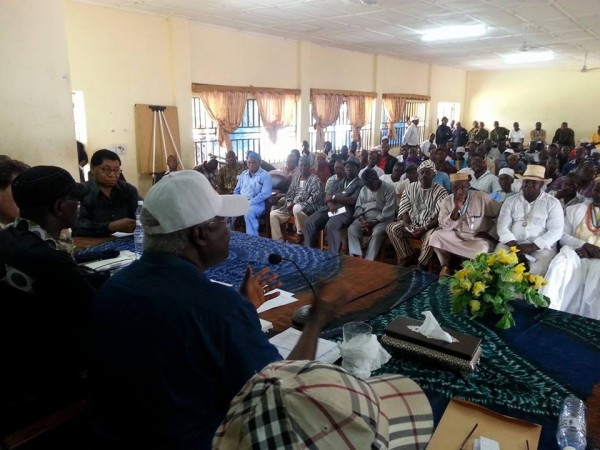 PRESIDENT KOROMA SENSITIZING CHIEFS AND COMMUNITY LEADERS : PHOTO CREDIT : STATE HOUSE
Whenever a nation experiences an ebola outbreak, there are always recriminations because no country is ever prepared for ebola. Even the great United States tottered on the brink of seeming defeat with a whole nation blowing its stack at the President, the Leader of the Free World, Mr. Barak Obama, when ebola struck the richest country in the world.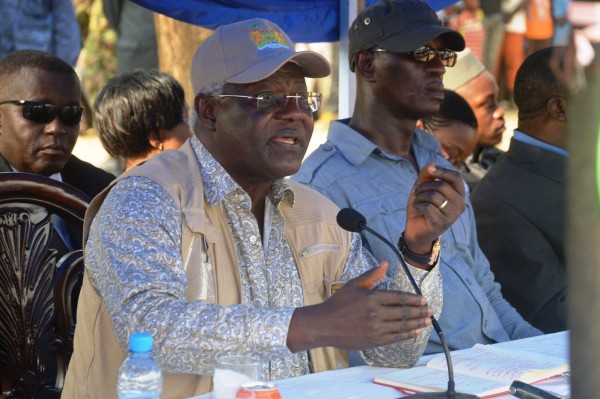 PRESIDENT KOROMA GEARING THE COMMUNITY IN THE PROVINCES FOR ACTION AGAINST EBOLA : PHOTO CREDIT :STATE HOUSE
It was therefore unsurprising when the President's detractors went overdrive with all kinds of accusations and allegations when Sierra Leone experienced the dreaded ebola outbreak. The opposition had been praying for an evil happenstance to take the President off course from his brilliant socio-economic and political initiatives. When Ebola came, their prayers appeared to have been answered , so who will be surprised at the extremes they went to lambast President Koroma for all they thought he should have done , some of them impracticable, like closing the borders ?
But qualities that define President Ernest Bai Koroma's character that this nation is beginning to admire are his courage , calmness and composure under fire. His detractors will not admit this, but all reasonable Sierra Leoneans know it is the truth.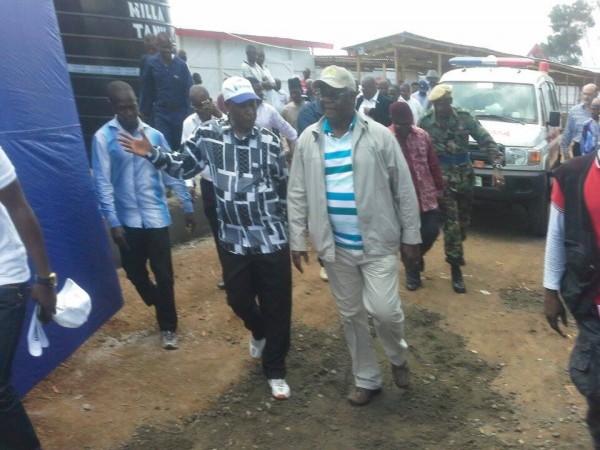 PRESIDENT KOROMA AND INFORMATION MINISTER ALPHA KANU, ANOTHER EBOLA FIGHTER, IN PORT LOKO : PHOTO CREDIT : STATE HOUSE
Any other President would have buckled and would have been unsettled by the din of antagonistic fuscilade of criticisms about the government's initial response. He would have joined them to play the blame game. He would have taken issue with the media for their unfair attacks and unsubstantiated allegations. However, those who have been closely observing President Koroma since the ebola outbreak will not help admiring him for the unruffled, but determined manner he immediately went to work to fight the monster. His courageous and composed attitude instilled confidence in his citizens that bad though the situation, ebola will eventually be defeated.
Like a true gladiator, the President unsheathed his sword and entered the enemy's battlements with ferocity and boldness. He sacrificed sleep ,rest and food in the interest of the nation. The enemy saw the blind determination and countered it with fierce devilry. Ebola proved a hard nut to crack, but President Koroma did not give up and pushed on, remaining undaunted and determined for victory. He put his life on the line , flew defective helicopters , and walked miles on rough terrain , shunning the concerns of those who loved and cared for him and went to the ebola hot spots to stir health workers and frontline fighters into action. As long as his nation survived, his own life was not reckoned that important. The welfare of his people was more important than his own life. That is the mark of a true leader. He lays down his life for his people.
My Roget's Thesaurus gives the synonyms of tenacity as : persistence, determination, perseverance, doggedness, strength of purpose, tirelessness, indefatigability, resolution, resoluteness, resolve, firmness, patience, purposefulness, staunchness, steadfastness, staying power, endurance, stamina, stubbornness, intransigence, obstinacy, obduracy, pertinacity. All of these adjectives fittingly describe mindset, body language and actions of President Koroma as he intensified his assault on Ebola.
The once sluggish international community started stepping up the plate. Ambulances and medical supplies started coming in. Goodwill nations started sending in doctors and health workers. The UN, the UK, China, Cuba the U.S. sprang to action. Everybody started moving. Holding and Treatment centres started going up. Still unsatisfied and giving nothing away, President Koroma for the second time in a couple of months went all over the country on a social mobilization tour to engage, paramount Chiefs, tribal authorities, traditional and religious leaders and the people to promote sensitization lessons about how to stop the chain of transmission. People were wondering when this President ever went to sleep.
The battle has not been easy. Fighting a devious, deadly and unknown enemy like ebola was never going to be easy. We have lost thousands of our most precious citizens and residents, including doctors, nurses and health workers. We have lost economically , politically and psychologically. But one thing we can say today is that there is now a light at the end of the tunnel. Victory is knocking at the door. The numbers are going down, though they fluctuate. Ebola is about to be beaten. With more cooperation from our people in adhering to protocols and precautions and more help from the international community , we will be ebola- free soon.
Thanks to the dramatic reduction in new transmissions, schools are reopening next month. Restrictions in movements of people are being removed.and slowly life will continue to return to normal.What the enemy intended for evil, God is slowly turning it into victory.
May God continue to bless, empower and strengthen our President, our leaders , our nation and our development partners. We are winning and soon we will be back to the Agenda For Prosperity.c