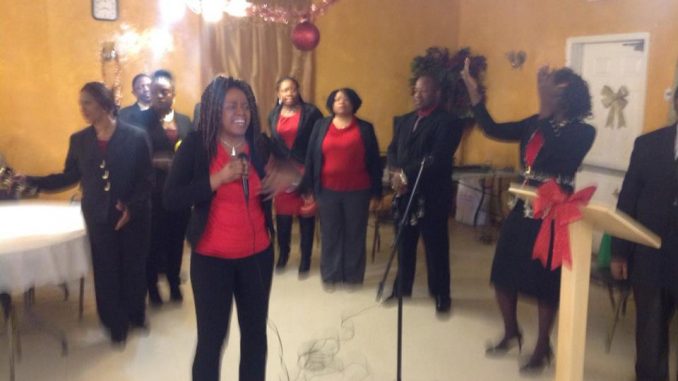 The Covenant Child World Evangelistic Ministry of New Jersey today Sunday December 23, 2012 held a grand  CHRISTMAS Service and dinner at the Caribbean Palace Hall at Franklin Township , Somerset, New Jersey. The worship service saw the church choir treat the congregation to some beautiful and melodious  carols which put everybody in the hall in the Christmas Spirit. This was then followed by a Christmas service during which Pastor Tigidankay Kabs-Kanu delivered another stirring sermon in which she preached about the birth of  the Lord and Saviour Jesus Christ, who came into the world to save the world from sin.
The worship service itself was followed by a grand and sumptuous Christmas Dinner provided by members of the church in their usual gesture of fellowshipping  not only in the Word of God and the Holy Spirit but with each other through regular feasts that help to solidify the  fraternal and spiritual bonds between members.  The dinner was huge with every imaginable Sierra Leonean, Caribbean and spanish dishes in conformity with the cosmopolitan character of the church.
The memorable occasion climaxed with members  of the church sharing Christmas gifts with  each other in line with the Christmas season's spirit of goodwill , love and sharing. The program effectively launched everybody in the hall into the spirit of Christmas.
WE BRING YOU A PICTORIAL DISPLAY OF TODAY'S CHRISTMAS SERVICE AND DINNER AT COVENANT CHILD MINISTRY, NEW JERSEY.
THE PRAISE AND WORSHIP TEAM OF THE CHURCH TREATING THE CONGREGATION TO MELODIOUS CHRISTMAS CAROLS THAT PUT EVERYBODY IN THE CHRISTMAS SPIRIT
PASTOR TIGIDANKAY KABS-KANU DELIVERS THE CHRISTMAS SERVICE SERMON 
MEMBERS WISHING EACH OTHER MERRY CHRISTMAS AFTER THE WORSHIP SERVICE
TIME FOR THE CHRISTMAS DINNER
MEMBERS ENJOYING THE CHRISTMAS DINNER
PASTOR LEEROY WILFRED KABS-KANU ENJOYING THE DINNER WITH BROTHER AHMED SESAY (POLLO) ON THE RIGHT AND THE ORGANIST BROTHER JONATHAN ON THE LEFT
SISTER ISATU KAMARA OF THE WOMEN'S FELLOWSHIP PRESENTS CHRISTMAS GIFT TO BROTHER FALLAH FOR THE MEN'S FELLOWSHIP ON BEHALF OF THE WOMEN . STANDING LEFT IS BROTHER SOLOMON VANDY. 
PASTOR KABS-KANU RECEIVES CHRISTMAS GIFTS FROM BROTHER POLLO