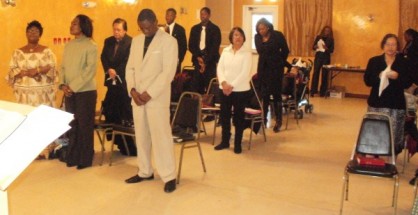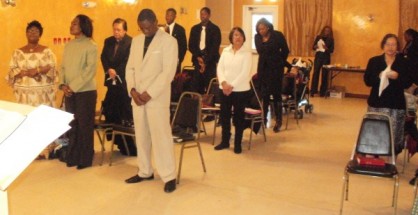 The Covenant Child World Evangelistic Ministry of New Jersey has spent man hours  praying  for Sierra Leone . Theprayers were conducted during the regular Sunday worship service of the church at the Caribbean Palace Hall in Franklin Township, Somerset , NJ  yesterday afternoon.
Pastor Tigidankay Kabs-Kanu told the congregation that this week  Sierra Leone will  be conducting crucial Presidential, Legislative and Local Council elections and that it was the duty of the church to pray God's grace and mercy over nations. She said that there was a need topray for the country because of disturbances that have already taken place between rival political parties. The Co-Pastor of the church, the Rev. Leeroy Wilfred Kabs-Kanu,  is a Diplomatic Minister  in  the ruling government in Sierra Leone headed by President Ernest Bai Koroma .
The Covenant Child Church asked God to lift up the nation and thwart every plan of the devil to bring chaos to Sierra Leone during the elections. The members prayed for God to touch the hearts of the politicians and their supporters to depend on dialogue and peaceful negotiations to resolve their differences and the country's problems. They besought God to help Sierra Leone's elections to go smoothly as the recent elections in the United States. They prayed fervently , binding the works of the devil and loosening ministering spirits to go to Sierra Leone and touch the hearts of the politicians and the people to make the elections day pass without any incidents.
The church also prayed for President Ernest Koroma and all the political leaders in Sierra Leone in accordance with 1 Tim 2;1-2  which exhorts  : "Therefore, I exhort first of all that supplications, prayers, intercessions, and giving of thanks be made for all men, for kings and all who are in authority, that we may live a quiet and peaceable life in godliness and reverence."
During the past months , Rev. Kabs-Kanu has been admonishing members of the church to keep Sierra Leone in their prayers as the country goes into elections on November 17.