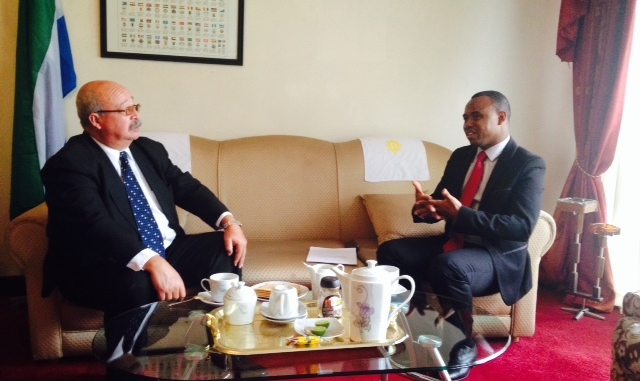 Sierra Leone's Ambassador Extraordinary and Plenipotentiary to the Federal Democratic Republic of Ethiopia His Excellency Mr. Osman Keh Kamara, on Wednesday 24th September 2014 received in audience Cuba's Envoy to Ethiopia, Ambassador Juan Manuel at the Sierra Leone Chancery in Addis Ababa.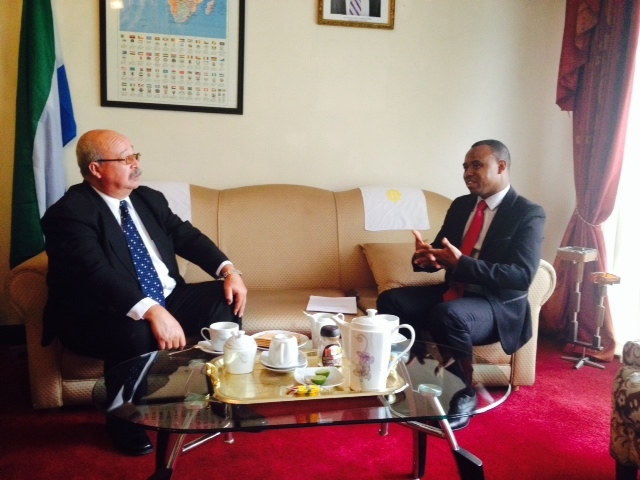 The overriding objective of the Cuba's Envoy visit was to update Ambassador Kamara on the arrival of the Cuban medical doctors to Sierra Leone and to further strengthen the already existing cordial bilateral relations between the two Missions and sister countries of Sierra Leone and Cuba.
Ambassador Manuel articulated his country's long standing relationship with Africa, stating that it was their responsibility to aid the Government and people of Sierra Leone at this difficult period in the country's history. He briefed Ambassador Kamara about Cuba's annual 'Country Specific Resolution' to be presented at the General Assembly of the United Nations, soliciting Sierra Leone's support. He further expressed his country's desire for Sierra Leone to establish a diplomatic mission in Havana, in a bid to advance the bilateral relations between the two sister nations.
Responding, Ambassador Keh Kamara expressed gratitude on behalf of the Government and people of Sierra Leone for Cuba's significant support to the country and its latest contribution to the fight against Ebola Virus Disease. He commended Cuba for dispatching 165 experienced medical professionals to Sierra Leone to help combat the Ebola crisis.
Ambassador Keh Kamara reassured the Cuban Envoy of a continued collaboration and cooperation between the two Missions in Addis Ababa, as well as their respective countries. ''My Mission is more than determined to work with you in promoting our common interest and to also ensure that we pursue the desire of our Governments in the interest of our people,'' Ambassador Kamara affirmed. He also promised to forward Cuba's report on its annual 'Country Specific Resolution' to Freetown.
The two Ambassadors further discussed the possibilities to enhance exchange programmes relating to education, culture, trade and commerce.
Abdul Karim Koroma
Information Attaché
Embassy of the Republic of Sierra Leone
Addis Ababa
Ethiopia Email: akk23222@gmail.com