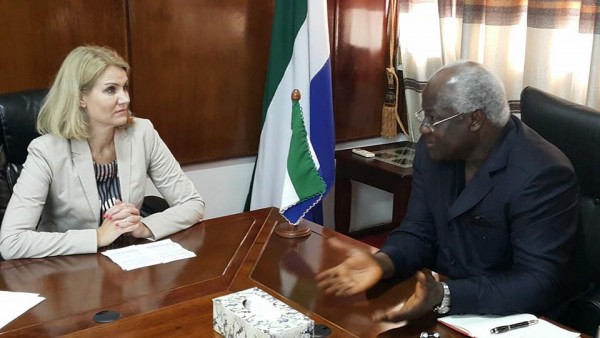 By State House Communications Unit :
Danish Prime Minister Helle Thorning-Schmidt has paid a courtesy call on President Ernest Bai Koroma at State House this afternoon, Monday 19 January 2015.
In her introductory remarks, deputy minister of Foreign Affairs and International Cooperation Dr Ebun Strasser-King said the delegation had visited a group of 19 Danish health workers working with the British at the 100 bed Ebola Treatment Unit in Port Loko and the Danish transport Ship that brought in 105 vehicles donated to UNMEER before coming to meet with President Koroma.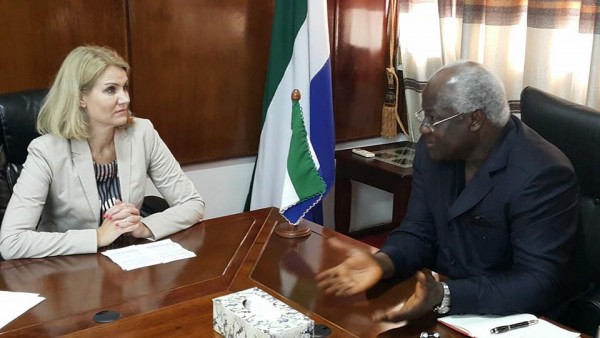 The visit, according to the Danish Prime Minister, is one of solidarity, friendship and assessment of the situation on ground. She offered her condolences for the loss of lives due to the outbreak and commended the president for his courage and leadership exhibited in the fight against the Ebola virus disease (EVD). She said that the visit is to show that Sierra Leone is not alone in this fight.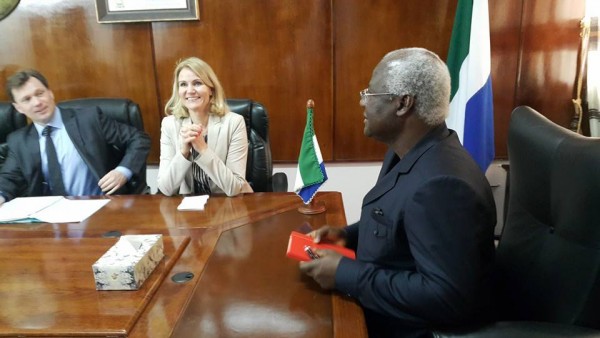 President Koroma heartily welcomed the Danish Premier and delegation and dilated on efforts government has made to reverse the situation. He noted that the visit is a testament that Sierra Leone should not be isolated and stigmatised as a result of the outbreak.
The president lauded the increase international response to the outbreak, and maintained that the virus is on the run but however cautioned against complacency and urged all to remain focused to sustain the fight against the virus. "We hope to be there very soon," he said, and added that government was anxious to roll out the reopening of schools as soon as possible.
He further pointed out that government needs to ensure normal hospital activities are resumed as more people are also dying of other diseases other than Ebola. "There is a lot of work ahead of us but we believe we are up to the task," the president maintained. He recalled that government was lauded for doing the right things before Ebola struck and was even considered to be a shining example for strengthening our democracy, building our institutions and developing the country.
The meeting was attended by the Minister of Health and Sanitation Dr Abu Bakarr Fofanah, CEO of the National Ebola Response Center (NERC) Major (Rtd) Alfred Paolo Conteh, Secretary to the President EB Osho Coker, State House Chief of Staff Saidu Conton Sesay, Presidential Adviser Professor Monty Jones, Gender Adviser Naasu Fofanah, and the Director General of Ministry of Foreign Affairs and International Cooperation Andrew Bangali.