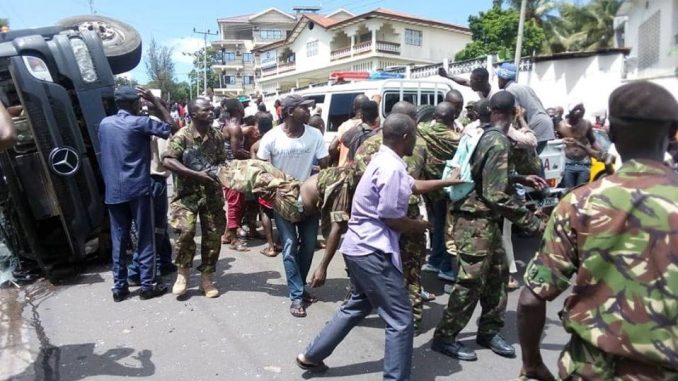 Today was a tragic day in the Sierra Leone capital , Freetown. Two separate accidents involving military and police trucks occured, killing as many as 16 people, including soldiers. We bring you the various reports on the two accidents by the Police, citizen journalists and the media , plus the photos. 
MEDIA ADVISORY FOR IMMEDIATE RELEASE
October 1, 2018

40 RSLAF PERSONNEL AND RELATIVES IN FATAL ROAD TRAFFIC ACCIDENT

WHAT: An INITIAL report suggests that forty (40) RSLAF personnel and their relatives have been involved in a FATAL road traffic accident this afternoon.

WHO: At least five (5) military personnel and three (3) relatives have now been confirmed DEAD while thirty-two (32) others have been admitted at the 34 Military Hospital, Connaught Hospital and Emmergency Hospital.

WHEN/WHERE: The road traffic accident occurred at about 3:00pm today along Spur Road in Freetown.

WHY: The cause of the accident has NOT yet been ascertained. However, the victims were heading for a funeral ceremony of a deceased soldier at the Military War Graves at Lumley.

Please note that the information are INITIAL details about the accident. For any update, you can contact the following:

1. Colonel Musa Bangura
Director of Public Relations/Information
Phone/WhatsApp: +23278 264 535

2. Captain Yayah Brima
Acting Staff Officer Grade 2
Phone/WhatsApp: +23278452 876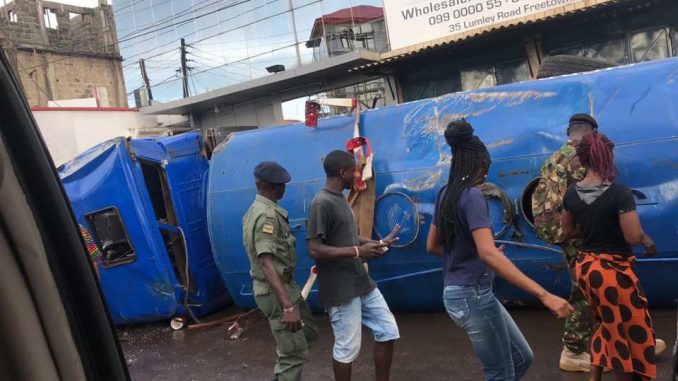 THE POLICE VEHICLE IN THE ACCIDENT
Another accident just happened towards Lumley Police. Police water bowzer. Brake failure. Casualty not known yet.
We need to take vehicle examination tests more seriously.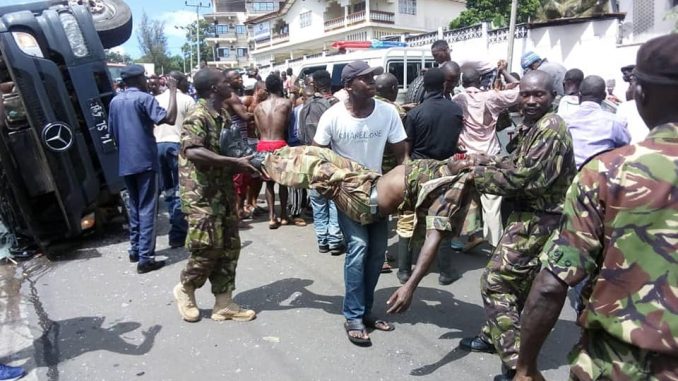 Photo News: 1 October 2018
Gruesome Accident Claims 15
A military truck reportedly lost control and crushed other vehicles this afternoon at Spur Road killing at least 15 persons while seriously injuring several others.
The cause of the accident was said to be due to brake failure from the military truck.
Both civilians and military personnel have been counted among the dead.
The Sierra Leone Army uses mostly old vehicles that are prone to road accidents as a result of their obsolete conditions.
Emergency services exist only in theory in the country where nothing works!
May the souls of the departed souls rest in perfect peace and best wishes of recovery for the injured victims.
Sierra Leone military truck flips over, killing 13
FREETOWN (Reuters) – Thirteen people were killed and at least 30 more injured on Monday when a military transport truck flipped over on a major road in the Sierra Leone capital, a military spokesman said.
The open-air truck was carrying more than 40 soldiers from their barracks to a funeral in Freetown when its brakes failed as it descended a steep hill. It toppled over and slid for more than 30 metres, Captain Yaya Brima said. Eight soldiers were among the dead.
"This is a real tragedy for us," he said by telephone. "We're currently investigating what could have happened to have caused one of our own vehicles to have failed in such a catastrophic way."
(Reporting by Cooper Inveen; Editing by Tim Cocks)