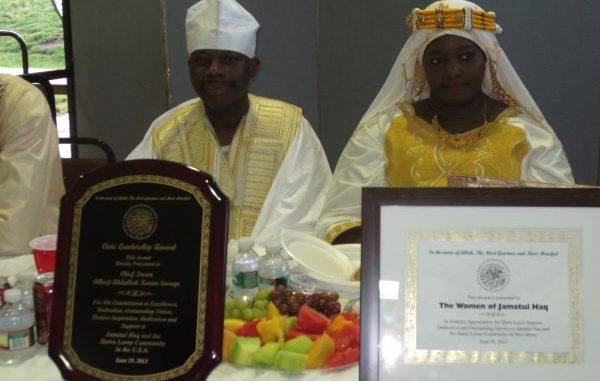 Death dealt New Jersey another stunning blow today –The third in a row in  one month –as  Haja Sally Savage, the wife of the Chief Imam of  Jaamatul Haq Islamic Jamaat , Alhaji Abdullah Karim Savage, passed away, leaving residents in another stupor of shock, disbelief and dismay.
The faithful and devoted wife of the Imam, who has been a pillar of support to the man of God , died after a brief illness.
The stunning news struck this afternoon while mourners were burying another resident, Mr. Mohamed Musa Dura Turay, who died on Sunday January 12, 2014, a day after the funeral of another community man, Mr. Michael Samba ( Brother of popular socialite , Dr. John Samba ) who had died on December 30, 2013.  The year 2013 ended as it started in New Jersey , with shocking deaths and 2014 has started replicating the past year .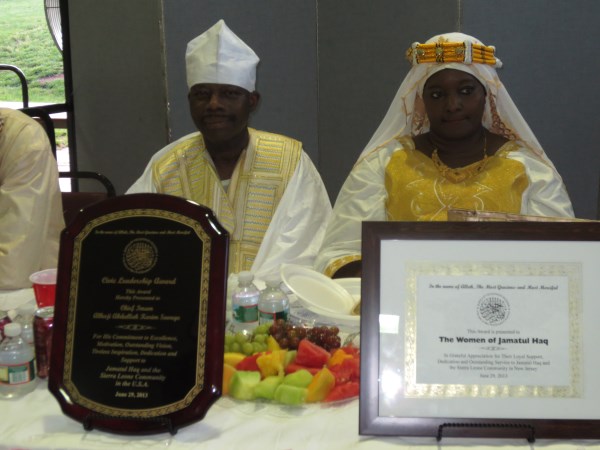 HAJA SALLY SAVAGE IS SEEN HERE WITH HER HUSBAND IMAM SAVAGE DURING HIS ORDINATION LAST YEAR AS CHIEF IMAM OF JAMAATUL  HAQ 
Many residents of New Jersey throughout last year lived in awe and disbelief at the frequency of deaths in the community and the situation does not appear to be changing. During the Independence Anniversary celebrations last year, muslims and christians got together to conduct an interdenominational prayer service to seek God's intervention in New Jersey for the deaths.
WE at COCORIOKO  wish to express our deepest condolence to the Savage and Rahman families for their irreparable loss.
WE BRING YOU THE INITIAL ANNOUNCEMENT OF THE DEATH OF HAJA SALLY SAVAGE THIS AFTERNOON BY MR. AHMED TEJAN KOROMAH  :
Dear Family,
Assalamu alaikum wa rahmatullahi wa baraktuh. (May the peace, mercy and blessings of Allah (swt) be upon you),
I sadly report the death of Haja Sally Savage nee Rahman wife of Alhaji Abdullah Karim Savage, chief Imam of Jamaatul Hag  in New Jersey. U.S.
 Our sincere sympathy goes out to the family, friends and the Aku Communities in Sierra Leone and the Diaspora.
May Allah (swt) grant her and all our dearly departed loved ones Al-Jannah / Insha-Allah – Armeen.
Wa alaikum assalam was rahmatullahi wa baraktuh.(And peace, mercy and the blessings of Allah (swt) be upon you)
Sympathy: Haja Balkisu Rahman: Tejan Rahman 732-207-6978 / Mrs Lambri Sesay nee Rahman – 301-774-6583
وَاعْبُدْ رَبَّكَ حَتَّىٰ يَأْتِيَكَ الْيَقِينُ
And worship your Lord until there comes unto you the certainty of death.