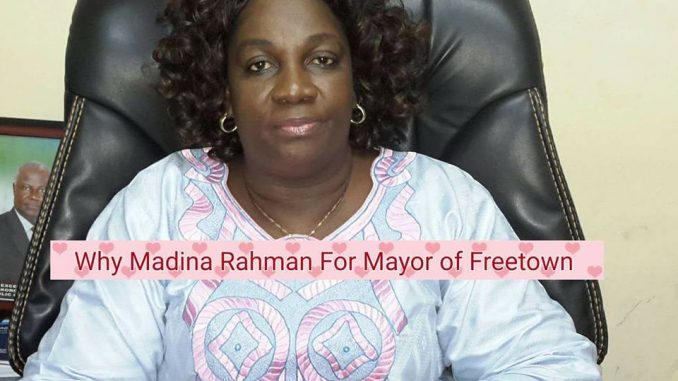 Madina Rahman is a Force to reckon with…
By Ranger
The erudite Deputy Minister of Health 1, Madina Rahman, is a charismatic personality who is not only innovative but has the innate and intense passion to serve humanity. Her love for humanity is unmatched, always zestful to ensure that the fundamental human rights of people are highly respected. It can be said, with all amount of certainty, that President Ernest Bai Koroma made no mistake in appointing to her current position she holds.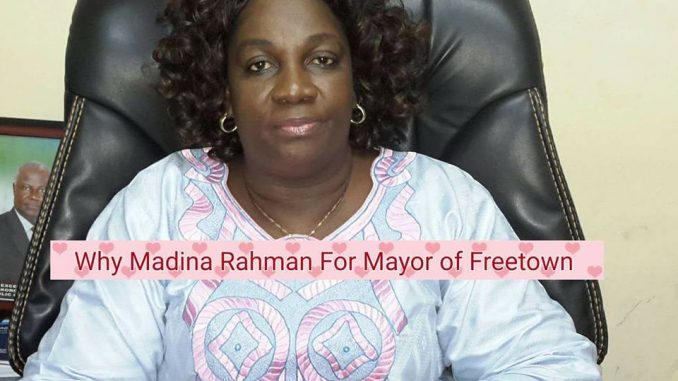 According to a latest vox-pop that was conducted to sound the views and opinions of people, as to whether she could be the best person to become the next Mayor of the Freetown Municipality, it came out evidently that majority believe that she is the most appropriate person that will positively transform the city and make it an envy within the sub-region, in her capacity as the next Mayor of the Freetown City Council (FCC).What came out clearly is that most are satisfy with her selfness pioneering and participation in executing various development projects in different communities in particular and the country as whole.
"We saw how determined she was in mobilizing support and heightening sensitization all which contributed tremendously towards overcoming the Ebola scourge that seriously engulfed this nation," an able bodied trader at Sani Abacha street intimated.
Another middle aged man confided that the Freetown Municipality is in a bad shape, saying it is very filthy, full of many mad people and lawlessness. "It is no surprise because the Mayor at the helm of affairs seems to be doing less in order to expedite various development projects that would have made Freetown a better place to live and a pride," he said further maintaining that the best explanation why residents in Freetown are not asked to pay local taxes by the FCC is simply because the institution has nothing to show in terms of development.
One cannot contest the hard fact that Madina Rahman is an icon in her own right,who has the innate ability to interact with different sets of people in society. A person with that God-given ability could be the best to head the FCC in order to provide the best leadership and bring various stakeholders together to transform the Freetown Municipality. She has been very vocal in championing various women issues in and out of the country which could best explain the reason why she is held in high esteem.
"Madina becoming our next Mayor could be a good gift for all of us," an old Creole woman gleefully said further delving into various achievements of the Health Deputy Minister concluding that Madina is indeed a force to reckon with. "Our young girls must emulate this great woman," she enjoined.