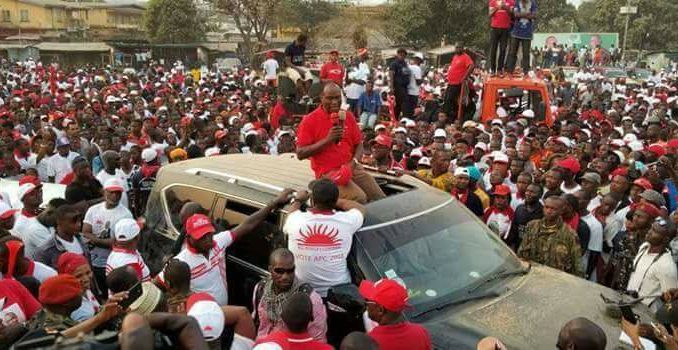 By Abubakarr Kargbo
"Development is a continuous process. Politics is not about talking only but much action for development," says Dr. Samura Matthew Wilson Kamara whilst addressing voters in the Moyamba District on Friday. The All People's Congress Parety, he said will ensure positive incremental productive continuation.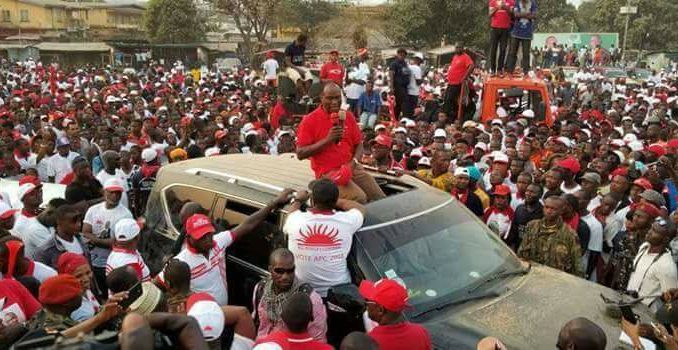 The APC Presidential hopeful with his campaign team visited strategic towns and villages in the district not only to convince the people to see reasons as to why they should vote in the APC, but to also get a first-hand knowledge on the challenges faced by the people, which his government is willing to address.

The party, he said is willing to take more development to the people, because, as he put it "APC is synonymous to development". "This is your time in the APC," he said, stating further that much employment opportunities will be provided to the people when the Mamammah Airport project commence. "We will build more roads and bridges under my government and will create more academic institutions to develop the country's human resource base," Dr. Kamara promised. He called on those going to school and others in higher learning institutions to work very hard because there are greater opportunities in the near future.

"We have firm belief in the development of youth and women. We'll formulate development programmes for their development," the APC Flagbearer said, and called on them to vote in the APC "All for All".
APC, he said, has no losers but all are winners. He admonished those who did not receive party symbols to support those who carry symbols and promised greater opportunities and rewards ahead. "The APC is not an ungrateful party. We are one family and we will cater for all," he noted.

Dr. Samura Kamara informed his audience that his government will take elected leaders to task so as to enable them work hard for their electorates. "I will commit myself to work for my people as I have always done," he said.
Dr. Samura Kamara visited Bradford Town in the Ribbi Chiefdom, Rotifunk, Barwuya, Shengay Towns etc.

Hon. Amadu Kanu who was awarded the parliamentary party symbol for Constituency 094, assured that he will once again hand over Ribbi and Bumpe Chiefdoms to the APC. "Constituencies 094 and 095 will be delivered to the APC in Moyamba District," he said.
He commended President Koroma's development projects in the Ribbi Chiefdom and Moyamba District. "We are happy that the Songo Junction – Moyamba Town road will be constructed soon," the Member of Parliament said.

Paramount Chief Charles Caulker of Bumpe Chiefdom commended Dr. Samura Kamara for his party's development activities in his chiefdom. Other Paramount Chiefs and Traditional Leaders in the various Towns and Chiefdoms visited assured of their support in the coming elections.