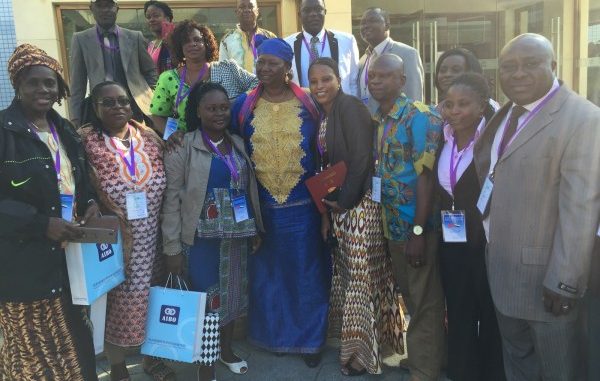 With an apparent end to the Ebola outbreak in Sierra Leone, the Chinese Government through the Ministry of Commerce (MOFCOM) and the Centre for Disease Control (CDC) on October 29th ended a three week-long training seminar for Medical Professionals from Sierra Leone and Liberia on Public Health Management and Disease Control and Prevention.
The training, which brought together 56 participants from the two sister Republics of Sierra Leone (26) and Liberia (30) was organized at the Academy for International Business Officials (AIBO) of the Ministry of Commerce, People's Republic of China.
Delivering a statement, Her Excellency Kumba Alice Momoh, Chargé d' Affairs, Embassy of the Republic of Sierra Leone, referred to the seminar as a   "fundamentally significant health training programme that bothers on public health management and disease control and prevention in Sierra Leone"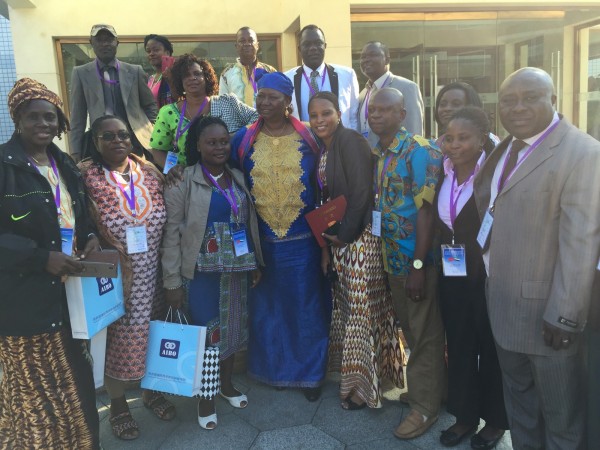 Speaking on training relevance, Madam Momoh said, being in the tropical region, Sierra Leone has a climate that is a suitable habitat for microbes and as such training of Medical Professionals in Public Health Management and Disease Control and Prevention is but a necessity for the country's growing population.
The training, she went on, could not have come at a more appropriate time than now, when Sierra Leone is still held in  fear, as a result of  the Ebola virus disease outbreak, whilst expressing thanks and appreciation to MOFCOM and "…the management of this training centre for the invaluable work in helping our medical sector."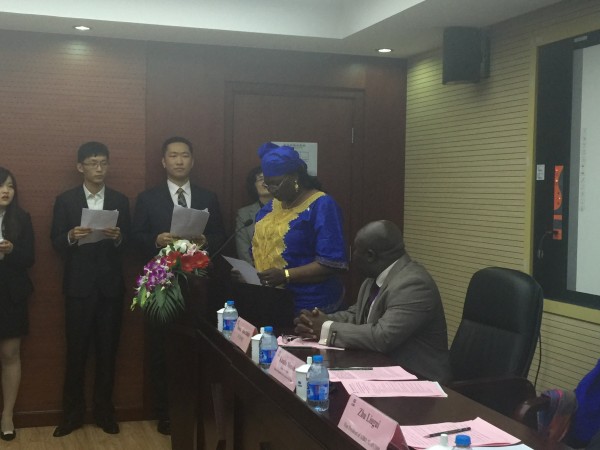 On the long standing bilateral ties between Sierra Leone and China, Madam Momoh said, the Chinese Ministry of commerce has been a great pillar in "fostering our friendship to maturity" as it has often intervened in Sierra Leone to help in her human resource development, including the health sector. "We want to assure MOFCOM of our continued support as an Embassy, in consideration of the immense support it has given on all fronts of the development aspirations of Sierra Leone."
Sierra Leone, she said, remains grateful to China for the timely intervention following the outbreak of the Ebola as it was "the first country to airlift required medical kit and personnel…boosting the morale of our nation, at a time when other countries were moving out. The Chinese support has remained with us, and continues even as we monitor the non-incident period down to the WHO time frame."
Madam Momoh called on the 26 Sierra Leonean Medical Professionals to make good  use of the knowledge gained during the training sessions, emphasizing, "…the relevance of this training would be made effective when our people experience the expertise you have received" referring to it as "a privilege we must harness to our advantage as a country."
In his remarks, Head of Sierra Leone Delegation, Rev. Dr. Thomas T. Samba, District Medical Officer, Western Area said, during the training sessions, they had the opportunity of listening to appealing and charming lectures about the Public Health Care Delivery System and cultural dimension in China, and "enjoyed the privilege of learning and understanding a fascinating spectrum of the historical, socio-cultural and socio-economic heritage of China."
Dr Samba, pledged, on behalf of the Ministry of Health and Sanitation, to assiduously  work towards the establishment of a functional CDC programme for Sierra Leone through various local, bilateral and multilateral initiatives.
Also making statements were Zhu Liugui, Vice President AIBO and Ms. Lou Guifang, Director of Executive Department of China-aid Training at AIBO. They all committed their continued support to Sierra Leone.
The delegation from Sierra Leone included Pharmacists, District Health Sisters (Kambia, Tonkolili, Pujehun, Adolescent and Child Health, Disease Prevention and Control); District Medical Officers (Kailahun, Pujehun, Bo, Western Area, Bonthe and Kono) and Medical Officers (Kenema Government Hospital and 34 Military Hospital).
The Delegation was hosted by the Embassy on Friday, 30th October where they were commended by the Acting Ambassador for their valuable contribution to Sierra Leone especially during the Ebola outbreak. The team should be arriving in Freetown 1st November, 2015.
John Baimba Sesay
Information Attaché
Sierra Leone Embassy
People's Republic of China
—

John Baimba Sesay
Press Attaché
Sierra Leone Embassy
7 Dong Zhi Men Wai Dajie,
Chaoyang District, Beijing
People's Republic of China
100600
*Tel: 0086-15010707051
* Fax:0086-1065323752*
TRUST AND LOYALTY ARE OF MORE VALUE TO ME!