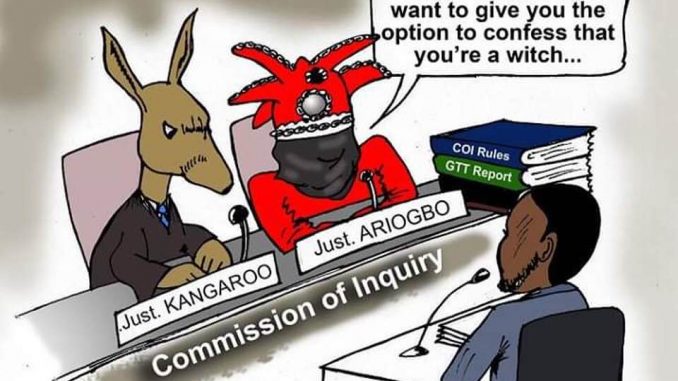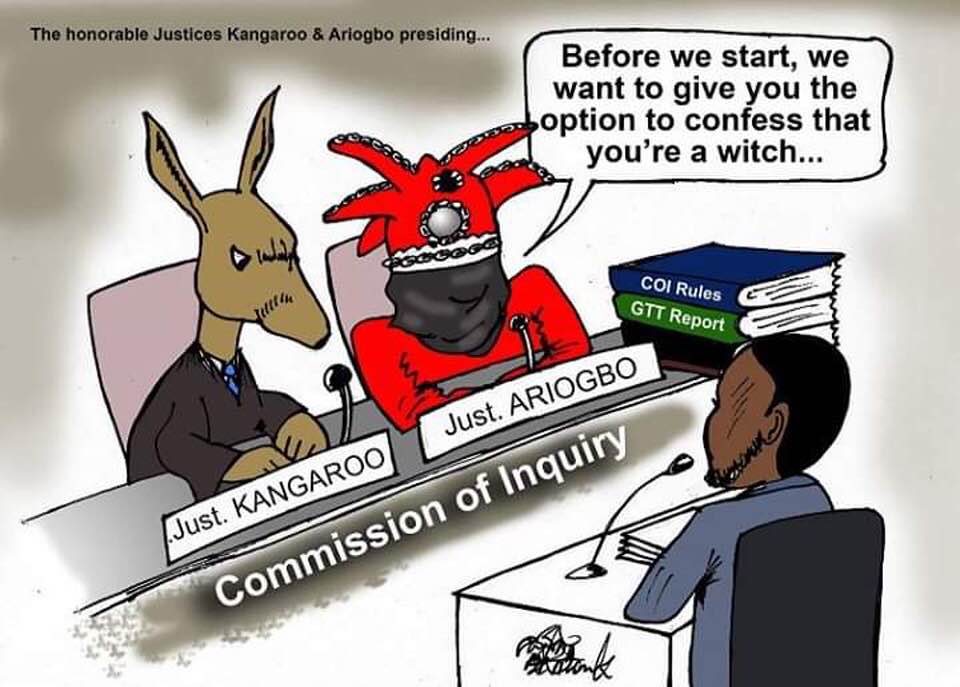 Dr. Abdulai Conteh, Dr. Bu-Buakei Jabbi & Other Legal Minds ensured Section 150 so we never again experience:🔴
🔴MAJOR DANGERS OF KANGAROO COMMISSIONS🔴
🇸🇱By Dr. Sylvia Blyden OOR
👉A Kangaroo Court or a Kangaroo Commission, are by definition, judicial processes which lack fixed rules, practice and procedures that can be referenced when the proceedings are on. A Kangaroo judicial process has many dangers inherent with them because it means those presiding over such kangaroo set-ups can accept any kind of cooked up evidence including hearsay and forged documents which a normal judicial process will never entertain to be included as evidence.
Over the years in Sierra Leone, mostly done by illegal military junta, there have been a series of Kangaroo Commissions notably done to look into activities of politicians and recommending punishments for those with high promise or recommending the seizure of properties in order to deal blows on political entities.
In order to be able to commit such egregious abuse of rights of those summoned in front of such Kangaroo commissions, the Commissioners will be told they can singularly make *"such modification, adaptation and exception"* of laid down practise and procedures of the High Court in order to *"elicit all such information as may be necessary".* In other words, they were a lynch mob dressed in judicial clothing.
Such a Kangaroo Commission was set up in the sixties by the military regime of Juxon Smith who used kangaroo methods to recommend the seizure of the party office of the Sierra Leone Peoples Party (SLPP) at Wallace Johnson Street. That is how a Kangaroo Commission suffered the SLPP and got the party office to be unlawfully seized. Being a Kangaroo process, the office was eventually returned to SLPP.
Similar Kangaroo Commission set up by NPRC Military Junta in 1992 got party office of All Peoples Congress (APC) to be unlawfully seized and so it had to be returned to them when sanity returned to Sierra Leone. A Kangaroo Commission in the sixties said one of our former Presidents, the late Ahmad Tejan Kabbah should not hold high office inside Sierra Leone but such recommendation was made because of very faulty evidence accepted by Commission and so a future President, Major General (Rtd) Joseph Saidu Momoh supported Kabbah to have the kangaroo recommendation get overturned. Indeed, Kabbah later held highest office in the land.
All these Kangaroo seizures and Kangaroo banning from public office happened because there was too much laxity in the type of evidence accepted. The Commissioners made up rules of what was evidence as they felt like and many times they allowed unacceptable stuff as evidence; usually with pre-planned malice. Needless to say, such acts breed bad blood, enmity and anger in a country; causing senseless wars.
It was to cure such madness that in 1991, Section 150 was included in the brand new Constitution. Section 150 says Rules have to be fixed for ALL Commissions of Inquiry and Commissioners are bound to only go by such rules and they cannot modify, adapt or except from such fixed rules. That Section 150 is a PROTECTIVE section to ensure what happened to Pa Tejan Kabbah and others like him, never happen again. Never again should the country have a Commission of Inquiry which can singularly make "such modification, adaptation and exception" of laid down practise and procedures of the High Court to "elicit all such information as may be necessary."
By many of his acts as President, Former APC President Major General (Rtd) Joseph Saidu Momoh carved a place for himself in the worthiest part of our annals of History. One of these is when he ensured many historical wrongs like the ones against Ahmad Tejan Kabbah were not only rectified but the Momoh-led APC Cabinet went ahead to ensure inclusion of salient clauses within 1991 Multi-Party Constitution that PROTECTED citizens from all such future abuses of their human rights which were enshrined in Chapter III and further protected by Sections like Section 28 and Section 150.
I know for a fact that Momoh had great Cabinet Ministers like Dr. Abdulai Conteh and Dr. Bu-buakei Jabbi who guided him to greatness – the greatness that included those protective clauses to ensure we never again have to experience dangers which result out of Kangaroo Commissions.
Long May Section 150 Live!
©Awareness Times Publication
Friday 1st February 2019