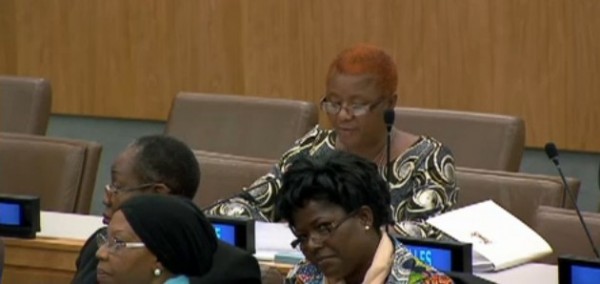 The Deputy Minister of Foreign Affairs and International Cooperation, Dr. Ebun Strasser-King, has been leading the Sierra Leone delegation at the second segment of the 69th Session of the United Nations General Assembly. This segment involves engagements in the work of various committees and conducting bilateral meetings with other nations .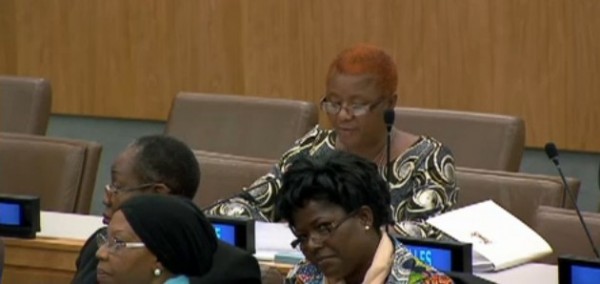 STATEMENT BY HONOURABLE EBUN STRASSER-KING (DR.), DEPUTY MINISTER OF FOREIGN AFFAIRS AND INTERNATIONAL COOPERATION
AT THE THIRD COMMITTEE OF THE UNITED NATIONS GENERAL ASSEMBLY UNDER AGENDA ITEM 28: "ADVANCEMENT OF WOMEN"
NEW YORK, 15TH OCTOBER 2014
Madam Chairperson,
I wish to congratulate you and other members of the Bureau of the Third Committee on your Election to the Committee. Let me assure you of my delegation's fullest cooperation throughout your tenure. Sierra Leone aligns itself with the statement delivered by Bolivia on behalf of the Group of 77 and China, and that delivered by Malawi on behalf of the African Group.
We commend the Secretary General for his report on the advancement of women. We continue to acknowledge recurring observations that violence against women and many other challenges are ingrained in the unequal power relations between men and women, and that violence and discrimination against women constitute a principal setback against women realizing their full capabilities.
Sierra Leone continues to embrace the Beijing Declaration and Platform for Action.  We also embrace the outcome document of the Twenty-third Special Session of the General Assembly as a formidable path in the accomplishment of gender equality and overall socio-economic empowerment of women and girls.
While noting the tremendous efforts that have been made at the national, regional and global levels to ensure gender equality and mainstream gender perspectives into all policies and programmes, we also acknowledge the challenges regarding discrimination against women which are still pervasive in society and continue to undermine women's self-esteem, dignity and full participation in development programmes.
Madam Chairperson,
 In spite of the numerous challenges, we wish to reaffirm our commitment to the agenda on the advancement of women, especially in the African context. To this end, we welcome Africa's groundbreaking initiatives and commitments relating especially to the declaration of the years 2010 to 2020 as the "African Women's Decade".
Sierra Leone has demonstrated significant commitment to gender equality and women's empowerment issues by putting in place various gender equality measures, policy frameworks and institutions to address discrimination against women in all its forms and manifestations, as was noted in our 2010 MDG Progress Report.
Allow me to reiterate that while recent review of progress relating to gender equality and women's empowerment in Sierra Leone indicate that there are at least 9.5 percent women with secondary school education, 12.4 percent are currently represented in Parliament and local council administrations. The broad-spectrum of female participation in the labour market stands at 65.7 percent as compared to 68.9 percent for men. We have also instituted deliberate policies to ensure that women enhance their rights as amply demonstrated in the Three National Gender Acts now in force. All these have been further supported by the ongoing constitutional review process that fully incorporates the rights of women and other disadvantaged groups in society.
It is worth reaffirming that the Government of Sierra Leone has established a National Action Plan on Security Council Resolution 1325 on Women, Peace and Security, and Resolution 1820 on Sexual Violence. Moreover, significant attention has been given to such issues as youth, children and disability while promoting the wellbeing of the girl child.
In view of the challenges that abound, we continue to acknowledge the need to redouble our efforts in areas such as maternal and childhood mortality which stands at 1,165 per 100,000 live births and 192 per 1,000 live births respectively. It is in view of this that the Government of Sierra Leone introduced in 2007, the free health care programme for pregnant women, lactating mothers and children under five years. While there was serious attention aimed at massive improvement of the lives of women including vulnerable groups, our commitment was eventually undermined by the outbreak of the Ebola Virus Disease in May this year. This continues to wreck untold havoc on the entire social fabric of the country, putting the welfare and dignity of women at grave risk.
Let me seize the opportunity to once more welcome the Secretary-General's initiative of creating the United Nations Mission for Ebola Emergency Response (UNMEER), to champion the course aimed at containing the scourge within the sub-region. The Mission has started its work in Sierra Leone and we look forward to speedy reversal of the current Ebola threat.
While still wary of the persistent gaps in achieving the MDG's on gender issues whose targets should be achieved in less than a year, we want to urge the entire membership of the United Nations to intensify action in furtherance of this objective.
Meanwhile, we look forward to sustained cooperation and partnerships in mobilizing the required resources to ensure progress at all levels.
 Madam Chairperson,
 I would like to emphasize that the empowerment of women requires increased concerted effort to ensure a more caring, just and peaceful world for all.
I thank you for your kind attention.