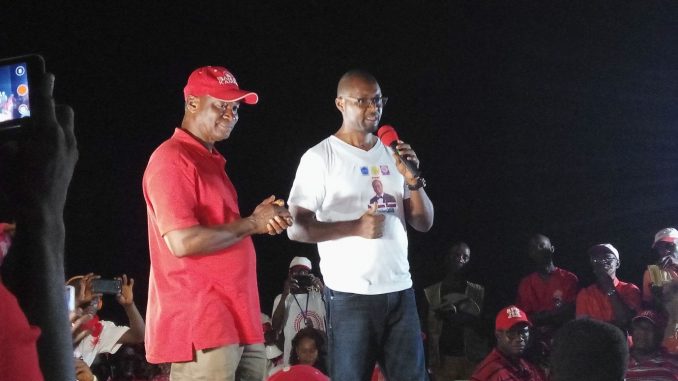 Presidential Candidate for the All People's Congress Party, Dr. Samura Kamara told his supporters over the weekend that they are now working with the National Grand Coalition Party (NGC) to win the coming presidential elections run-off, scheduled for March 27. He described the NGC as a very good party with good intentions to run the country, only that Sierra Leoneans are not yet willing to accept a new political party. "Do not leave the NGC," he told supporters of the party, most of who have thrown their support for the APC Presidential Frontman.
Dr. Samura Kamara was recently endorsed by the Northern Regional Chairman for the NGC, John Bangura. John Bangura, who also doubles as campaign manager is currently championing massive support for Dr. Samura Kamara in the south and north of the country ahead of the March 27 presidential elections run-off. The name John Bangura is a household name in the northern part of Sierra Leone, especially as a founder and head of the nongovernmental organization, Hope Sierra Leone, which has provided lots of livelihood support for rural communities.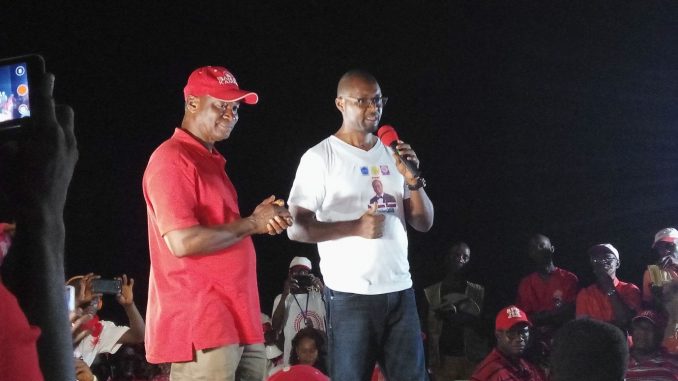 Patrick O'Dwyer endorsing Dr. Samura Kamara
Patrick O'Dwyer, Flagbearer of the National Progressive Democrat party has also publicly endorsed Dr. Samura Kamara. He said, "I am supporting Dr. Samura Kamara for his honesty, dedication, hardworking and his good intentions to develop our country".
Dr. Samura Kamara in his address welcomed all those that have declared their support for him in the coming election and added that party supporters should this time open their eyes, ears, mouth and do everything humanly possible to ensure that the party is not cheated in the coming run-off elections. He made this disclosure during his campaign tour in villages and towns in Tonkolili and Karene Districts. He made several stops along villages and towns convincing voters to see the reason to vote for development in the coming elections.
"I will be the best President for you and I will deliver to your expectations, " he said and added that he always has the people at heart and that they should they should do the same for him.
"Don't hesitate to take an active part in governance because my government will be for the people. We should take ownership and strive hard for development," he told supporters. At Mile 91, Dr. Samura Kamara described the town as one of the fastest growing, which requires support. "Mile 91 is a growing central community in Sierra Leone. My government will bring large companies to boost investment and create much income for the people, "the Presidential candidate said.
He assured them that he will help them get major academic institutions that will help in career and skills development, and provide them with other basic amenities like electricity.
Dr. Samura Kamara said his government will take cognizance of the fact that the youth form 76% of the population, which is why special programs will be designed to boost their livelihood.
The next five years, he said will be challenging because he will enable the country to compete with others that have gone ahead in the West Africa Sub-Region making good use of human and material resources. "We will try our best to meet the needs of the growing population in various communities," he promised.
Dr. Samura Kamara also addressed supporters at Batkanu and Gbinty Towns. He commended the loyalty of the people and assured them that the party will not let them down.