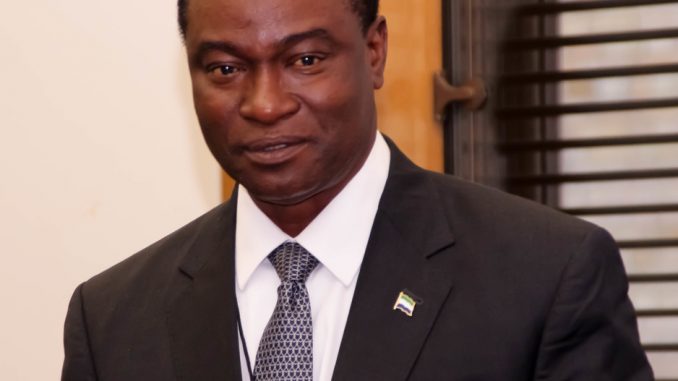 ​I caught up with Dr Samura Kamara, Sierra Leone's Minister of Foreign Affairs and International Cooperation in London, the morning after his return from the India-Africa Summit in New Delhi. He was heading to Malta to join over 50 leaders from Africa and the European Union for a two-day summit to explore solutions to the burgeoning migration and refugee crisis.Dr Kamara has been a pivotal figure in the present administration of His Excellency Dr Ernest Bai Koroma since its inception.  Throughout, he has been consistent in his forward-looking agenda for Sierra Leone's economic development.  He began work on the Agenda for Change, while he was Governor of the Bank of Sierra Leone, completing and implementing it as Minister of Finance and Economic Development.  His appointment as Foreign Minister brought a much needed economic dimension to Sierra Leone's foreign policy.  He then went on to lead the development of the ambitious Agenda for Prosperity, President Koroma's strategy to take Sierra Leone to middle income status by 2035.We are meeting to discuss whether or not the Agenda for Prosperity is still relevant post-Ebola, and just how the Ministry of Foreign Affairs fits in to its implementation. Dr Kamara remains optimistic.  "The targets that we set in the Post Ebola Recovery Strategy– health, education, social protection, economic revival and the private sector – remain the same as in the Agenda for Prosperity, but with a greater sense of urgency, partnership and inclusiveness.  In every crisis, the biggest challenge is understanding, diagnosing and looking for opportunities and effective implementation. Crisis recovery creates opportunities.  We now understand how to handle epidemics like Ebola and we can incorporate our improved understanding of the country's needs into our ongoing strategy for its development," he says.Dr Kamara's approach to our economy has always been to highlight Sierra Leone's strategic challenges and achievements, address the negatives and set high objectives, and he stresses that the road to economic resilience is through a series of building blocks, interlocked in an integrated and mutually reinforcing fashion: "A piecemeal approach is not the way to approach development.  Every movement is incremental.  Sierra Leone has made terrific progress in its post war recovery journey.  Functional institutions, visionary leadership, and participatory governance mechanisms are key ingredients in our transformative journey.  They underpin economic and social development by favouring long term investment, unlocking the potential for domestic resource mobilisation and unleashing entrepreneurial capacity.
"We initially addressed issues such as over-centralisation, poor public service delivery and distribution and weak transparency, accountability and overall economic governance.  We created new vehicles for these as well as for improving internal revenue generation, public sector budgeting and spending, and consistency and collaboration across the board in the new institutions like the National Revenue Authority, National Public Procurement Authority, the National Commission for Privatisation, NASSIT, Local Government and Decentralisation Secretariat, and Public Expenditure Tracking Surveys (PETS).  These are the software of the country, locked in a comprehensive system of public sector capacity building and financial management reforms.  They are strengthened by a new framework of civil society oversight responsibilities as well as by President Koroma's Presidential Task Force system in ensuring effective and prompt project execution. They were created to lay a solid foundation for re-establishing state authority and rebuilding national and international confidence and trust after the war, and were consistent with our resources at the time, directed mainly toward emergency and humanitarian assistance.
"Today we are addressing the hardware – road infrastructure, power, water supply, the health and education system.  We are attending to both the drivers of economic growth and human development at the same time, while not forgetting the continuity required in pursuing the software. People don't see the software, but they are the foundations of good governance and a progressive nation.  They cut across the 'who you know' culture and are intended to create a good business culture by ensuring a more level playing field.  Our economic resilience depends on them and an orderly and efficient mix with the hardware."
With their respective business and economic backgrounds, President Koroma and Dr Kamara were united in seeing the importance of marketing Sierra Leone as a destination for international business and investment, and Dr Kamara entered the Foreign Office with a presidential mandate to reconfigure it into a vehicle which would support the Agendas for Change and Prosperity.
This has resulted in a comprehensive four-year strategy – the Sierra Leone Foreign Service Transformation Strategy 2014-2018: Sierra Leone Foreign Service Renaissance in the 21st Century.  A key aspect of this is ensuring that Sierra Leone's international relations approach makes a priority of economic diplomacy.
It is a subject Dr Kamara is vocal on, and earlier this year his Wall Street Journal opinion piece on developing Sierra Leone's post-Ebola economy reiterated that point: "There is no question that West Africa has benefited from the help of international aid and the global donor community to help fight this deadly virus. But aid alone is not enough. The ability to treat and contain Ebola is inextricably linked to a country's sustainable economic development. Achieving long-term success requires robust trade and investment. The private sector must be strong and the economy diversified," he wrote.
He is only too aware that potential investors still experience certain frustrations with our business climate, despite the significant strides made so far, as reflected in the Mo Ibrahim, Transparency International and World Bank's Doing Business governance indices.  He lists some of them – "energy, water, ICT, Human Resources, infrastructure."  He also believes that investors would appreciate more stability in government policy and regulations: "International investors believe we must demonstrate greater resolve in our own governance policy. We need policy consistency and respect for the agreements and contracts we enter into.  Investors want to know party or stakeholder responsibilities; and what and when to expect policy shifts.  There will, of necessity, be changes to our policies and business regulations but in order to create a more attractive business environment, foreign investors must be given a period of stability.  For example, three to five yearly reviews should be written into initial contracts with major international investors, but they should be exempt from policy changes within that period, unless by mutual consultations and agreements. Locked-in investment capital needs predictable protection. When the business thrives – the economy will thrive."
Dr Kamara's five-year strategy for the Foreign Service, puts the Ministry at the centre of foreign resource mobilisation and a better protector of the national interests.  It makes his Ministry a cross-cutting department which he says "is the eyes of the country.  Every ministry has a foreign service component, which we as the Ministry should lead.  We are working on rebuilding attitudes and moving forward with the right people – economists, lawyers and individuals with strong diplomacy skills – so that we can strengthen our presence internationally.  We are rebranding the country and building a "truly national identity" in our national foreign service in terms of competency, ethnic and gender diversity."
Ultimately it all comes back to change.  "We need to introduce a culture of accepting change in Sierra Leone.  We need to build patriotism and national pride and create attitudinal change throughout society," he says.  "These are the missing threads in taking Sierra Leone to prosperity."
Where does all that start?   According to Dr Kamara, it starts with education and he has his eye on using the foreign service to complement the effort of his colleague minister in encouraging international investment in education in Sierra Leone, with at least 1000 educational scholarships a year, properly equipped science laboratories with teachers trained in friendly countries like India, Malaysia, China, Kenya, South Africa, Cuba and Brazil through South-South cooperation; and promoting a computer laboratory in at least one senior secondary school per chiefdom.  "You can't sit and wait patiently for things to happen.  You have to make them happen for yourself. This is President Koroma's doctrine and we must practice it to the fullest. "
---