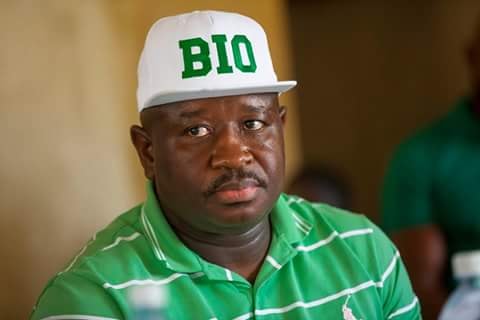 By KABS KANU
All the Sierra Leone People's Party ( SLPP )  hoopla, joy, jubilation and premature celebrations that they had won the elections —Even though ballots were still being counted and recounted—were no hoax, after all, as previously thought. According to very reliable sources and their own confessions, some people at the National Elections Commission ( NEC )  had fully convinced the SLPP  that they had not only won but had crossed the 55% threshold and that their presidential candidate, Retired Brigadier Maada Bio , was surely going to be declared and sworn in as President of Sierra Leone on Monday March 12.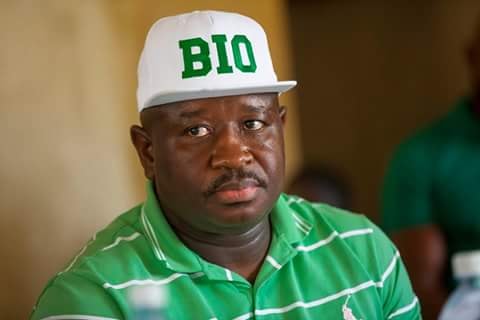 To prove that these reports are true, here is the initial press statement that Maada Bio would have released  to the people of Sierra Leone, thanking them for voting for him and he signed it as President-Elect of Sierra Leone. According to political observers, If it's genuine , this statement was probably drafted in the contingency Bio won and it was released prematurely by desperate officials or supporters . But all these things go to show that the SLPP  and their moles at NEC  had a lot going on while ballots were still being counted and the nation was anxiously waiting for the final results.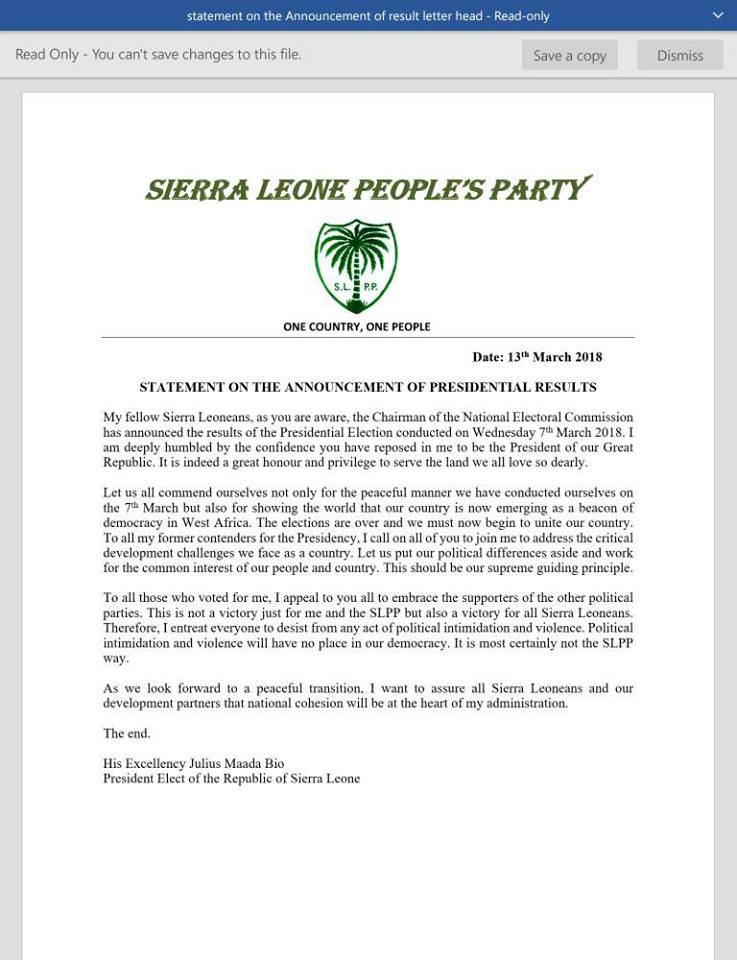 The AWARENESS TIMES  newspaper , in a banner headline : 'MAADA BIO IS EITHER CONFUSED OR MISUSES THE TERM PRESIDENT ELECT' — said that "This claim from Maada Bio that he is President-Elect has sparked debates on social media . Many ponder as to whether Brigadier Bio does not really understand the meaning of President-Elect or whether it was a draft statement sent out mistakenly by a confused Brigadier Maada Bio during the time SLPP  felt they had won above 55%."
COCORIOKO  can now reliably report that Maada Bio was not confused or misconstrued  the meaning of the term President-Elect. Maada had been convinced by some people that he had won the elections and crossed the 55% threshold. During the weekend, while the votes were being counted, supporters of the SLPP  did say publicly on radio and the social media that they had in their possession the full results of the elections and it showed that they had claimed the presidency. Some were not even discrete. They said they had somebody within NEC  who was giving them reports of everything going on.  Even when opponents and social media analysts pointed out to them that with the statistical dead heat of 43-42% score between Bio and the APC  candidate, Dr. Samura Kamara, it was not possible for any of them to reach 55%, with only 25% of the results left to be announced, SLPP  supporters still believed that they had made it.
According to our investigations, the SLPP were fully convinced that they had won and that their Presidential candidate, Maada Bio was going to be sworn in President on Monday or Tuesday. According to our investigations, the SLPP  confided in certain people that some extraneous events had gone on inside NEC  that had given  them a huge number of votes that had changed the game completely.
Unconfirmed reports on social media claim that two of these extraneous events were firstly, a large number of ballot boxes from the APC  strongholds that had been set aside and were not going to be counted –and would never have been counted but for the intervention of Commissioner Miatta French —and secondly the fact that NEC  was planning to cancel a great number of ballots from the APC  strongholds for alleged over voting, a situation APC  supporters  accuse SLPP  moles within NEC of creating by wilfully stuffing boxes from the APC  strongholds so that they would be cancelled. Our investigations revealed that the SLPP were assured  that if the ballot boxes set aside were not counted, and the APC  suffered  massive cancellation of votes in their stronghold, they will definitely make the 55%.
APC  supporters are now hailing Miata French as a "HERO ". Her insistence that all boxes must be counted saved the APC, though the party felt aggrieved that a big numbers of votes from her stronghold were cancelled.