Dr. Samura Kamara won another major endorsement on Saturday 6th January 2018, at the Siaka Stevens Stadium. Exactly Ninety days ahead of the general elections on March 7th 2018, this landmark endorsement came in, at the right time in this political climate. Dr. Samura Kamara continues to dominate the national political airwaves and demonstrate growing support from the ordinary grassroots people across the Country.
The popular rapper, Laj who threw his support behind the candidature of Dr. Samura Kamara on Saturday, is a great pillar in the Salone music industry, Laj who is also regarded as a musical idol amongst his fans, has also contributed in shaping the music industry in his own little way, in energizing the music industry. Laj endorsements for Dr. Samura Kamara and Chericoco serves as an indication of a growing acceptance on both ends of the entertainment industry and socioeconomic political aisle.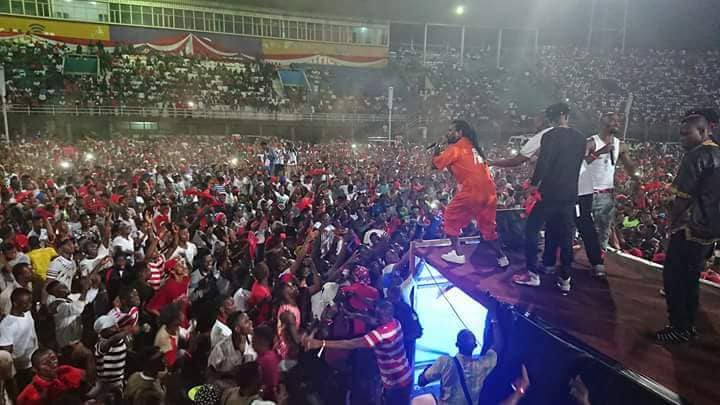 Laj, subtly makes the case why he believes that Dr. Samura Kamara is the most suitable candidate for the presidency in this elections. He believes that, Dr Samura Kamara is indeed a socioeconomic development expert as far as he is concerned, and the rest of the populace can attest to this fact, and on so many national issues; and the most experienced presidential candidate to ever run for such office.
Dr. Samura Kamara is a great man, he continued… Even though he has kept quiet all this while, the popular rapper believes that, our country is at a cross road, and it'll be very much unjust on his part to be on the sidelines in this elections, without him gets involved in the political process by endorsing the best candidate in this race to set the record straight up.
Laj looked fired up in endorsing Dr. Samura Kamara for President; and ready, to get in this fight and work his heart out for Dr. Samura Kamara to become the next president of Sierra Leone and the ultimate successor to President Dr. Ernest Bai Koroma. It's clear now that we need to start thinking about all of us together and we need to think about the difference between us and them, in this elections.
There's too much at stake in this election. Folks like Laj knows that, our country needs a strong leader in the person of Dr. Samura Kamara who cares about strengthening the ordinary grassroots people, by creating the enabling environment for them to thrive, and making sure each and every child can live up to their god-given potential in this country as President, and Dr Samura Kamara will continue in sustaining the peaceful coexistence our country is enjoying, as the most peaceful country in West Africa and third the whole of Africa.
The popular rapper, Laj left with no choice but to commit himself in his January 6th concert in endorsing and supporting Dr. Samura Kamara, and promised to do everything he can to help Dr. Samura Kamara become the next President of Sierra Leone. *In the video, Laj opined that "e nor dae Tok boku, e nar Dr. Samura Kamara," he called for calmness and patience.*
Laj, is counting on all his fans, to rally behind his candidate of choice in this elections which is Dr. Samura Kamara. I know you won't let him down. With 100% certainty I believe Dr. Samura Kamara should, and will, be our next president. He will make an outstanding and worthy successor to President Koroma. He will do big and important things, for our Country, and we will all look back and be proud of whatever we did to help elect him, as our next President of Sierra Leone 
🇸🇱.
Look the video of Endorsement
👇🏽
👇🏽
👇🏽
👇🏽
*Tolongbo to State House!!!*Raaaaaaaaaaaaaaaaaaaaaaaa*
©️Alkay D'Prince