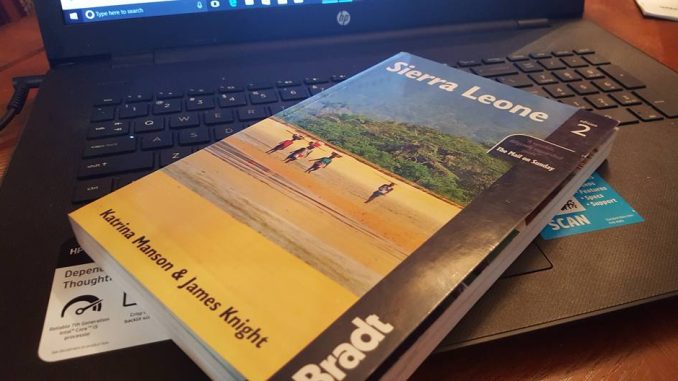 INTERNATIONAL TRAVEL GUIDE ON SIERRA LEONE SAYS COCORIOKO IS THE REAL ONLINE HIGHLIGHT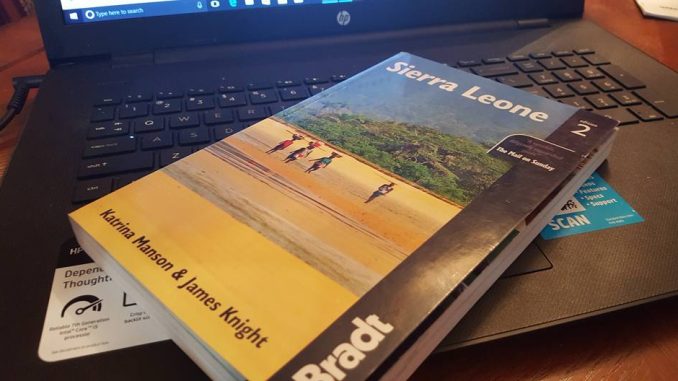 IT is a well-researched tourism book and travel guide on Sierra Leone, a tell-all book that describes everything you need to know about Sierra Leone -from her friendly people to all the various tribes, cultural practices. government, institutions. Places of interests in all the major cities including historical relics, beaches, night clubs, entertainment spots, hotels, motels, NGOs, civil society groups , media etc.you need to have it.
IT is called the BRANDT TRAVEL GUIDE. For those of you who know, it is the most authoritative travel guide for tourists and it features different countries and it is written by two of the most world-renowned tourism experts Katrina Manson and James Knight.
This book has said it — COCORIOKO IS THE REAL ONLINE HIGHLIGHT  AMONG  Sierra Leone newspapers online.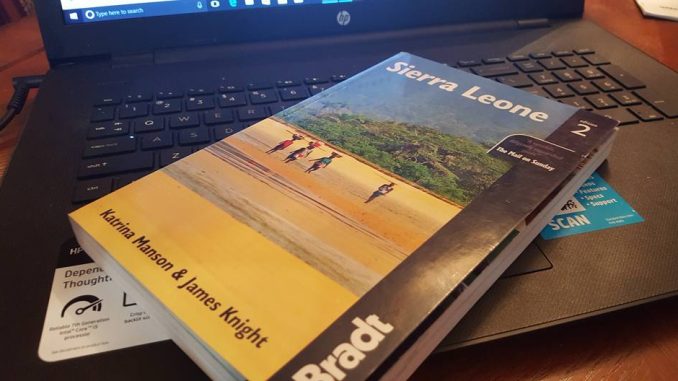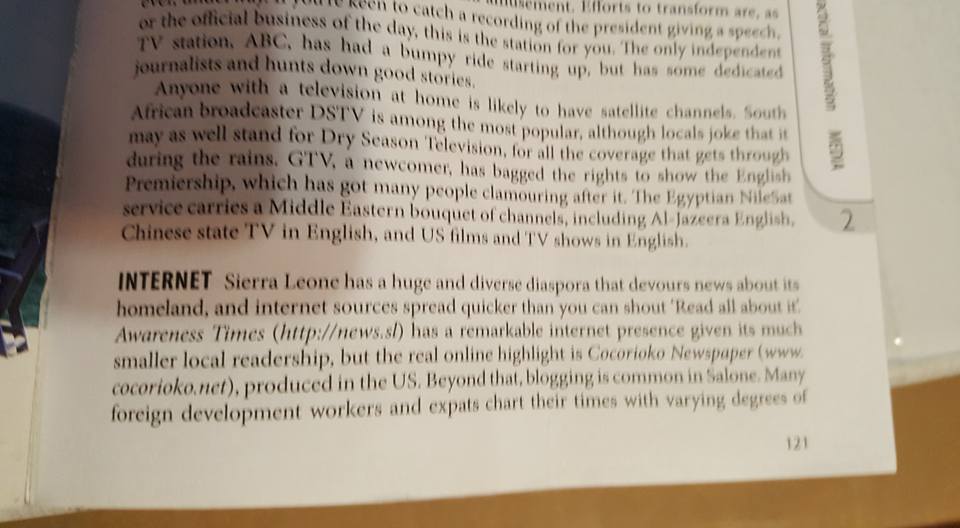 The book goes on to give us great commendation by saying that the real online highlight in Sierra Leone is COCORIOKO..
This is not the first time we have been internationally recognized. The Nigerian Master Web describes COCORIOKO as one of the most favourite online newspapers for the Nigerian reading public.
COCORIOKO has also received more awards than any other Sierra Leone newspapers. We have received almost all the famous awards out there- the NOSLINA AWARD ( Sierra Leone's version of the U.S. Academy or Oscar awards), the Hall of Fame award from the Save Sierra Leone organization ; the Gems of Africa Award, the 50th Independence Anniversary Award and many more.
Please pop the champagne bottles for us. We know we have our detractors who think we PRAISE the present government too much, but what we say inn our rebranding crusade is true because President Ernest Koroma's infrastructural and other socioeconomic developments are all there as evidence to be seen and secondly international organizations like the UN, EU, AU, DFID, IMF, World Bank etc. say the same things we write.
To keep COCORIOKO on top as the biggest and most widely read Sierra Leone online newspaper is not easy. I spend no less than $400 every month to sustain the paper. Cocorioko does not enjoy sponsorship from any other sources. Everything you see comes from my hard-earned pocket, so at least I should be encouraged for producing such a paper that is helping to rebrand our country and project a positive image of our nation. Sierra Leone deserves it. We mag have our challenges and foibles as a nation, but the world needs to see the beautiful side of our country.
We have helped promote investment and tourism and many Sierra Leoneans have received legal status and humanitarian assistance in the U.S because of our reports. We have evidence to prove these facts.
At times, people criticize me unfairly. If AMERICANS Europeans and other Africans see all this good in the newspaper, who cares about what negative Sierra Leoneans say ?
I set up COCORIOKO at FBC in 1973. All the people in power today , from President Koroma, down to the ministers , lawyers, politicians and ambassadors who attended Fourah Bay College in the early to mid 70s know the origins of this newspaper. They were there when I set it up in 1973.
We have registered the paper in Freetown and we will one day hit the newsstands in Sierra Leone. It is just a matter of time. We have not given up on our expansion plans.
We call on you all to continue giving us our moral support . We know we cannot please everybody and nobody or institution has ever pleased everybody.
We will continue to give off our best in the interest of the nation. It is not an easy job but we continue to thank God for his empowerment and strength.
Congrats to both Cocorioko and Awareness Times for this magnificent recognition by an international organization that is not involved in our politics. They looked at the standard of journalism we are providing and how many people read our papers before making this assessment, so we deserve it.
May God continue to empower us.
Upholding human rights and the constitution in Sierra Leone
Neil Coyle MP
Upholding human rights and the constitution in Sierra Leone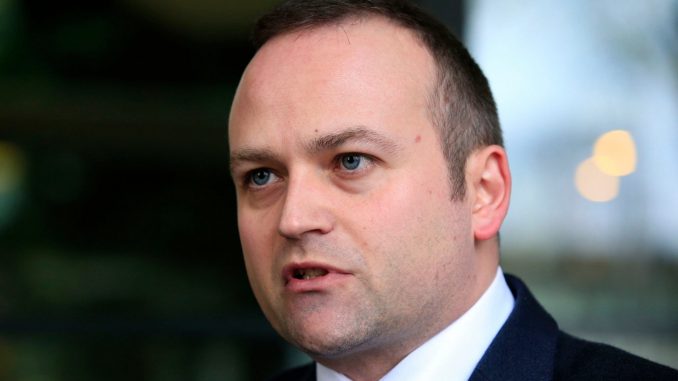 Neil Coyle MP is working with many people from Sierra Leone and their representative organisations who are concerned about actions since the presidential election which:
– discriminates against people from certain parts of the country;
– means politically motivated attacks on opposition parties activists and elected officials, including the democratically elected mayor of Freetown Yvonne Aki Sawyer; and Alliance Democratic Party (ADP) Mr. Mohamed Kamarainbah Mansaray, and Arrest of a Civil Society Leader, Mr. Edmond Abu Jr.
– has seen hundreds of civil servants dismissed from employment;
– restricts travel within and out of Sierra Leone;
– has contributed to a bank strike; and
– has led to detention of political activists and killings.
Ultimately, these activities, if unchecked, threaten the stability of the country.
There are many people of Sierra Leone origin in my constituency and I am very concerned about them and their families' rights being infringed. The aim of the petition is to hand it to the UK Government alongside other campaigns activities to highlight the problems facing Sierra Leone.
If you support the campaign to uphold human rights and the constitution in Sierra Leone please email me at Neil.Coyle.MP@parlaiment.uk including your full home address, email and a contact number. I will keep you updated with how the petition and other activities progress.
There are many people of Sierra Leone origin in my constituency and I am very concerned about them and their families' rights being infringed. The aim of the petition is to hand it to the UK Government alongside other campaigns activities to highlight the problems facing Sierra Leone.If you support the campaign to uphold human rights and the constitution in Sierra Leone please email me at Neil.Coyle.MP@parliament.uk including:
your name
your home address including postcode
email address
and a contact number (optional).
I will keep you updated with how the petition and other activities progress.
Thank you for your support!
Thank you for your support!
__________________________________________–
'Cocorioko has enough firepower and robust social media presence to bring anybody down', Publisher Kabs-Kanu warns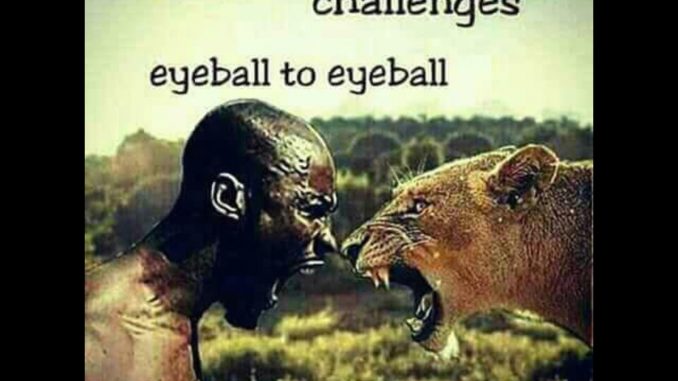 The Publisher of the COCORIOKO Newspaper, Leeroy Wilfred Kabs-Kanu, has warned that the newspaper has more firepower than ever to bring anybody down if the paper really wants. This is so especially as the newspaper is about to become a very vibrant, loud, uncompromising and biting independent newspaper once again ."Sierra Leoneans love opposition newspapers because they love to read slimy , sleazy and shocking stories about people and social institutions  than government news and therefore if you have skeletons in your cupboard ,  do not push this newspaper ", the publisher warned in Somerset, New Jersey, yesterday.Cocorioko has the capacity now to use audio, video and even an FM RADIO station in Freetown , owned by one of our allies , to go after its quarry. "The only reason we had  backed off from attack-dog journalism during the past nine years was reverence for the then Government of President Ernest Bai Koroma, whose programs we were promoting and propagating. We had to use a soft and more positive approach to sell the dreams, programs and achievements of the President and his Government. We had to embrace the generality of the people so that they will digest articles in favour of the President and the Government ", the Publisher went on.Also, the publisher and Chief Executive Officer  was serving Sierra Leone as a diplomat in the country's United Nations Mission in New York and a tabloid-type and sensational newspaper dishing out the dirt on people would not have been consistent  with a newspaper  whose publisher was serving the President, Government and nation in such a hallowed position . Everything we did would have reflected on the President , government and the nation. But very soon, we will not be under any such obligations. Our paper will be independent and we owe nothing to anybody and so it will be free-for-all ".Cocorioko, above all newspapers of Sierra Leone , has the strongest and most robust social media  presence . It is the only Sierra Leone newspaper with many big forums at Facebook , Whatsapp, Twitter and Linkedin and it has a massive following. Whatever we put on the social media is read by over 500,000 people daily.The Cocorioko Facebook Forum has a total 30, 946 daily readers. Its sister forum, the Daily Nation Newspaper Forum, has 35, 952 readers. Its APC Live Forever Forum has 16, 109 members. The Rebranding Forum has 5, 920 readers. The Cocorioko Sierra Leone page has 5, 000 readers while Cocorioko International has nearly 2,000 people. We also post articles in other forums so what we post goes immediately viral.The Publisher , however,  clarified that,  contrary to what some people feel, Cocorioko will not be anti- President Maada Bio or anti-government. "We are nationalistic and we owe it a duty to our nation to help build our country. We will give President Bio and his government positive publicity" , Kabs-Kanu declared.  "That does not mean that  if bad things happen, we will not report on them or give our views. As an independent newspaper, that will be expected of us. But we will not be overly anti-Bio. We will be a normal newspaper. However, those people who want to test our resolve will have only themselves to blame when we destroy them. Whether you are a family member, friend or so-called brother , do not push us. if you tempt us, we will bring your whole world crashing down with the power of our pens and social media power . A word for the wise is enough "  he added.
Obituary: Ahmed Janka Nabay (January 5, 1964 – April 2, 2018)

Obituary: Ahmed Janka Nabay (January 5, 1964 – April 2, 2018)
We are shocked and incredibly saddened to announce the sudden death of Ahmed Janka Nabay. He died unexpectedly in the Kambia District of northwestern Sierra Leone on Monday, April 2, following a sudden stomach illness. His body was transported to Freetown on Monday evening for funeral services on Wednesday, April 4. His death was confirmed by his longtime friend, journalist Wills Glasspiegel, and his bandmates of 8 years, Boshra AlSaadi and Michael Gallope, who have been in touch with his family in Sierra Leone.
To those of us who knew and worked with him, Janka was a true force, a man of exceptional charisma and talent, and a shining ray of light, who will be missed dearly by friends all around the world. We remember him above all for his sense of humor, his energy, his astonishing creativity, his smile, and his charm, which touched many of those he met.
Ahmed Janka Nabay, also know as the Bubu King, was born on January 5, 1964 in the village of Sedu, in Eastern Sierra Leone. The fourth in a family of five children, his mother was Temne and his father, a diamond miner and fish seller, was of both Mandingo and Temne heritage. Janka is survived by three children: Sia Precious Kemoh and Zachariah Osman Nabay, both of Freetown, Sierra Leone; Ahmed Nabay of Kuwait City, Kuwait; their mother Rugiatu Marvelous Nabay of Freetown; his loving wife, Kadiatu Nabay of Rokel, Sierra Leone; as well as many other loving friends and family.
Janka was a pioneering popularizer and modernizer of traditional Sierra Leonean bubu music, a genre that he first heard while visiting Masimo with his grandmother as a child. Originating from the Temne people in northern and western Sierra Leone, in its traditional form, bubu music is played by an ensemble blowing alternating, hypnotic rhythms on bamboo horns. In Sierra Leone, bubu music is an ancient and celebratory style of music that has been used to accompany a variety of holidays across Sierra Leonean history, from Ramadan processionals to New Year's Day celebrations.
Janka's modernization of bubu music made him into an icon of Sierra Leonean culture. Over his lifetime he released seven cassettes, two EPs, and two full length albums of electrified bubu music that fused together traditional rhythms and sounds, to considerable, and increasingly international, critical acclaim. Janka's bubu was ancient and modern at the same time; it made use of traditional melodies and rhythms, but reworked them with modern digital recording, keyboards, casio synthesizers, and loops. It was powerful and entrancing dance music, but never conformed to easy fantasies of "global grooves." During performances in the U.S., Janka surprised audiences by describing scenes of civil war, social ills, and political struggles in between songs. His lyrics reflected his persistent struggles as an immigrant without legal status, stuck in between nations, cultures, laws, and means of support in contexts where he never felt fully at home. In his music, outright celebration and ecstasy are often fused with undercurrents of fear and powerfully voiced dissent.
As a child in Sierra Leone, Janka grew up loving to sing with his family, and often found himself joining his siblings and cousins to "sing for his supper." Born in the provinces, he moved at the age of five to the city of Makeni where his life as an artist began. During a concert by the highlife musician Prince Nico Mbarga, Janka found his first taste of fame when he was pulled on stage by the singer for an impromptu performance for Mbarga's hit "Sweet Mother."
Later, as a teenager, Janka moved to Freetown. Always interested in politics, at 16, he began composing his own songs about pan-Africanism and Nelson Mandela. Janka's musical career first took off during his early 20s after an audition for Super Sound, a newly formed record label and studio that had relocated from war-torn Liberia. Super Sound producers were on the lookout for local musicians, but wondered aloud why all the auditioners had chosen to perform reggae, while none sang any uniquely Sierra Leonean music. For Janka's audition, he tried a different tack, performing a vocal rendition of a bubu song. Audiences were impressed, and opportunities in Freetown soon followed. Following the audition, Janka released a string of cassettes featuring modernized bubu music on keyboards and synthesizers. Stemming from the success of his Freetown releases, in the coming years, Janka would become a bona fide Sierra Leonean pop star and cultural ambassador. He conferred with United Nations representatives and filled performance venues in Freetown, performing hits like "Dance to the Bubu," "Lek U Culture," and "Sabanoh."
Sierra Leone's political struggles were always a part of Janka's music and life. In the mid 90s, at the heights of the country's decade-long civil war, Janka risked his life by using his music to criticize both the rebels and the government. At the same time, rebel troops played his music from boomboxes, luring people into the open and then conscripting them, or worse. Later, the infamous rebel general Sam Bockarie, known as "General Mosquito," took in Janka and his 11 piece band, and forced them to perform for the rebels. As recounted to the The Village Voice, Janka finally approached the general after 17 days and several performances in the camp, declaring in protest: "I'm tired, I have to go." The general responded, "OK, Janka, you can go," and went out with his pistol and shot it in the air, finally declaring: "Nobody gets any boats until Janka Nabay and the Bubu Gang can get back to Freetown!" Traumatized by the conflict and fearing for his life, he ultimately fled Sierra Leone via Guinea, and by 2002 made his way to the United States with the help of a P3 Artist Visa. For years, little luck came his way; he worked in poverty up and down the east coast, supporting himself selling CD-Rs of his music, and working in fast food restaurants, food trucks, and washing garbage trucks.
In 2010, radio producer Wills Glasspiegel had heard Janka's bubu music and sought him out in the Bronx. He lent his support to Janka, and helped him find a crowd of celebrated Brooklyn musicians who frequented the local Brooklyn club Zebulon, and who ultimately joined him as collaborators: Boshra AlSaadi (vocals), Michael Gallope (keyboards), Jonathan Leland (drums), Jason McMahon (bass), Doug Shaw (guitar), and Daniel Schlett (production). That year, Janka released his first record in the states—the Bubu King EP on True Panther Sounds, which features four songs from his Freetown catalog. He then joined forces with his collaborators to record En Yay Sah, an acclaimed debut album in the U.S. The album was released by Luaka Bop in 2012 to praise from Pitchfork, Vice, NPR and The Washington Post, the latter two naming it among the best albums of that year. With his American Bubu Gang, Janka toured the states repeatedly, performing at the P.S.1 Warm-Up, the Museum of Modern Art's sculpture garden, The Getty Center, Celebrate Brooklyn, Bonnaroo, and the Chicago World Music Festival. In 2017, Janka released his second full-length album with Luaka Bop, Build Music, and embarked on his first ever European tour to much acclaim at major festivals such as Roskilde (Denmark), Lowlands (Netherlands), OFF (Poland), Øya Festival (Norway), Milhões de Festa (Portugal), and Sinsal Audio (Spain).
Having reestablished his career in the West, Janka had hoped to stay in the U.S., but after many years spent waiting on an ultimately unsuccessful green card application, he decided to move home to Sierra Leone. Since he returned from his first European tour in September 2017, he had been living there with his wife, Kadiatu Nabay. In recent months, Janka was at work on his third full-length album in a collaboration with the up and coming Sierra Leonean producer, Lanzo On D Beat, before his life was tragically cut short. He had plans to complete, with Lanzo, a third album for Luaka Bop, with the hopes of future international touring with his Bubu Gang. While the third album is currently incomplete, upon the news of Nabay's death, Lanzo wrote this song from his studio in Freetown, "RIP Janka Nabay."
Janka Nabay's name will be remembered as one of Sierra Leone's great artists and cultural pioneers. Janka once recalled:
"My father always told us he won't die with money, but he has some diamonds, and we are the diamonds. I'm a diamond! I'm telling you! Trust me. Everybody knows Janka is a diamond, yes."
Amid many serious economic and personal struggles, Janka certainly carried his value within. He carried it in the way he talked, sang, dressed, walked, danced, posed, played soccer, teased, smoked, philosophized, theologized, joked, debated, told stories—in the innumerable experiences many of our friends and family have shared since his passing. Since the 1990's, Janka has been joined by over 35 different musicians in various combinations, many hailing from all over the world. He showed that one man was capable of living through civil war to pass on a massive cultural heritage and legacy to artists and audiences globally. There are many people out there like ourselves who loved Janka and his music, and who supported him in one way or another over the years. We are forever grateful for your support, and we know he is as well.
A memorial service and gathering will be announced on his facebook page. A support fund for his family has been set-up, here.
Thanks for everything you gave us Janka. We will always miss and love you.
May you rest in peace.
With much love,
Luaka Bop
Written by Boshra, Michael, Wills, Eric, Paul & Yale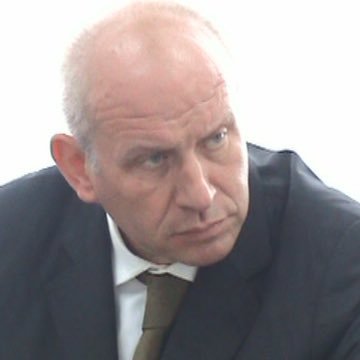 GUY WARRINGTON : BRITISH HIGH COMMISSIONER, WHO IS ACCUSED OF MANIPULATING THE ELECTORAL PROCESS TO GIVE MAADA BIO VICTORY
Published on 03.04.2018 à 14h21 by APA News
The incumbent All People's Congress (APC) party of Sierra Leone has accused the country's former colonial power, Britain, of leading an international conspiracy to effect regime change.A spokesman for APC claimed on Tuesday that the UK High Commissioner in Freetown was leading the conspiracy which includes rigging the March 31 presidential election run-off in cahoots with the National Electoral Commission (NEC).
Cornelius Deveaux, Deputy Information Minister, told state broadcaster SLBC that the conspiracy also involved the African Union, the West African sub regional bloc Ecowas and the Commonwealth, among others.
Deveaux, who is the spokesman of the current government said former Ghanaian President John Mahama was implementing the conspiracy.
Mr Mahama is the heads of the Commonwealth Elections Observation to Sierra Leone's election.
"There is an international conspiracy to steal our victory. It is led by British High Commissioner, Guy Warrington, and implemented by former Ghanaian President John Mahama," Deveaux said on SLBC radio.
He said they have evidence suggesting that a brother of President Mahama was bankrolling the campaign of the Sierra Leonean opposition candidate, Julius Maada Bio.
The British High Commission in Freetown has not commented
The allegations come as the country anxiously awaits the results of the presidential run-off election in which SLPP's Bio is being challenged by Dr Samura Kamara of the APC.
Both the APC and SLPP have already claimed victory, even without the NEC releasing any results.
On Monday the SLPP held a press conference where it presented the outcome of its own tally indicating a 2 percent victory margin for its candidate.
Amidst the anxious wait, tension continues to rise, fueled by conspiracy theories of ballot stuffing.
Tags : APA
WHAT THE PEOPLE SAY
 4 years ago just after the second election of president Ernest Koroma, I made a statement in APC forum platinum about my suspicion of the British aiding the SLPP for regime change. No one responded to my statement because they believe it was nonsense
Since then I have repeated this in this same forum that Tony Blair who was part of the negotiations with the juntas is not to be trusted. He desperately want to fulfil the promise he made to Bragadier Maada Bio for stepping down and hand over power to a civilian government which helped stop the war
Secondly the British are loosing influence as colonial masters in Sierra Leone while the chines are dominating them, this is a reason for a regime change and Mr Bio is their man.
Now to see APC making this same claims which I have predicted over and over is alarming and am asking APC alagbas to start taking me serious when I share my vision on issues, I hardly get it wrong.
Ar dae na wok if u get question
THE BRITISH HIGH COMMISSIONER TO SIERRA LEONE AND THE FORMER GHANIAN PRESIDENT, HEAD OF THE COMMONWEALTH ELECTION OBSERVER MISSION IN SIERRA LEONE, JOHN MAHAMA SHOULD BE EXPELLED FROM SIERRA LEONE WITH IMMEDIATE EFFECT FOR THEIR DOUBLE ROLE IN THE ELECTION AND FOR THEIR NAKED INTERFERANCE TO DENY THE APC A DESERVED VICTORY IN THE RUN-OFF ELECTIONS…EVERY OVER VOTING SHOULD BE CANCELLED. THAT IS WHAT HAPPENED IN 2007 ELECTION, 2012 ELECTION AND FIRST ROUND OF 7 MARCH 2018… FOLLOW THE LAW….
Sierra Leoneans Decides or The International Community Decides? The Voice of Sierra Leoneans or The Voice of the International Community? Let's wait and see how it all goes down later today. The stage was set and the Sierra Leone people have spoken through the ballot box as N'fa Alie will definitely come out with a result to the people of this country after a meeting with the only president in the country President Koroma who has reminded the NEC Boss N'fah Alie Conteh of the responsibility they both owe to the people of Sierra Leone and not the so call fraudulent International community representatives to Sierra Leone. Who wins? The voice of the Sierra Leone people or the Voice of the International Community? SMH!!
Anita Koroma Then the West want to impose him on us because of the Chinese influences in the land? Why can't they leave us alone oh my people! They are the ones causing all this problem. I know it would have not been easy to foolish KKY that is why they are enoughing the mean person. I am really sick and tired of this selfish game by the west. It's about the will of the people not their will for our resources! God arise and scatter all their plans oh.
____________________________________________–
SAMURA KAMARA TO ADVANCE PRESIDENT ERNEST BAI KOROMA'S AGENDA FOR HUMAN DEVELOPMENT IN SIERRA LEONE PT. 3
By WILFRED KANU jr
The time has come for all Sierra Leoneans to unite behind Dr. Samura Kamara. He is the only candidate who has the precise expertise, foresight, and imagination that the nation requires for continued human development. Every patriotic citizen should recognize the neglected achievements of the APC government. People should realize that out of all the candidates in this presidential race, despite their excellent intentions, four of them do not represent a tested organization. The fact remains that they are unproven. On the whole, Sierra Leoneans have no evidence that shows without a doubt that those smaller political parties have the maturity and foresight that is needed to succeed with the vision which they have set forward. Sierra Leone demands economic growth and human development. Dr. Samura Kamara's party has exhibited a clear indication that it knows the process that must be followed to increase economic growth and human development.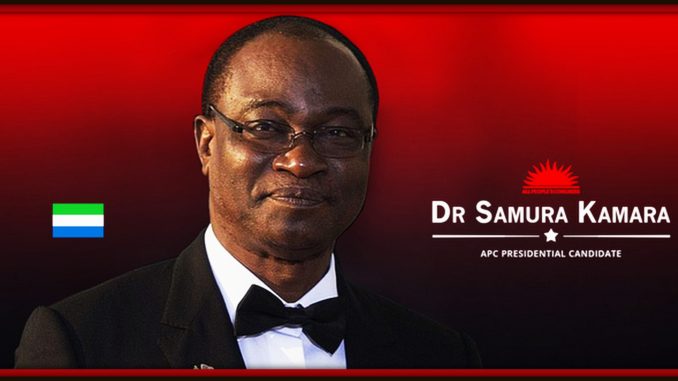 To see the apparent realities describe in this article, one must observe with a trained eye. Even though the Sierra Leone People's Party has a strong argument against the All People's Congress, there is definite evidence that illustrates the APC's history of gaining some headway when it comes to development. As Sierra Leoneans, we can argue that those APC accomplishments, such as free healthcare for women, several infrastructural constructions, restarting of the once obliterated electricity dams or building of tolled roads, (to name a few) come at a slow pace. Others may say they have not transformed the lives of the most impoverished Sierra Leoneans when the price for one bag of rice has risen to more than Le: 200, 000. And although the lack of access to clean drinking water or salaries paid on time justifies the accusation of corruption, no one can say that the APC's effort to develop the country was entirely none existent. On the other hand, compared to the visible evidence of other  performances, there is little to no manifestation of achievements, infrastructure or commercial enterprises that were put in place by the other parties. Suffice it to say the physical evidence shows that only the SLPP has come close when we make this comparison.
When we examine the accolades of each political party in this current presidential election, although accused of mismanagement, the APC stands out as the one that has done the most in every significant aspect of economic and human growth in Sierra Leone. Let's look at some examples. Before President Koroma came to office, Sierra Leone was in ruins. The SLPP and former President Tejan Kabbah had ended the war, restored peace and achieved reconciliation. The divisions that fueled the civil genocide no longer prevailed. Nevertheless, Sierra Leone's development was much worse. Education, healthcare, and employment were almost at a standstill. The business sector was in a stalemate, import and export were low and, transportation was more complicated than they are today. The list can go on. Who remembers the urgent pandemic of infant mortality? What about the critically high number of mothers who lost their lives while giving birth? Today, although more is needed, some mothers receive free healthcare in Sierra Leone. The point is that the Koroma administration inherited a nation that was practically rubble. Those who survived the circumstances can genuinely declare that Koroma's tenure brought some level of solace to many chronic infirmities.
We must all acknowledge that Sierra Leone is going through a complicated process of recovery. This lengthy process began when the APC returned to office in 2007. No matter how many government changes we make, it will take more than twenty years of consistent improvements for the country to begin to see tangible signs of restoration. One of the most significant tasks for President Koroma's administration was to rebrand the image of Sierra Leone after the free world labeled the country as the nation of "Blood Diamonds?" The APC recognized earlier on that Sierra Leone's long and arduous process of recovery must begin with international acceptance. And the Koroma administration succeeded in re-branding the image of the nation which then opened the doors to global consideration. The APC also knew that to begin growing the economy and improve human development there had to be an extensive remodeling of the primary gateways that usher in those opportunities.
When you look at Sierra Leone today, in every province, or district, you will find some evidence of this prerequisite underway. Saying this in no wise insinuates that the work is even close to being complete. It only implies that no matter which other presidential candidate became president, this inevitable process of economic growth and human development is going to take decades to have a lasting effect that will change the current situation in the country. With 40 years of experience of working in government, Dr. Samura Kamara is more than adequately prepared for the specific challenges that lay ahead in the next stage that follows the Koroma administration. Voting for the wrong candidate can steer the country away from this fundamental objective and waste precious time. Dr. Samura Kamara has the right foresight that is needed to bring Sierra Leone to the next level of economic growth and human development, but he cannot succeed without the backing of the people.
Ten years ago Sierra Leone was isolated as a land of "Blood Diamonds." Now, China, the United Nations, the International Monetary Fund, the Economic Community of West African States, non-governmental organizations, and other foreign investors feel confident to negotiate with our diplomats. Now the Kamara administration can work to strengthen those connections and bring the country to the next level of growth. Where the previous government had to make do with little opportunities, with good governance the next government can build upon this platform which was not there before. The essential facilities that were either barely working, out of order, or nonexistent are now functional. Of course, in this preliminary stage, they are not noticed by the most impoverished families, but the APC's process of recovery has started. For those skeptics who might ask which facilities are now functional? The answer is, now we have no dilemma wondering how to do business without global acceptance, a ready workforce, or the portals to usher in new opportunities?
In 2018, government agencies, NGOs, foreign investors and the local traders can transport their goods and services throughout the country without much delay. The government only has to get those goods and services into the nation. The APC has repaired the main highways. In some cases, to reduce the traffic and raise money to maintain them the government has tolled some of those roads. The Koroma administration has refurbished other significant gateways to economic growth, like the air and seaport for example. But the postal system is still lagging behind. The APC has revived some of the electricity dams while expediting commerce for import and export. It is true, many young people, newly graduated students, civil servants and ordinary citizens are still suffering. But their struggle stems from the deterioration that took place since the civil war began. Millions of Sierra Leoneans are suffering because of the decline of the economy. The good news is that the Koroma administration has built the necessary platforms that can be used to set a robust financial framework for the future.
Sierra Leoneans must acknowledge that in the degree to which we have deteriorated our economy, we must now end the blaming game to unite behind an experienced candidate who will work hard to restore the system. A different party may begin a new recovery process instead of continuing with the one that is already in motion. This reason alone is why we must do our best to assist our government. That is the most guaranteed way forward. At this stage of our restoration process, realistically, we should not expect a grandstand just yet. The country has many opposing constraints that are equally critical. We need to advance the main gateways of economic growth and human development, which are 1. The Airport, 2. The Seaport, 3. Significant Bridges and Railway, 4. Technology, 5. Telecommunication, Internet Wireless Services, and 6. The Post Office. All of these gateways to economic growth and human development are heavily reliant on each other. It is up to us, the people to demonstrate a collective showing of civil commitment to developing our country.
The improvements made by the Koroma administration are praiseworthy, but we have only come eight places from the bottom of the United Nations Human Development Index. These improvements may not be significant for some, but they are enormous. Some may demand that Sierra Leone, with all our natural and mineral resources, not be in dire straits. But we are in the process of recovery that requires our ability to work together in an organized fashion. Samura Kamara can lead Sierra Leone into the next phase of development. What is the most pressing need today? For many, the answer is a sustained level of employment and punctual payment of salaries. As patriotic citizens, we must mobilize behind Dr. Kamara and vote for him knowing that the APC is now in the position to pay wages to police officers, immigration agents. teachers, soldiers, nurses and other civil servants. We can be confident in an expert new administration. It was only natural for the problems the current administration has to exist since they came at a time when the country was much worst. Should the APC be voted back in to continue its development, the new administration will begin in a better position than the former.
No one has to convince you and me that the Kamara administration will improve this economy. Based on his track record we are sure that if he becomes the next President, Dr. Kamara's government will reestablish more regulation to restrict corruption. Various Sierra Leoneans will ask how can that put money in their pocket or rice in their pot? Well, for one, when all of the major gateways are functioning on a higher level, the price of food will drop. Transportation, internet service, import and export, banking, healthcare, and security are all faculties that will see transformation under Dr. Samura Kamara's governance. With the use of essential gateways that boost economic growth people will begin to see affordable food, accessible drinking water, improved access to proper healthcare, better education, safer homes and more paying jobs. But this cannot be possible without a highly functioning electricity, roads, civil servants, or other crucial administrative agencies.
One way for Sierra Leone to move further up the United Nations Human Development Index is if we support Dr. Samura Kamara so that he becomes the next President. This suggestion does not mean that the other candidates cannot improve the existing policies. We must be conscious that the Kamara administration is not a continuation of the Koroma government. Some may be curious to hear more about the leading areas that will create economic growth and human development in Sierra Leone. Consider the elimination of redundant laws or restrictions that lead to corruption. Less corruption leads to industrial expansion. These strategies include more accountability in spending as the new government removes some previous hindrances in their economic policy. As we have reached the stage of more responsibility, there will be reforms on mismanagement that the international community demands in financial reports. Second, at the next step of Sierra Leone's recovery and growth process, when we mobilize behind the Kamara administration, we will do so knowing that it will further improve the current system of taxation.
Also, new advances in healthcare will save more lives, as people save on the cost of treatment and medicine. Another political party may promise the same, but in real terms, Sierra Leoneans know that these significant improvements also come with a budget which must be available. Thirdly, Dr. Koroma's administration has brought Sierra Leone's recovery to a stage where unemployed people can now volunteer their skills and abilities to support the country. This tribute of solidarity says a lot about our civic loyalty. It means that we understand the slow process of recovery and do not do things to impede them. Such things as taking bribes, leaving trash in public areas, free consumption or wood, and iron, corruption, stealing from public property, etc. Unemployed young men and women now have the responsibility to rally behind Dr. Samura Kamara and volunteer their skills and abilities to help push the country forward. Understanding that Sierra Leone is digging her way out of years of devastation, we must know that volunteering plays a crucial role to overturn the prolonged economic recession that many of our people are experiencing right now.
Every citizen has a responsibility to serve their country. Quite like the Tamaboro and Kamajor warriors who came forward to protect their community in a time of war. Sierra Leonean youths and citizens must rise to support their leaders in a brave effort to guide the country out of the stagnant economic recession. Organizing a functional waste management system, volunteering to maintain public structures or mobilizing to repair smaller streets that lead to the main roads or services are just a few examples. We can come together to vote for Dr. Samura Kamara and then support his administration further to ensure it's success. The idea is when we boost some strategic services, that will increase the performance. With improved performance comes some level of economic growth and human development. All future government administrations will also be in the reconstruction and restoration phase. We the people must use our civic loyalty to ensure their success. It is time to ignore the divisive WhatsApp messages or songs that encourage self-pity.
We are not looking for people who can tell us how unfortunate things are. Instead, we need to rally behind a proven leader that has a decent track record in governance and warrant their success. After all the developments that the APC has done in Sierra Leone, the party deserves full support. Instead of making complaints and asking what the government has done for us, we must begin to ask ourselves what we can do for our country? Sierra Leone has entered a time when civilian responsibilities are required. As a member of the diaspora who visited the country recently, one of the things I noticed is how much more the Diasporans must contribute financially, intellectually or morally to the recovery effort. For example, instead of trying to go there to make money for ourselves, old boys and old girls should organize themselves to donate uniforms, books, computers, and other supplies that their former Alma mater or students may be lacking at this present moment. We can do the same in other spheres.
There was a time when we had a football league in Sierra Leone. There were teams like  Blackpool, Lions or Port Authority. Our national football team, the Leone Stars competed in well-publicized matches beside Liberia, Guinea, Ivory Coast, or Ghana. During that time, the local economy was much stabler while legends like Brima Artuga and Mohamed Kallon rose to national prominence. After the APC left power, amidst several disruptions, a genocide happened. Today, rather than aspiring to become the next Artuga, many of our young people resort to drinking and smoking. Although it is always refreshing to have a smoke with friends, a youth who drinks or smokes all the time can never become the next Mohamed Kallon. That is why the right leader must be elected to regenerate such opportunities like the football league and the progression of science, literature, music, and arts.
We should strive to improve literacy in Sierra Leone. It is time to stop licking our wounds. We know the scars are there. We see that the hardship persists. No one denies that. We must strive to become the Athens of West Africa once again. It is time for Sierra Leone to rise behind an adequate leader who represents a party that has made some developments. Even if the APC can rectify its flaws, the APC can correct its areas of mismanagement from the past. We know that among all the other parties, this has been the only one that has consistently in development. After the other parties ruined the economy, the APC is the party that has returned with reconstruction and restoration. There are many talents and potentials in our nation. Looking forward, we must have unity and a constructive stir of solidarity.
The APC has rebranded Sierra Leone, and it has turned on some electricity. The party has opened the country for investments, refurbished the sea and airport and reestablished a functional transportation system. The party has a verifiable reputation for making development in the country. APC has built roads, established a general healthcare system, and encouraged tourism. It has promoted democracy and freedom of speech, protected journalism, and human rights. The ultimate theme is loyalty. Citizens must ignore the false allegations against our officials. We must ignore those who promote strife, doomsday, a state of penury or those songs or WhatsApp propaganda that serve us to wallow in a state of poverty.  Sierra Leoneans must have an open mind and ask not what our government can do for us but what we can do for our country?
The Koroma administration has built an ideal platform for Dr. Samura Kamara to advance the nation. We must be honest and recognize that there is a lot of work to be done. The new administration can slow the freefall of the Leones to a point where it starts to gain value at a rapid pace. Even in the wake of the Ebola Outbreak, rain floods, and the Mudslide. Unlike other administrations, the economy did not deteriorate at an astronomical pace during these times of crisis. We must commend the government since the Sierra Leone economy did not decline at a devastating rater during the Ebola Outbreak or the Mudslide. Sierra Leone deserves good governance to bring a steady rise in economic growth and human development. To cross to the year 2020 on an upward trajectory economically, we must vote  Dr. Samura Kamara as the next president of Sierra Leone.
Police Boss, EU observers and witnesses vindicate ruling party : SLPP attacked APC in Kamalo
Contrary to a press release from the opposition Sierra Leone People's Party and a social media comment by party presidential candidate , Maada Bio , that he and SLPP  supporters came under attack in Kamalo yesterday, the Sierra Leone Police, the European Union ( EU)  and witnesses have given a different version about the political violence in the Northern conclave of the ruling All People's Congress ( APC ).
We bring you all the highlights :
The Inspector -General of the Sierra Leone Police, Mr. Richard Moigbe , has contradicted reports by the SLPP  that their leader and supporters were attacked by the APC at Kamalo, home of the APC Presidential candidate, Dr. Samura Kamara. The Police Boss confirmed that the SLPP  attacked the APC. See front page headline of the story in the AYV Newspaper.
SLPP masterminds aggression in Kamalo!
*As SLPP plays victim in the recent Kamalo issue;* cognisant to the fake story narrated by my brother from a different mother and father, Ibrahim Misheal Kallon, *EU observers now affirm that the aggression of SLPP against the locals of Kamalo was uncalled for,* in what is now dubbed as *"Reverse Psychology@Ibrahim Misheal Kallon _slpp.fakeNews".*
It is said *"he who is first to point the finger of blame is often not blameless".*
*The True Story:*
EU observers confirm: *"SLPP entered the town of Kamalo and insisted on pasting political posters on a Private cinema center and other private property, to which the youth rejected".* This seemed to have infuriated the SLPP kamajors, who tore off posters of Dr Samura Kamara, the presidential candidate of the All Peoples Congress, whose birth place is Kamalo".
*Initial Stance of APC:*
SLPP's despotic, unfair, unwise & unprovoked attack in Kamalo will not prompt APC to take matters into our hands. *We await the relevant authorities to deliberate the matter based on the evidence presented by the European Union Observers, who witnesses the unfortunate incident.*
As the Global Voice of APC, I ask all comrades to resist intimidation and focus on position election campaign trail…precipitated by our open inclusive social values that in the APC, we pull each other up. We draw strength from our victory and learn from our mistakes…but we keep our eyes fixed on that distance horizon, knowing that Providence is with us…in March 2018.
*Mohammed 91 Sesay*
PRO-APC.
IN THE VIDEO ABOVE, VETERAN POLITICIAN EDDIE TURAY EXPLAINS TO THE PRESS WHAT HAPPENED IN KAMALO
APC Chairman of Karene District Dr. Wurror Jalloh Sets the Record Straight*

👇
👇
👇
👇
👇
👇
👇
❗
❗
❗
❗
❗
❗
❗
Following the recent violence which erupted in the Kamalo hometown of APC presidential candidate Dr. Samura Kamara, in Karene District perpetrated by SLPP supporters, calm has returned to the town after police intervened and arrested a number of trouble-makers who are connected to the SLPP.
According to APC Chairman of Karene District, the indefatigable Dr. Alhaji Wurroh Jalloh, calm has returned to the town after the commotion. He added that the problem was caused by the SLPP who he accused of entering the town unannounced and in a rowdy manner which caused chaos and people started running helter-skelter for dear life.
According to him, it is normal for police personnel to be around to provide security for parties during campaigns. In the case of the SLPP however, it is not known why they deliberately refused to seek police clearance and security when they want to campaign in an area that is totally APC, taking into consideration the fact that the APC presidential candidate was born and bred in Kamalo and his people are totally in his support for the simple fact that he is their son and about to become president of this country.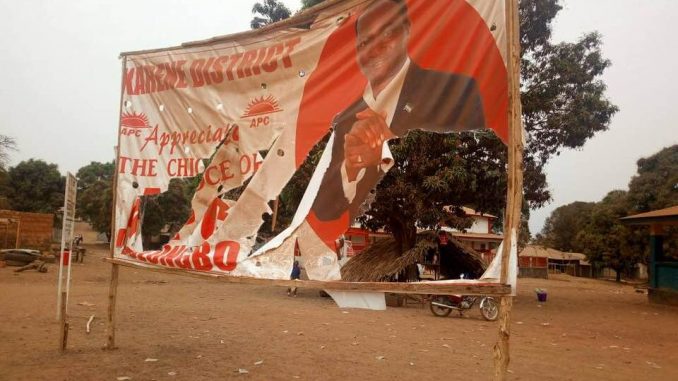 CAMPAIGN BANNERS OF THE APC VANDALIZED BY THE SLPP 
Political analysts are of the view that the SLPP was out to create commotion that fateful day; the reason why they did not go through the due process to first formally seek police clearance and then request police security to see that the process is peaceful.
These analysts say there is no way the SLPP could have pretended that they are ignorant of this fact and so the SLPP deliberately went to Kamalo to cause commotion and dent the credibility of the electoral process so far.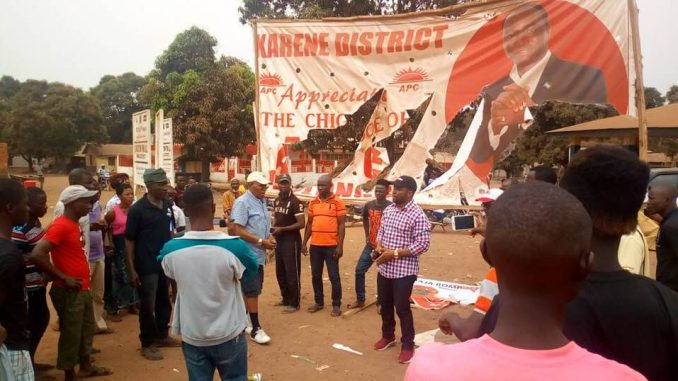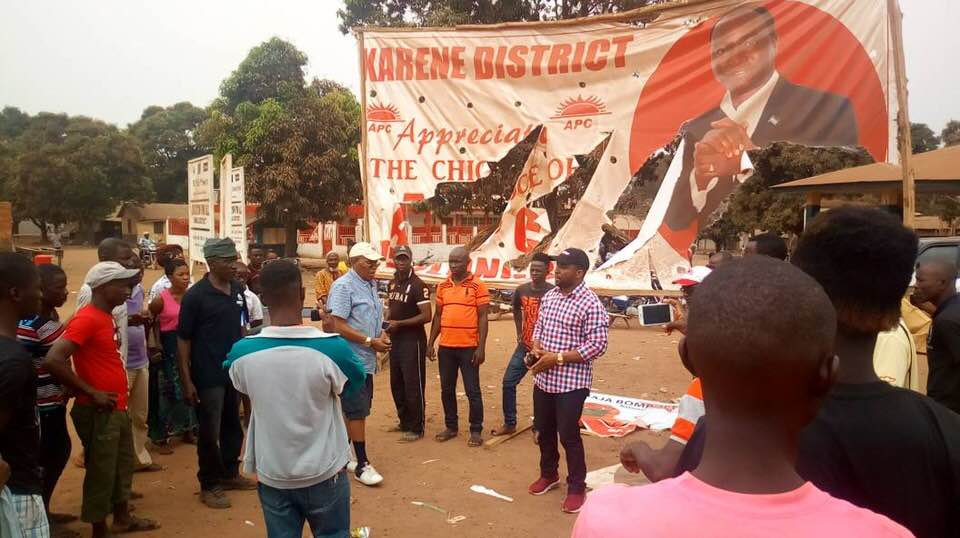 Meanwhile, the APC Chairman Karene District, Dr. Alhaji Wurroh Jalloh is calling on all APC supporters in his district to stay calm and obey the law. He urged all APC supporters across the country not to engage in violent activities because the APC is not a violent party and because the APC does not need to engage in violent activities to win the next election because it is an established fact that the APC is going to win the election at first ballot and there would be no need for a run-off.
*© APC Warriors Communication Network*
SANTIGIE Kamara talks to Cocorioko live from Kamalo : HOW THE CHAOS STARTED BETWEEN THE SLPP AND THE APC….
We were sitting down in our veranda when we heard a large group of men coming, singing provocative songs and abusing Dr. Samura Kamara. We ran inside at first to take cover, but afraid that they will burn the house and we will die inside , we came back outside.
I saw a group of men arguing with some of the inhabitants of the town. The intruders were demanding that they must paste the poster of Maada Bio on a structure where Dr. Samura Kamara's photo was already posted. The men told them that they cannot post their photo there because Dr. Samura Kamara's photo was already there.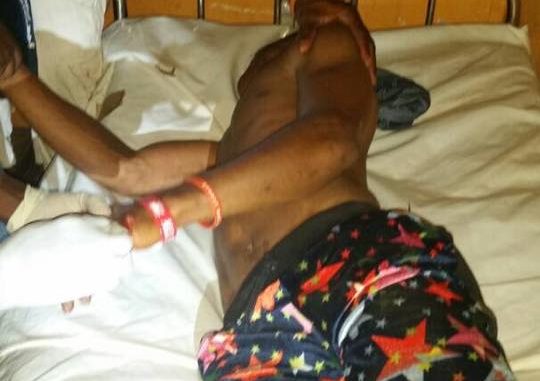 ONE OF THE VICTIMS INJURED IN THE ATTACK
The intruders refused and insisted that the building belonged to the Government and was therefore public property but the men said "No, the building belongs to Dr. Samura Kamara . It is not public property. It is private property " . The intruders said it was not private property . The men insisted that they were going to paste the picture there and a big argument started and pushing and shoving between them.
That was how the fighting started. Before we knew what was happening, their supporters who came with them started throwing stones. "Den begin for vim we , so some of we begin for run for protection. . Before we know, den begin for tcherr en destroy Dr. Samura Kamara in poster en banner dem from the walls . Dr, Samura Kamara's supporters resisted and that was how the fighting intensified.
COCORIOKO : But emi Maada Bio say nar Samura Kamara in supporter dem attack them ?
SANTIGIE KAMARA : Uncle, nar de truth ah don tell you so. Nar dem cam with the gbose-gbose. .
COCORIOKO : But why did they have to post their banners where Samura's banner was already posted .
SANTIGIE KAMARA : Uncle, nar dat we sef nor understand. It is not as if they really needed to, because everybody in the town belongs to the APC .This is Samura Kamara's home town. It would not have made any difference .We are all going to vote for Dr. Samura Kamara. Den bin just wan fen plaba . They just wanted trouble . They just wanted to bulldoze and take advantage of us.
COCORIOKO : So why did Maada Bio inform the world that APC
supporters attacked them ?
S.ANTIGIE KAMARA : Uncle, nar lie de man dey lie. Ask anybody den go tell you. Nar man wey just lek for bulldoze in way. Nar dat make even in compin soja den nor lek am en den nor get for vote for am. Den just wan cause confusion en blame APC.
COCORIOKO spoke to Sorie Kanu, Ya Mabinty Conteh and Faray Kargbo and their versions were the same—That the intruders who turned out to be SLPP supporters were the aggressors. They attempted to forcibly post Maada Bio's photo on a structure which they all said belonged to Dr. Samura Kamara and the quarrel over this triggered the chaos. If den bin just cam campaign, norbody nor bin for attack dem. Nar wey den try for post den photo near Dr. Samura Kamara nar dey de confusion begin.
SLPP SUPPORTERS DENY REPORTS AT FACEBOOK
Jeffrey Macarthy Kabs-Kanu: that's absolutely not true …..but there's one thing I know in Sierra Leone. From perspective its that posterity always judge's and vindicates the righteous one's
Paul Saffa :  Wilfred Leeroy Kabs-kanu, ironically the Police chief gave the interview in first person , but when asked if he was present , he said he met the situation had coiled down. My question is why didn't he use the word 'alleged' or ' from an eye witness 'in describing the incident. That would have saved him his day. Like I often say, I don't believe in political parties but principles and policies and the rule of law 
One Abdulai Brima posted the following on Facebook :
A few hours ago today (20/02/2018), in what many have concluded was a planned assassination attempt on the SLPP presidential candidate, the retired brigadier Julius Maada Bio and members of his campaign team, came under heavy attack inside Khamalo, the hometown of APC's Samura Kamara.
Three members of the convoy reportedly sustained serious injuries and at least two vehicles damaged. Three of the escorting motorbikes were commandeered by the attackers and completely burnt down as the SLPP team quickly manoeuvred and retreated their way out of the town.
Today's stop in Khamalo was part of the agreed to and documented official campaign schedule which took the SLPP campaign team through several towns and villages in the Kambia, Karina and the Bombali districts, including Samaya Tambaka where they were very well received.
As soon as the SLPP team entered Khamalo town centre, escorted by official government security guards, and were ushered to the spot where the meeting with the townspeople was supposed to take place, they found themselves surrounded by a hostile mob of stick and stone wielding people who immediately started pelting them with stones in what appears to be a pre-planned and well calculated attempt on the lives of the SLPP leadership.
Everyone had to try to beat a fast retreat under a hail of stones and sticks.
At the time of writing the convoy is on its way to Freetown.
Another report reaching us also indicates that a group of SLPP members were today violently attacked in Kalangba.
_____________________________________-
The confirmation by the Police Chief that it was the SLPP  that attacked the APC is being debated all over the nation as Sierra Leoneans pray for a peaceful election.
WE WILL BRING YOU MORE REPORTS
DR. SAMURA KAMARA TO ADVANCE PRESIDENT ERNEST BAI KOROMA'S AGENDA FOR HUMAN DEVELOPMENT IN SIERRA LEONE PT. 2
By WILFRED KANU JR
When we declare that this presidential candidate suffices to advance President Koroma's agenda for human development in Sierra Leone, it does not suggest that he has no enactments on his part. We have studied the economic history of the nation, and despite being limited, we appreciate the growth of human development in the country. We note this from an international point of view. In doing so, we believe that the best course of action in this current election is, in fact, Samura Kamara, coupled with the progress made by the Koroma administration.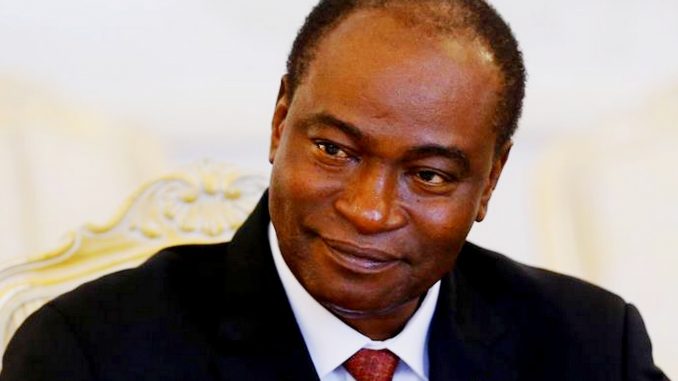 On the long road to economic, industrial and technological improvement, Sierra Leone's wise decision at this moment is to maintain the current course set by this government. Those who win the next election must set a prudent standard to improve the economy. During this election, the people of Sierra Leone must recognize our premature misconceptions when we criminalized previous governments without any concrete evidence. Have they accepted bribes and made inappropriate salutations to family members and friends? Certainly. However, the wrong theory that one enriches themselves from the coffers of the government became uncertain when they died in relative poverty.
Where are all the foreign bank accounts alleged to have been owned by President Momoh? Why are his children not wealthy today? The accusation that our public officials are criminals is the same as it has been since Siaka Steven's administration. Guess what? During Steven's tenure, Leones and the Pound were either 1-1 or close. Even in the latter stage of his administration, situations were far better than now. How can we remind you that the West may have blackballed Sierra Leone? After all, Sir. Milton and Albert Margai along with Siaka Stevens and other national champions had worked hard to tear Sierra Leone away from the colonial control of the British.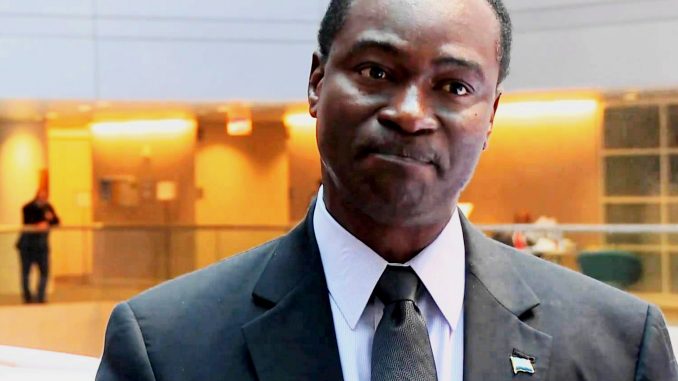 Remember, Freetown was home to one of the largest slave markets owned by the British. When Great Britain abolished slavery and the slave trade she became the dumping ground where they got rid of freed blacks from all over the British Empire and beyond. On April 27, 1961, the country ended her century-long quarrel with colonialism. By 1971, Siaka Stevens took a step further by turning the new nation into a republic. Thus, he disposed of the Queen of England. He even removed her image from the Leones and renamed some of the monuments the colonial masters named after her.
The fall of Sierra Leone had a lot to do with retaliation from the West. After taking these drastic steps, there must be some backlash or implications for these acts. Thus, any difficulties faced by the country during Steven's or subsequent administrations are likely from a lack of experience and mismanagement after the nation became a young and independent republic. Despite that, we can all agree now, although we claim that President Stevens was a corrupt leader, we would all be delighted if the current economy and level of development in the land was to return to what it was like during his tenure.
Sierra Leoneans also accused the administration of former president Joseph Momoh of corruption, incompetence, and nepotism to say the least. Many were frustrated about the fact that Dr. Siaka Stevens transformed the political system into a one-party consensus and appointed the Major General as his successor. Was this because Stevens fabricated Momoh's leadership? Or was it because he was trying to protect the country from falling into disrepair? We all have our views on this issue.
I must make it clear that I do not agree with the one-party approach because it gave justification for the civil war and the overthrow of the All People's Congress. But, under the presidency of Joseph Momoh, a loaf of bread was Le2. One could feed a family with Le40 or persevere for a week on Le200. Fellow Sierra Leoneans, did Siaka Stevens die as a billionaire? Did Joseph Momoh die as a multi-millionaire? In 2018, are we allowed to ask how come after Captain Valentine Strasser overthrew the APC on the basis of corruption, incompetence, and misappropriation, why did he not reestablish the economy as he thought it should be? Why did he fail to meet the expectations of his supporters?
The answer is simple: restoring a failed economy is a difficult task for any head of state. Strasser's administration could not afford to create more jobs, renovate degraded infrastructure, resolve electricity shortages once and for all, or even strengthen healthcare or security issues. His reasonable excuse was that the National Provincial Ruling Council was unable to focus on development, policy-making or economic growth because of the ongoing conflict. Some could also see that if the war was because Siaka Stevens was the father of corruption who appointed an incompetent Joseph Momoh as his successor, why was there still fighting after the NPRC removed the APC from power?
When we lead this discussion from a rational perspective, the administration of former President Momoh proved over time that it was peaceful, livable and better than any other government except for the Ernest Koroma administration. In fact, when the National Provincial Ruling Council came to power, their most immediate decision was to print new money. One should commend them for at least honoring the likes of Bai Bureh, and Sengbe Pieh instead of spreading their faces on the new money. However, the value of the NPRC Leones became much lower.
During that period in 1993, the price of bread had risen from Le2 to Le100. The family now needed at least Le500 or more to survive in a day. Where one needed Le200 or more to get them through one week before, they now lack Le1000. The APC's weak economy became more than ten times better than the NPRC's reformed economy. Let us consider former president Julius Maada Bio a hero who spent his youth fighting for us. He also helped to bring the nation back to diplomacy. After ousting the former president, Captain Strasser, the majority were now betting on the Sierra Leone People's Party. Although $100 was only Le35,000 during the last APC administration. And now that same amount was more than Le80,000 under Maada Bio after it nosedived from Le66,000 under Valentine Strasser.
The NPRC was in command and the country was in a full-blown civil war. The majority still blamed Siaka Stevens and Joseph Momoh for the economic decline even as it receded much faster under the new presidents. The international community and the Economic Community of West African States (ECOWAS) placed Sierra Leone under increased pressure to return to democracy. The world saw that if Stevens was corrupt and Momoh was incompetent, Strasser and Bio were both. Keep in mind that 1995 was only three years after the APC left power.
You do the math and tell me. Siaka Stevens had maintained the economy at a slow decline for eighteen years. President Momoh's APC government had also managed the economy at a gradual descent for seven years. Within three years, both Strasser and Bio administrations had watched helplessly as the economy spiraled downward at a ten times faster pace. Unemployment, one of the main reason for the APC overthrow, had worsened. Human rights, policy-making and the economy had fallen below the reasonable standard of living.
By 1996, the same people who danced in the streets for the NPRC, applauding Strasser's message of solidarity, reconstruction, and reform, were now sackclothed in ashes. The cost of living had risen rapidly while prices increased dramatically. Unemployment was still high, and the brutal civil war had worsened. Everyone was in a rush for the former president Maada Bio to hand the country over because now it was clear that the military juntas had no governing experience.
As is now the case, back then, Sierra Leone's presidency required someone with experience in governance. By instead of bringing back the APC in 1996, despite the fact that they ran a peaceful country with a better economy, the people decided to give the SLPP their long-awaited chance. Understandably so, they wanted to try someone different, someone with an international resume, and that person was Dr. Ahmad Tejan Kabbah. Many forget that the Armed Forces Revolutionary Council's Kabbah overthrow was only five years after APC left power in 1992. Showing how quickly the country had deteriorated after deviating from the "corrupt" system that Siaka Stevens set in place.
Ask yourself, if Siaka Stevens was president in 1991, could civil war be possible in Sierra Leone? What happened to the Manor River Union? Sierra Leoneans believed that the SLPP was about to end corruption, nepotism, intolerance, and disorganization in the country. President Kabbah had 20 years of civil service in advanced parts of the world. He was Vice-President of the West Africa Division of the United Nations Development Program (UNDP). Dr. Kabbah had also held several senior positions in New York, Tanzania, Uganda and even Zimbabwe. So it could be said that he was the best choice to end the war and dig the country out of her financial and developmental rot.
Unfortunately, with all his experience and international connections, when he came to power, corruption, nepotism, and narrow-mindedness did not stop. The Leones continued to fall, and the living standard dropped so severely that Sierra Leone became known as the darkest country on the planet. Electricity was now something of the past. Indeed, Sierra Leone should respect President Kabbah because he worked hard to end the civil war. His various "Peace Agreements" and working with the leaders in opposition led to the disarmament of the RUF and the ultimate end of the civil war.
Some can claim that the SLPP and Tejan Kabbah came to power at a time of massive turbulence. That this reason is why they could not stop the free fall of the Leones, create jobs, improve education, agriculture, transportation or healthcare etc. They could argue that the times were so harsh that all Kabbah could focus on was bringing lasting peace to the country. One cannot dispute this fact. Then again, another person can show that if the war started because of some people who felt deprived by the one-party state of Siaka Stevens and the appointment of Joseph Momoh as his successor, it is likely that those who ended the war are on the same side as the ones who started it. In addition, during that period, the SLPP did, in fact, cooperate with the Revolutionary United Front.
Of course, this argument is unfounded. So I will only urge you to take note of three repetitive patterns. 1 – The fact that every new leader welcomed in office, the public later accused them of corruption, injustice, and nepotism. 2. How the Leones, the lifeblood of Sierra Leone's economy quickly destabilized from Captain Strasser's system all the way to Dr. Kabbah's presidency only to show dramatic improvement when President Koroma came to power. 3. How the appointment of Samura Kamara reminds us of the transfer to Momoh and Yumkella's sounds like a hybrid of Valentine Strasser, and Tejan Kabbah. Is history repeating itself already? You will decide.
After former president Maada Bio, Dr. Ahmed Tejan Kappa became the next hero. Despite the challenges ahead, the people considered his presidency would be great for nation rebuilding and reviving of the economy because he had experience from working overseas. Many Sierra Leoneans believed that his foreign civil service experience and connections would be vital to the rebuilding of Sierra Leone. Only, his contacts were most beneficial in returning and keeping him in power.
Sierra Leone needs a period of continuity. The absolute majority believed that its government is subject to the misappropriation of financial resources. And at the same time, the United Nations has classified the land as a "least developed country." So, rather than yelling about misappropriation of finances, corruption or injustice, citizens should start a dialogue about civic loyalty? If history is proving anything, it is that the government cannot take the whole blame for all the problems in the country.
As we all know, civil servants and citizens must take their education and careers seriously. We should perform our duties with honor. We should not tamper with company funds or remove resources from the institution. Nor should we accept a bribe. Good-intentioned citizens should not destroy, abuse or steal from the public property. We should not discredit our governors, public officials or journalists. Or undermine progress in programs where there are no self-interests?
Do these manners apply in our people psychology when speaking about financial misappropriation or corruption? Out of all the political systems that took power in this generation, APC is the most forward-looking. Many will disagree. Some will claim that the APC has mandated me to promote their interest. Others will insist that I speak from a place of allegiance. Nonetheless, when you open economy books, do the math, research analysis and reports you will come to the same conclusion.
Samura Kamara is the best possible leader for Sierra Leone at this time. Julius Maada will serve us better as a military adviser, not a political candidate or president. He could be someone who polices the trade sector to ensure that false deals, bribes, and corruption are thwarted. It would be better if Dr. Kendall Yumkella were an economic adviser to help secure significant investments in agriculture, telecommunications, wireless technologies, mining, tourism, and transportation.
Together as a team, an organized working unit, these respected flag bearers can work to at least return the country to where it was when Joseph Momoh or Siaka Stevens left it. As pro-Sierra Leonean citizens, we should see the progress made by the administration of Dr. Ernest Bai Koroma. At the national level, in the highest interest of the country, we must look back at the failure of other regimes. We must recognize that the entire administrations of the All People's Congress are the only one characterized by peace and a relative amount of human development.
Therefore, we should support Dr. Kamara not only as government officials but also as loyal citizens locally and internationally. Has there been some progress since Dr. Koroma? Yes really! Is there progress on the scale that we would like? No! Have we improved human development and living standards for every Sierra Leonean? No! But that's because our economy is much further away from satisfactory. Not because our ascendant had misled or practiced corruption. It is due to war, epidemic, natural disasters and the lack of civic loyalty to one another and to the country.
Sierra Leone is growing from the bottom of the least developed countries, which have some of the lowest human development in the world. As a result, there is a shortage of high paid and an excess of low-paid employment in our GDP. The country is in poverty with pathetic literacy, inadequate healthcare, sanitation, and redundant city or metropolitan planning. There is the problem of insufficient electricity and tap water supplies. And an endless maze of terribly constructed roads and reduced visibility. Sierra Leone is smoky and dusty. Almost everyone has malaria, fever or a cough.
Because of these restrictions, we rely on the export of minerals for foreign exchange. Due to insufficient infrastructure in the post office, banks, storage facilities, and airports. Our focus should, therefore, be on ensuring that these gateways are functioning on a high level and at least 60 percent of the estimated $70 to $250 million that passes through the private mining sector every year are taxed through official export institutions to prevent smuggling and money-laundering.
Dr. Kamara is intelligent enough to accept only information and data that can be verified by a reputable international observer. And he realizes that our economic development will continue to stagnate if we rely heavily on mineral resources. As with President Koroma, he knows that we need a progressive government and citizens with genuine civic loyalty to the country to dispel the belief that diamonds, gold or timber are sufficient generators of profits and investment for Sierra Leone.
Dr. Kamara seeks to improve the current situation. He promotes industrialization and envisions new development projects that encourage investment. But even this will not solve all the problems in Sierra Leone. Dr. Samura Kamara is aware that Sierra Leone should continue on an upward path from the low level of development. To achieve this, we must restore the manufacturing sectors of the economy by not relying solely on the extraction of raw materials or assets that we can not recycle.
In cooperation with the civic loyalty of the people for the future, we must improve transportation, communication, tourism, and agriculture. We need more accountability at postal facilities. At this stage of Sierra Leone's growth, our next government should take the most practical steps. If citizens show allegiance to the system, they cease the "hunger cow" mentality; we should see an increase in the gross domestic product that will boost healthcare, sanitation, electricity, clean drinking water, high literacy, housing, and security.
These are practical and achievable goals which Dr. Kamara already has a platform to pursue. And with APC's record as the only party that has maintained peace while increasing commerce and development programs, it should be easier to trust them instead of big promises from unproven aspirants.
——————————————————————————-
Don't give up your Sierra Leone passports : Alpha Kanu
Minister of Information and Communication, Hon. Alhaji Dr. Alpha Kanu has called on all APC Diasporans affected by the recent symbol brouhaha not to even think of surrendering their foreign passports.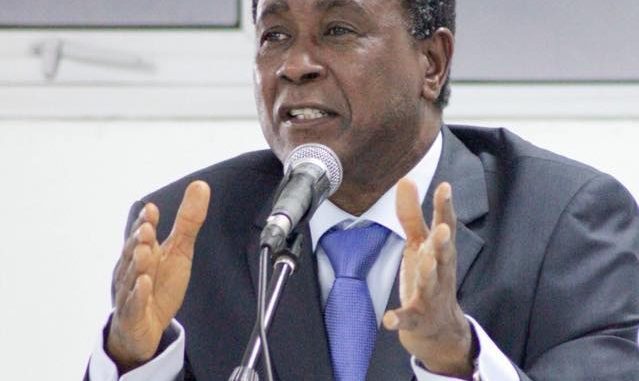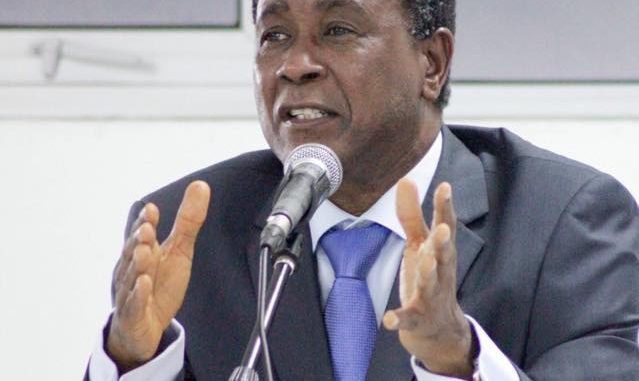 Dr. Kanu was addressing hundreds of APC Diasporans who were recently denied the party's symbol to contest the forthcoming Parliamentary election at the Atlantic hall of the Siaka Stevens Stadium hostel, Wednesday, 18th January, 2018.
He admonished them to have faith in the Almighty God over the outcome on the award of the APC party symbols to contest the upcoming Parliamentary elections. Dr. Kanu warned that it doesn't make sense for one to renounce his/her foreign citizenship for a political appointment which is just temporary and added that there are so many advantages for holders of foreign passports in those countries.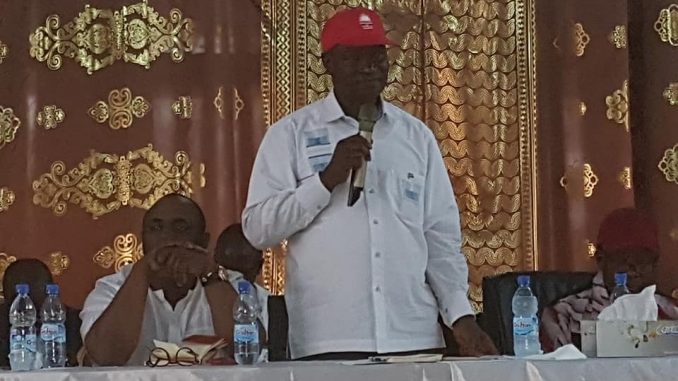 The party's National Secretary General, Ambassador Alhaji Dr. Osman Foday Yansaneh appealed to the APC Diasporans to remain steadfast and have the confidence that the APC cares more for Sierra Leoneans in the Diaspora than any other party. He said since the APC came back to power in 2007, the Diasporans have been offered more opportunities than any other government. "Even the recently closed parliament, out of the 70 APC Parliamentarians, 53 of them are from the Diaspora ", he disclosed.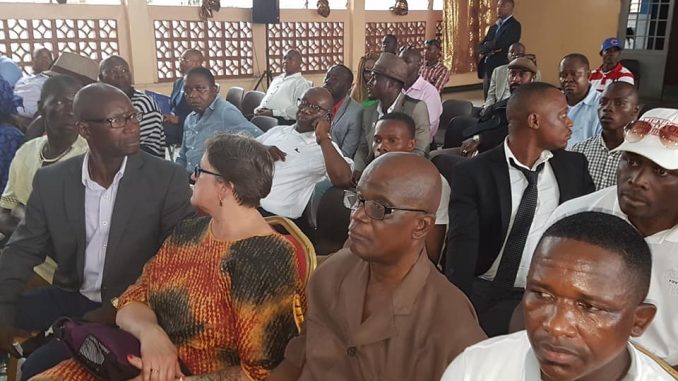 He assured all that Section 76 of the 1991 constitution will be the first bill that will be tabled before the new parliament for amendment.
"We took the step not to award you the symbols as a precautionary measure, because Section 76 of the constitution which had long been oversighted by all the governments since 1991 has now been reawaken by a prominent legal luminary in Francis Gabbidon. We don't have to continue ignoring it otherwise any opposition party would have used it to petition our candidates and we suffer the consequences. We don't want to fall into that trap".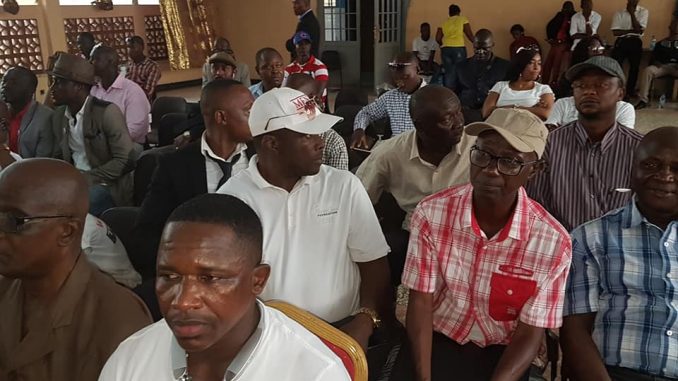 He assured all that there are so many other appointments and opportunities for Diasporans when the party is returned to power.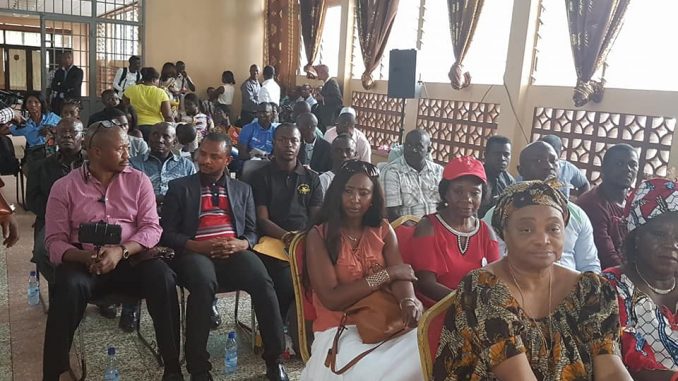 The APC Presidential Candidate, Dr. Samura Kamara emphasised the role and importance of the Diasporans. He disclosed that when he was Bank Governor, they carried out a case study about the remittances of Sierra Leoneans in the Diaspora which he pegged at between $250m to $400m annually, almost 20-25% GDP. He therefore, pledged his commitment to not only review Section 76 of the 1991 constitution but to ensure that Sierra Leoneans living overseas have the opportunity to vote. He also reiterate the need for Sierra Leone to join the digital world. "These will be some of my immediate challenges when I become President". He therefore called on all to bury the symbol disappointments and move forward for the party to clinch victory on the first ballot come March 7. He stated emphatically that, "the worst APC government is far better than the best SLPP government".
Earlier, the APC Holland Chairman, Simon Seisay appeled for Diasporans to be included in the APC Campaign teams. Contributions were also made by Mustapha Koroma, the APC UK/I Chairman and Mr. John Bornoh Sesay, the Presidential Campaign Chairman.
POPULAR SALONE RAPPER LAJ ENDORSES DR SAMURA KAMARA FOR PRESIDENT 2018*
By Chernor Ojuku Sesay.
Dr. Samura Kamara won another major endorsement on Saturday 6th January 2018, at the Siaka Stevens Stadium. Exactly Ninety days ahead of the general elections on March 7th 2018, this landmark endorsement came in, at the right time in this political climate. Dr. Samura Kamara continues to dominate the national political airwaves and demonstrate growing support from the ordinary grassroots people across the Country.
The popular rapper, Laj who threw his support behind the candidature of Dr. Samura Kamara on Saturday, is a great pillar in the Salone music industry, Laj who is also regarded as a musical idol amongst his fans, has also contributed in shaping the music industry in his own little way, in energizing the music industry. Laj endorsements for Dr. Samura Kamara and Chericoco serves as an indication of a growing acceptance on both ends of the entertainment industry and socioeconomic political aisle.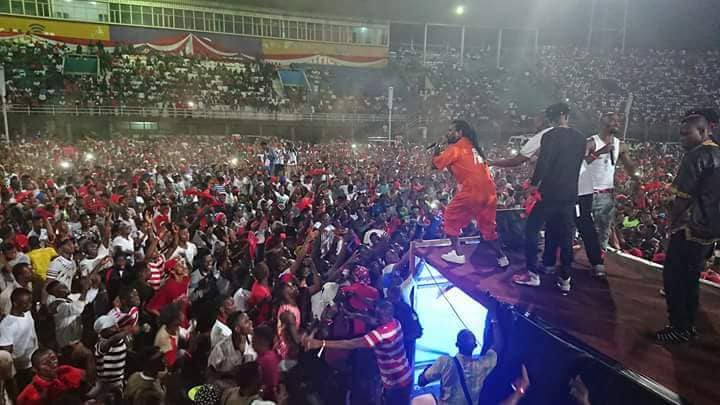 Laj, subtly makes the case why he believes that Dr. Samura Kamara is the most suitable candidate for the presidency in this elections. He believes that, Dr Samura Kamara is indeed a socioeconomic development expert as far as he is concerned, and the rest of the populace can attest to this fact, and on so many national issues; and the most experienced presidential candidate to ever run for such office.
Dr. Samura Kamara is a great man, he continued… Even though he has kept quiet all this while, the popular rapper believes that, our country is at a cross road, and it'll be very much unjust on his part to be on the sidelines in this elections, without him gets involved in the political process by endorsing the best candidate in this race to set the record straight up.
Laj looked fired up in endorsing Dr. Samura Kamara for President; and ready, to get in this fight and work his heart out for Dr. Samura Kamara to become the next president of Sierra Leone and the ultimate successor to President Dr. Ernest Bai Koroma. It's clear now that we need to start thinking about all of us together and we need to think about the difference between us and them, in this elections.
There's too much at stake in this election. Folks like Laj knows that, our country needs a strong leader in the person of Dr. Samura Kamara who cares about strengthening the ordinary grassroots people, by creating the enabling environment for them to thrive, and making sure each and every child can live up to their god-given potential in this country as President, and Dr Samura Kamara will continue in sustaining the peaceful coexistence our country is enjoying, as the most peaceful country in West Africa and third the whole of Africa.
The popular rapper, Laj left with no choice but to commit himself in his January 6th concert in endorsing and supporting Dr. Samura Kamara, and promised to do everything he can to help Dr. Samura Kamara become the next President of Sierra Leone. *In the video, Laj opined that "e nor dae Tok boku, e nar Dr. Samura Kamara," he called for calmness and patience.*
Laj, is counting on all his fans, to rally behind his candidate of choice in this elections which is Dr. Samura Kamara. I know you won't let him down. With 100% certainty I believe Dr. Samura Kamara should, and will, be our next president. He will make an outstanding and worthy successor to President Koroma. He will do big and important things, for our Country, and we will all look back and be proud of whatever we did to help elect him, as our next President of Sierra Leone 
🇸🇱.
Look the video of Endorsement
👇🏽
👇🏽
👇🏽
👇🏽
*Tolongbo to State House!!!*Raaaaaaaaaaaaaaaaaaaaaaaa*
©️Alkay D'Prince