Sierra Leone's High Commissioner to the United Kingdom has led the campaign against Ebola in Sierra Leone by offering proceeds from the sales of his book to the Ebola fund.
His Excellency Edward Mohamed Turay said his government is very much concerned about the Ebola pandemic in Sierra Leone and that they are doing everything possible to put the situation under control.
At the Cambridge House in South East London, where the High Commission had gathered Sierra Leoneans for a fund-raiding and awareness raising meeting, the High Commissioner called on Sierra Leoneans to come together in the fight against what he described as 'the deadly disease'.
"That is why I have brought in this meeting health disease experts who are just returning from Sierra Leone to brief you all about the situation on the ground."
Setting the pace, the High Commissioner presented large amount of his recent Prophecies of a Father book which were hugely sold at the meeting as a first step to kick start the Ebola fund.
Popular London-based journalist and historian Ade Daramy who chaired the meeting said "this is the time Sierra Leoneans should be united more than any other time in the country's recent history."
Daramy said the Ebola disease is currently ravaging the country and it is but befitting that Sierra Leoneans in the Disspora take a leading role in this campaign to help their compatriots back home in eradicating the disease.
He made this statement after introducing members of the high table that includes the High Commissioner and his deputy Tamba Mansa Ngegba, the interim Chairman of the UK-based Kailahun District a Descendant Union Prince Goba, author and writer Kadie Mansaray and Dr. Collin Brown a British infectious disease specialist who was just coming from a three-week working session in Sierra Leone.
Giving an independent report card on he Ebola situation in Sierra Leone, Dr. Brown said all is not lost and that the situation is not as bad as being speculated.
He said it is too early to confirm Ebola as an incurable disease and disclosed that there are treatments in hospital that can increase the likelihood of survival.
Dr. Brown gave a comprehensive statistics of Ebola and the challenges involved, having worked on a number of cases in Kailahun and Kenema where additional response wards have been established for Ebola patients.
"One of the main challenges we are facing is the difficulties in recognising the disease as people find it difficult to accept the reality of Ebola." 
Brown said there are lots of NGOs on the ground who are helping and particularly praised the Medicine San Frontier (MSF), Red Cross and IOC an Italian emergency NGO to mention but a few.
The medical expert disclosed that the British government is ready to give out a million pounds as part of their contribution to the fight against Ebola.
He said a lot of sensitisation needs to be done about the Ebola diseases adding that there are people who still believe that Ebola is a disease that does not require hospital treatment and therefore called on members of the diaspora to help in educating their people back home on the need for hospital treatment.
He briefed the audience about a meeting in Ghana represented by eleven countries in which issues of intra-countries strategies on how to raise funds and awareness as well strengthening surveillance in the fight against Ebola.
Prince Goba of the Kailahun District Descendants Union expressed thanks and appreciation to the High Commission for organising such a meeting.
He said as a union, they are not expecting government to do everything and that they will do everything possible to compliment government's efforts in the fight against Ebola. 
Deputy Minister of Internal Affairs Sheku Tarawalie who made a brief stop-over in London was forced to step in after one speaker attempted to politicise the Ebola issue saying government is not doing much about Ebola.
"This is quite untrue – government is doing everything possible to contain the situation," Tarawalie said adding that his government had taken measures as earlier as the outbreak in Guinea by setting up task forces that worked along the borders.
"This could happen anywhere not just in Kailahun but elsewhere as long as places Sierra Leone share borders with," the minister said adding that he was happy to be part of the meeting.
"I had wanted to remain as anonymous as possible in this meeting but at the same time, I will not sit down and see people politicising the Ebola issue and attempting to discredit the government – that is unacceptable," he said.
Author and writer Kadie Mansaray who had initially launched a massive campaign on Ebola and setting up an Ebola trust fund in London, called on Sierra Leoneans to contribute to the fund.
There were also contributions from the audience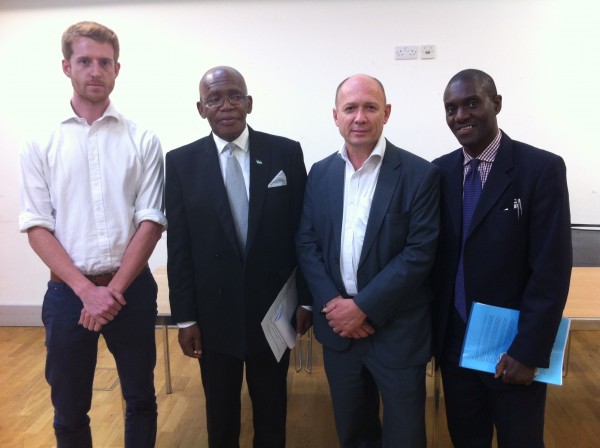 Sorie Sudan Sesay
Diplomat
Sierra Leone High Commission
United Kingdom
CEO
SIERRA Update Communications
(Publishers of SIERRA Update Magazine & The Update Newspaper)
M:  +44-2074040140 / +44-7950420132
      +232-33657886 / +232-78325512
Skype: updatesierra
Sent from my iPad