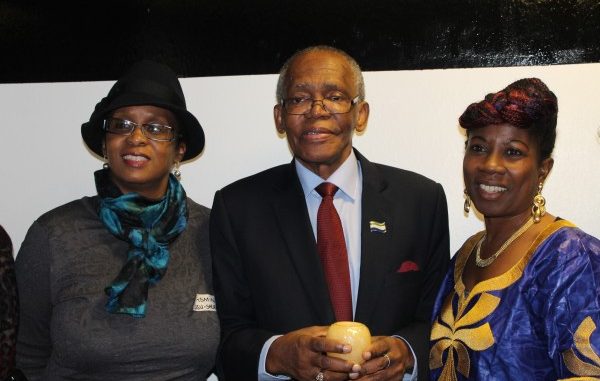 By Sorie Sudan Sesay
 Sierra Leone's High Commissioner to the United Kingdom has warned politicians engaging in politics instead of concentrating on Ebola.
In a press release issued from his London office this afternoon, His Excellency Edward Mohamed Turay, who is also a senior member of the National Advisory Council (NAC) of the ruling All People's Congress (APC), said this is not a time for politics and called on all Sierra Leoneans to rally around President Dr. Ernest Bai Koroma in the fight against Ebola.
The full text of the press release reads below…
I am horrified and disgusted to hear that a couple of Candidates under the APC Party have publicly announced their intention to succeed the incumbent President in the 2016/2017 Presidential Elections.
In my view these Candidates have not only shown how callous, indifferent and unconcerned they are about the scourge of the Ebola Virus ravaging Sierra Leone at the moment.
The challenge our country faces today with the Ebola outbreak is the gravest we have encountered since the end of the Civil War.  We have seen a reverse of much of the progress we were making in many areas of our development since then, a view shared by our international development partners, including the World Bank, which predicted a sharp fall in our GDP growth over the next year.
Since then, Sierra Leone's agriculture Sector, the key employer in the country, has already been severely impacted, with capacity, and output decimated.  Similarly, the Mining Sector, which is responsible for thelion's share of the country's recent impressive growth numbers, is reeling from reduced or suspended operations and the recent bankruptcy filing by a major Mining Company and Key employer in the country.
Above all, a large section of our voters are dead or are dying as a result of Ebola.
Please my Comrades – let us think first about the health of our citizens/voters – it is almost three years to election time.
Think Ebola, think about Sierra Leone's recovery from Ebola, and think about the dead – Not about Presidential Elections.  Let us rally round President Ernest Bai Koroma with one Voice – he has gone under tremendous stress.
At the end of the day a Candidate would emerge, not because you are rich or what have you – God has the final say in your Candidacy – Not your money or your riches.  President Ernest Bai Koroma was not a rich man when we chose him to lead the Party – but we rallied around him with our resources after his selection as our Candidate.
By Sorie Sudan Sesay, London