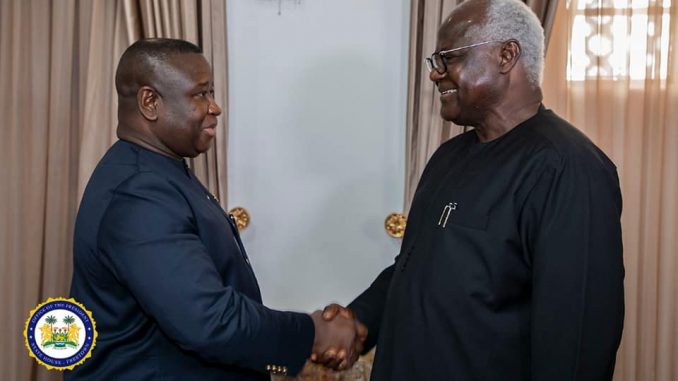 By Wilfred Leeroy Kabs-kanu
If you were one of those who scoffed at and poured aspersions at President Maada Bio's recent peace overtures with ex-President Ernest Koroma and the opposition APC, you were not wrong . Just as you thought, The meeting at State House was not really called because President Bio sensed a compelling need for peace in the country.
Everything President Bio said at the meeting was not true .  It was not any attempt by him to start addressing the unrest and inability he has caused in Sierra Leone through his tribalistic misgovernance, human rights abuses and flagrant disrespect for the constitution and the law. Just as many of us thought, the whole gesture was a smokescreen designed to prepare himself to come and give a wrong impression about himself and his commitment to peace and stability at the 74th Session of the UN General Assembly, which he will be attending next week.
Usually, weeks before the UNGA starts, UN diplomats , including representatives of all the member states are given an educative appraisal of what the main themes and concerns of the year's session would be about.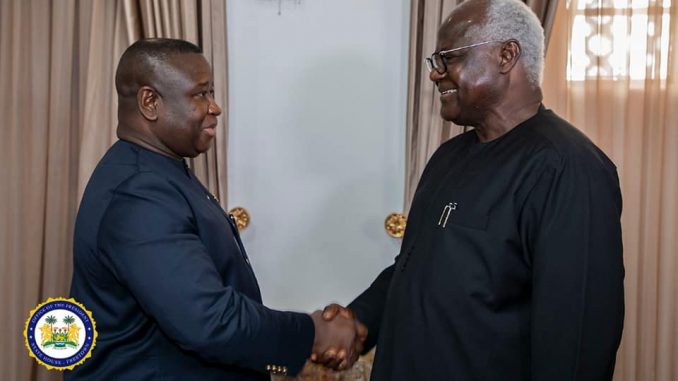 According to UN Document A/74/50, which can be accessed at https://undocs.org/en/A/74/50 , these are the items that will be  on the provisional agenda of this 74th Session of the UNGA : Promotion of sustained economic growth and sustainable development , Maintenance of international peace and security ; Development of Africa ;  Promotion of human rights (Elimination of racism, racial discrimination, xenophobia and related
intolerance (resolutions 2106 A (XX), 3381 (XXX), 73/157 and 73/262);  Promotion of justice and international law, among others. Then Document A/74/100 adds international peace and security
President Bio must have been briefed  and his advisers certainly warned him to summon the fake meeting with President Koroma immediately ahead of the UNGA  because,  if he did not,  he will be a forlorn figure and a villain at the UN General Assembly because just all the evils he is busy perpetrating in Sierra Leone will be the vexing concerns of the UNGA this year . His advisers warned him that he will cut a very lonely and embarrassing figure at the UN where he will feel every weight of the statements and deliberations by UN officials and world leaders pointing at him, as they  will be concentrated on the growing unrest in the world due to bad governance, intolerant rule, tribalism, bigotry , abuse of power and disrespect for the law.
If President Bio had not held that fake meeting, he would have had no place in the UNGA deliberations. While his citizens would be demonstrating against him outside , even the statements in the hall would have sounded as indirect attacks on leaders like him and he would have had no straw to cling to to demonstrate that he was any different from the villainous leaders who will be characterized by other leaders.
The UN Secretary General, H.E. Antoine Guterres , addressing a major press conference at the UN Headquarters yesterday made no bones about where the UN stood  when he  voiced the UN 's growing concerns "The world is at a critical moment on several fronts – the climate emergency, rising inequality, an increase in hatred and intolerance, as well as an alarming number of peace and security challenges. ".
"Tensions are rising everywhere ", the UN Boss cried. Listen to him :  "Let's face it. We have no time to lose. We are losing the race against climate change. Our world is off-track in meeting the Sustainable Development Goals. We see trade wars and real wars, and the spread of hateful words and deadly weapons. Tensions are boiling over – and everyday people always pay the highest price. This is the moment to cool tensions…….This is also the time to promote dialogue and pave the way to political solutions from Libya to Yemen, from Syria to Israel-Palestine, from Afghanistan to South Sudan."
If Bio had not called the fake peace meeting, how would he have felt at the UN when diplomats and world leaders would be lamenting that tensions are boiling over and now is the time to promote dialogue and pave the way for political solutions ?  Bio is a very smart young man. He called the fake peace overtures so he will give an excuse that he is doing what the UN is demanding  in Sierra Leone where the world knows tension is rising and the country is very unstable since Bio came to power. Of course, it would be immature for anybody not to know that though Sierra Leone was not named, the UN and the International Community are fully abreast with what is presently going on in Sierra Leone. They have their agents and officials on the ground in Sierra Leone, who report to them.
How would President Bio had felt if he had left without any attempt at peace ,  even if fake, when the UN Secretary General is saying "Transparency, dialogue and greater understanding are essential to alleviating mistrust", and then calling  calling the General Assembly "a unique and indispensable forum for the world to come together and discuss sensitive and important issues" ?  Maada Bio would have looked out of place .
The only good thing that could be said about him with regards to the matter under review is that President Bio has started showing a tendency tp listen and follow advice, which he had not been doing since he came to power last year.