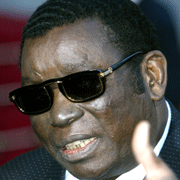 EYADEMA DIES IN PLANE ON WAY ABROAD FOR TREATMENT
Saturday February 5, 2005
The page has closed on another brutal chapter in the chequered history of political dictatorship and repression in Africa. Gnassingbe Eyadema, the man who ambushed the incumbent Head of State in broad daylight and shot him dead with his pistol  , died today in a plane rushing him abroad for medical treatment.
When the then Prime Minister  of Togo, Sylvanus Olympio refused to take back into the  Army 626 veterans of French wars,  the then Sergeant Etienne Eyadema quarrelled with him and settled scores by killing the Chief Executive  in cold blood on January 13, 1963  , paving the way for a return to power by  Togo's first Premier Nicholas Grunitzky who had been upended by Olympio in 1960.
The ruthlessly ambitious  Eyadema then kicked Grunitzsky out of power in a bloodless coup on April 14, 1967 , setting the stage for the long, heartbreaking decades of political dictatorship and repression that have marked the history of the little West African nation. Eyadema banned all political parties, suspended all democratic processes and imprisoned all political opponents.
Eyadema became the longest-serving African leader by stealing election after election and keeping opponents mesmerized by an iron fist that was both cruel and merciless .Now that he has died, debates will definitely be renewed about the futility of power , vis-a-vis the brevity of human life and the worthless endeavour ofseeking  glories that would be left behind one day. Even more, Togolese will strive to put their nation back on the right track, but any hope of  a meaningful change has already suffered a hit as  the President's son, Faure Eyadema, has already been named his successor , breaching the constitution which stipulates that the Speaker of the House should replaced an incumbent upon death or incapacitation.
This constitutional blunder may open the way for a military coup and more power struggles and political instability in the impoverished landlocked African country.