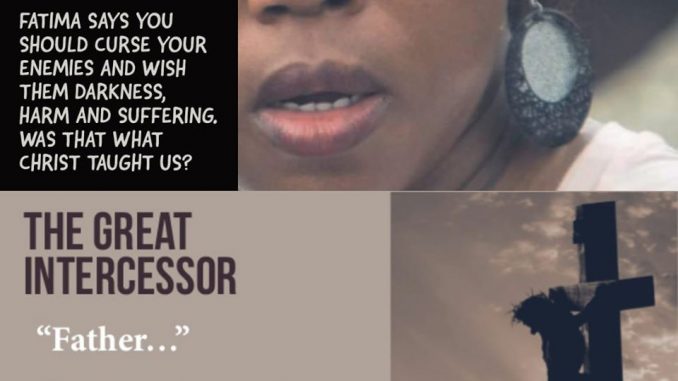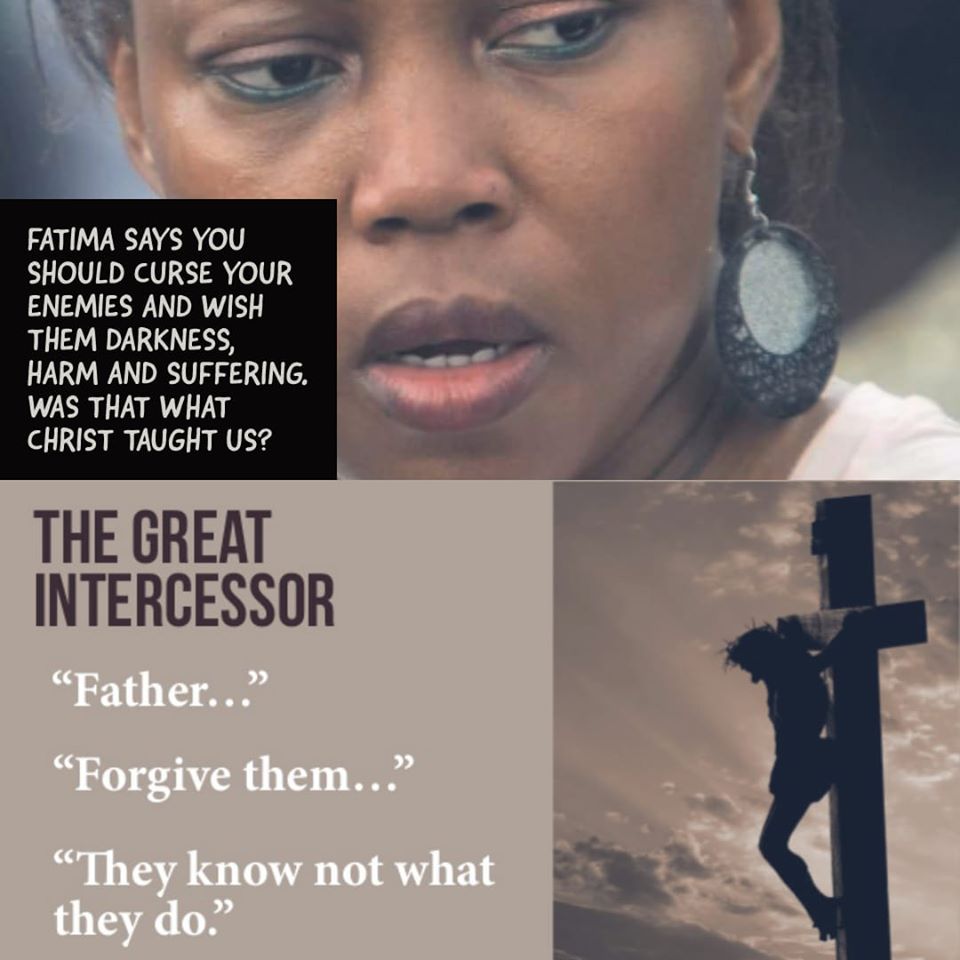 We cannot allow Fatima to mislead people. It is the duty of every follower of Christ to remind our fellow Christians what our Lord and Saviour Jesus Christ actually taught about forgiveness.
https://www.facebook.com/osman.daboh/videos/2557369447630844/?t=25
Below, I have listed some of the words of Jesus Christ our Lord and Saviour, anyone preaching a contrary teaching even if they call themselves, women/man of God, First Lady etc. are preaching another gospel. It's one thing to endanger the temporal existence of people, but when someone teaches a wrong message that may leads souls astray and from attaining eternal life by distorting the message of Christ for their own personal and political agenda, God does not take it lightly.
Ephesians 4:32
Be kind to one another, tenderhearted, forgiving one another, as God in Christ forgave you.
Mark 11:25
And whenever you stand praying, forgive, if you have anything against anyone, so that your Father also who is in heaven may forgive you your trespasses."
1 John 1:9
If we confess our sins, he is faithful and just to forgive us our sins and to cleanse us from all unrighteousness.
Matthew 6:15
But if you do not forgive others their trespasses, neither will your Father forgive your trespasses.
Matthew 18:21-22
Then Peter came up and said to him, "Lord, how often will my brother sin against me, and I forgive him? As many as seven times?" Jesus said to him, "I do not say to you seven times, but seventy times seven.
Matthew 6:14-15
For if you forgive others their trespasses, your heavenly Father will also forgive you, but if you do not forgive others their trespasses, neither will your Father forgive your trespasses.
Luke 6:37
"Judge not, and you will not be judged; condemn not, and you will not be condemned; forgive, and you will be forgiven;
Colossians 3:13
Bearing with one another and, if one has a complaint against another, forgiving each other; as the Lord has forgiven you, so you also must forgive.
So fellow Christian, dont endanger you eternal soul by cursing and swearing anyone. Forgive your enemies. Let God fight for you. That was the message of Jesus Christ, the Son of God. Have a blessed Day.
Samuel Gbenda The same bible says suffer not the witch to live.
There is absolutely nothing wrong in what Fatima did.
Madam if you are guilty you better confess and repent….oda wise d swea go katch you o.

Tilda Kadiri 

The same Bible said "suffer not the witch to live" wickedness and envy results to witchcraft so they deserve it.

Esther M Bangura 

I'll refer you again to governor Clarkson's prayer incase U'll want to make an issue out of Fatima's. We get for dae sweh gbet… en on frequent basis back ooo!

Charlie Rogers 

Moses na for tok to Foss Lady, na in cam na social media because of wam at pan in man plaba cam lego cuss and sweh. Yesterday na in you cam insai Salone and SLPP and you think you are the only one that means well and all other people who you already met there are trying to destroy the country, party and President Bio. Na d wan den way get tem for listen to d boto bata. If she hates the womens leader too bad. She met her in SLPP and she will leave her in SLPP. Sawaneh nor frade APC thugs na Fatima Bio e gor frade. E go sabi sontim. Fatima go find out d hard way say Sawaneh en Zainab Kandeh seff na marabout pikin den way sabi ousai gron ge ya. E jess begin sweh. This is only year one. She should pace herself. There are nine more years to go. E know sabi Maada sef. if she thinks she can control him. Watin na dis gbagbati way Fatima de make. E member say na in wan spend pan Maada en sacrifice.
Fatimas hysterical outburst on social media heaping curses and swearing at people as the solution for dealing with people around her husband she believes are corrupt brood of serpents is ridiculous Those applauding such foolishness are the enemies of progress in our nation..
So just for the sake of argument let's say Fatima Bio's has factual and credible information that leads her to believe that President Bio is in danger of leading the country astray because of these brood of vipers and corrupt people . Is a hysterical outburst on social media heaping curses and swearing at these people the solution?
If curses was a deterrent and declaring hell fire and brimstone was the solution our country, nigeria and so many other african countries where there is a self proclaimed man of god in every corner would be more developed. I can assure in a majority of these so called churches half of the service is spent telling the congregation to rain holy ghost fire on anyone who is responsible for deterring their personal progress and the nations progress . What good has all that holy ghost fire declaration done for the country except to make unscrupulous pastors wealthy.
So if Fatima, thinks that the President is surrounded by thieves, goblins, and all manner of dangerous creatures engaging in illegal corrupt activity that is detrimental to our nation, then she should be a true patriot and take action regardless of the consequences instead of just making noise on social media. Doesnt she tell us day in day out that she is not benefiting anything from her husbands Presidency, no money, nothing. That her only hearts desire is the betterment of the people of Sierra Leone and to set the country on the right track.
So this provide a perfect opportunity to match her words with action. She can be the hero and whistle-blower for this corrupt brood of serpents that don't want the new direction to succeed. She should compile a dossier of their corrupt activities to support her claims and report them to the relevant authorities. Or better still, Ben Kaifala has an open door policy and will be more than delighted to speak with her about it and bring this brood of corrupt serpents in her husbands administration to book.
Anything short of that like a pull hint video, is just a gimmick and does more harm to her husband than good. It sends a message that her husband is incompetent and naive, such that he has surrounded himself with a corrupt serpents. That he is so weak he does not know how to deal with them and the nation must pray for God to send the 10 plagues of Egypt and strike them down to set her husband free.
Is this the kind of perception Fatima want Sierra Leoneans to have about his Presidency? I would hope not.
Anyway, over and over again, it seems that Fatima's may not have the ability to think through the obvious implications of her speech and behavior. Or maybe she does but is indifferent about it. Either way, its a big problem for President Bio.