M.B. Jalloh, Press Attaché, Saudi Arabia
Sierra Leone's Minister of Finance and Economic Development has said in the Kingdom of Saudi Arabia that Sierra Leone is working closely with the Islamic Development Bank (IsDB) and with other development partners to ensure better living standards for the people in the country.
Minister Momodu Lamin Kargbo made the remarks at the IsDB headquarters in Jeddah last Wednesday after signing a Grant for the Law Reform Secretariat with the President of the Bank, Dr. Ahmad Mohamed Ali Al Madani and in the presence of the President Elect, Dr. Bandar Hajjar, who is expected to take over in the next few weeks. (Details of the signing ceremony to be published later).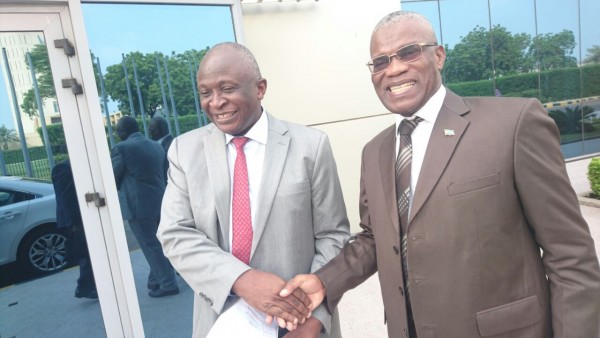 Ambassador-Kargbo-of-Saudi-right-receives-Finance-Minister.j
On behalf of His Excellency the President, Dr. Ernest Bai Koroma, the Finance Minister applauded IsDB's significant contribution to development in Sierra Leone. He expressed Sierra Leone's eagerness to strengthen its cooperation with the Bank and affirmed its commitment to supporting IsDB's developmental mission.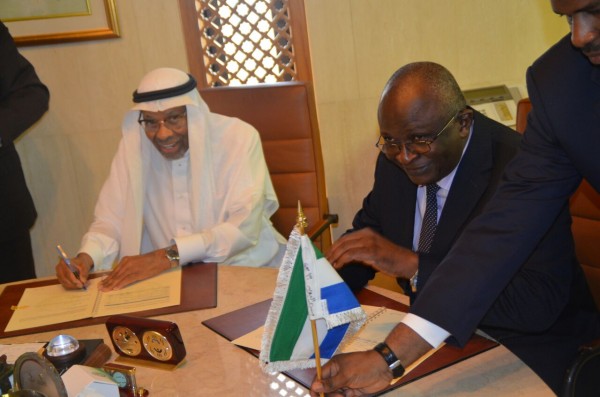 Responding, Dr. Ali praised His Excellency Dr. Ernest Bai Koroma for the Sierra Leone Government's "major economic programs focused on stability, peace building, infrastructure support, social harmony, agricultural development, among others."
He said that IsDB will continue to work with Sierra Leone to implement development programs across the country that will enhance the health and agriculture sectors and expand and improve road, water and power networks in remote areas.
The Finance Minister was accompanied by Kawusu Kebbay, Director, Development Aid Coordination Office (DACO) in the Ministry.
The IDB was formally opened on the 20th October 1975. And Sierra Leone became member on 29th May, 1982. The present membership of the Bank consists of 56 countries.
The functions of the bank, according to a senior official, are to participate in equity capital and grant loans for productive projects and enterprises besides providing financial assistance to member countries in other forms for economic and social development.