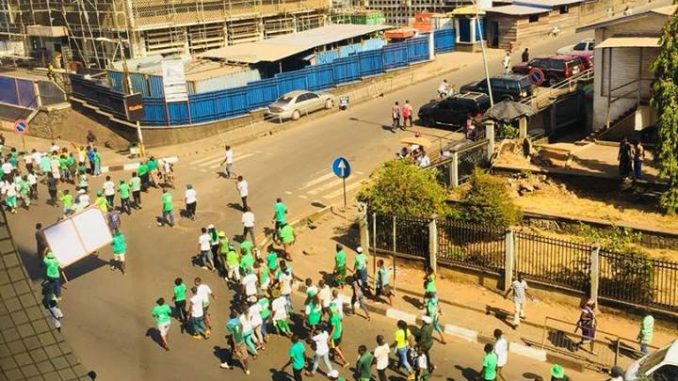 *ALL PEOPLES CONGRESS (APC) MOTTO: ACTION PROGRESS COMMITMENT*
*Public Notice February 26th, 2018.*
APC Condemns SLPP Violence against its supporters in Freetown
It has come to the attention of the All Peoples Congress (APC) that violence and acts of vandalism are being perpetuated by members of the Sierra Leone Peoples Party (SLPP) against our supporters and party paraphernalia. The SLPP, who are supposed to be rallying today in Freetown, are instead showcasing unprecedented levels of intolerance by tearing down APC posters along Bai Bureh Road and other routes in the city. They have also been raining invectives against peaceful citizens of the Freetown going about their normal business.
Violence against perceived opponents is becoming the new normal of SLPP political activities under the leadership of its Paopa faction. On February 20th, 2018, a convoy of SLPP entered Kamalo, the hometown of our Presidential Candidate Dr. Samura Kamara, and committed acts of aggression against our supporters and again tearing down posters of our Presidential candidate, his Running Mate and other APC candidates for Parliament and Local Council. The SLPP also attacked our office in Pujehun and destroyed our posters in that town and in Bo. In Kono, an APC Parliamentary candidate also came under attack by SLPP supporters who pelted stones at his vehicle.
The APC finds these SLPP actions to be very inimical to the wellbeing of the state and we strongly condemn this SLPP wanton threat to the peace and quiet of this country.
The APC Secretariat is also aware of plans by opposition parties, including the SLPP to join the APC last Rally in Freetown on February 28th, 2018 in the guise of being APC supporters with the diabolical plan to throw rice at ordinary people. We herein wish to make it abundantly clear that wastefulness is not part of the APC and that we will be very vigilant to ensure that any infiltrators are identified and handed over to the police.
We are also appealing to our supporters to remain calm and peaceful in the face of these provocative acts. Victory is ours, and we must not go down the road of persons bent on disrupting our electoral victory through cowardly acts of violence and intimidation.
*Long Live the APC, Long Live Sierra Leone.*
*© APC Publicity Secretariat*