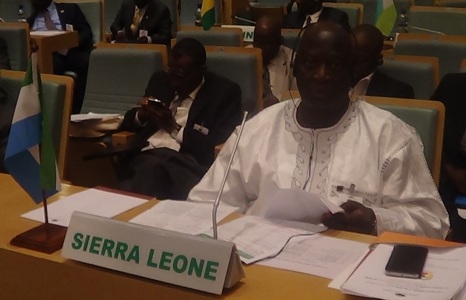 Sierra Leone's Minister of State in the Ministry of Finance and Economic Development, Hon. Alhaji Foday Mansaray has stated that foreign aid alone cannot lift Sierra Leone out of poverty.
He made this disclosure at the 24th Annual Meeting of the African Capacity Building Foundation (ACBF) Board of Governors' conference recently held at the African Union Headquarters in Addis Ababa.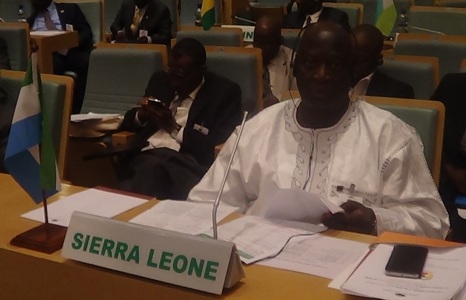 ALHAJI MANSARAY 
The primary focus of the meeting was to seek guidance from the Board of Governors on the future direction of the African Capacity Building Foundation (ACBF) through exchange of ideas on priorities for the next ACBF term plan; to increase visibility over ACBF's activities; and to provide the Board of Directors with an update on the activities of the Executive Board and the Secretariat over the previous years.
Minister Mansaray informed that reforms undertaken over the years by the Government of His Excellency President Dr. Ernest Bai Koroma to modernize the tax base in Sierra Leone have improved the tax administration greatly in the country.
"The introduction of the Automated System for Customs Data Administration has increased revenue collection and shorten tax processing time," the Minister stated, adding that the Goods and Services Tax introduced in 2010 has also increased revenue by over 300% since its introduction.
Madam Jennifer Chiriga, Chief of Staff in the office of the Chairperson of the African Union Commission who made a statement on behalf of the Chairperson of the Commission said that the meeting was a clear indication of the importance Africa attaches to capacity building.
She recalled the partnership between the Commission and the ACBF, which spans over two decades, adding that the latter has provided USD14.8 grant to the Commission to boost its human capacity.
The meeting was also attended by Ministers and Bank Governors across the continent.
Abdul Karim Koroma
Information Attaché
Embassy of the Republic of Sierra Leone
Addis Ababa
Ethiopia
Email: akk23222@gmail.com