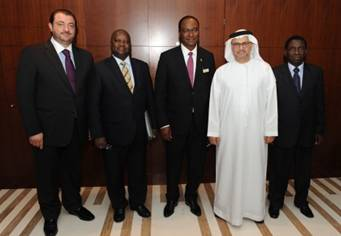 By Alhaji Jalloh :   The Minister of Foreign Affairs and International Cooperation of The Republic of Sierra Leone  paid a courtesy call on the Minister of State for Foreign Affairs in UAE H.E. Dr. Anwar Mohammed Gargash to discuss bilateral issues relating to the excellent relations existing between the UAE and Sierra Leone in the presence of Mr. Abdulah Bin Abood Alnaqbi, Deputy of the Department of Africa Affairs.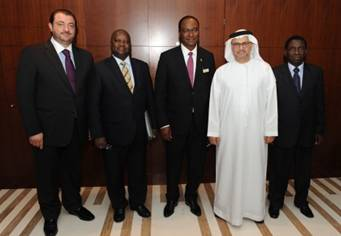 FOREIGN MINISTER SAMURA KAMARA (THIRD FROM RIGHT ) , DR. GARGASH ( SECOND FROM RIGHT ) AND THE DELEGATION OF THE TWO MINISTERS
In furtherance of concretizing the longstanding bilateral relations, a wide range of issues were discussed relating to trade and investment in both the private and public sectors, economic and technical cooperation in the fields of infrastructure developments, like roads, the recently awarded IRENA/ADFD "Solar Park Freetown Project", water resource management, human resource development and above all the establishment of a full diplomatic mission in Abu Dhabi, UAE.
The Honorable Minister Dr. Samura MW Kamara expressed thanks and appreciation for the excellent work in the past 6 years that was successfully carried out by Mr. Bahige Annan – Consul General of Sierra Leone in Dubai, UAE in collaboration with Mr. Siray Alpha Timbo who served as the Special Envoy of H.E. The President to UAE and GCC which has successfully led to the present status wherein we are now finalizing the establishment of The Sierra Leone Embassy in Abu Dhabi, UAE. The head of the Sierra Leone delegation Dr. Samura MW Kamara thanked the Government of UAE for successfully hosting the Abu Dhabi ASCENT meeting in preparation for the climate summit to be held in September 23, 2014 in New York.
The special two-day climate meeting hosted by the UN and the UAE held on 4 and 5 May and called the "Abu Dhabi Ascent" brought ministers as well as business, finance, and civil society leaders together to exchange views on the effects of climate change. They developed a range of proposals for action and determined how their countries, businesses and organizations may become more involved in various initiatives so that partnerships can be broadened and deepened to deliver concrete action at the UN Climate Summit in September, in New York.
The Minister remarked that it was a very inspiring, informative and educative gathering wherein all shades of opinions expressed for feasible solutions for mitigating the effects of the climate change. H.E. Minister Dr. Anwar Gargash expressed thanks and appreciation for the courtesy call paid by Dr. Samura Kamara and his delegation and assured him of continued support and cooperation between both countries. He urged Sierra Leone and the UAE to develop their bilateral mega relations.
In this respect, he hoped the bauxite mining project that is currently under consideration by the two countries will be concluded soon. He also expressed the need for broader cooperation in the other sectors including agri-business and fisheries