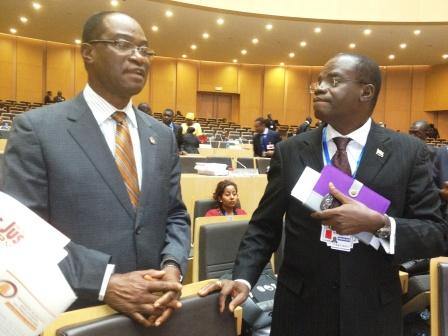 Sierra Leone 's Ministry of Foreign Affairs and International Cooperation has elevated its Deputy Director General, Mr. James Sawi. Mr. Sawi becomes the second Minister Plenipotentiary in the Sierra Leone Foreign Service .
The first ever Minister Plenipotentiary appointed by the Sierra Leone Foreign Ministry is the Publisher of this newspaper, Rev. Leeroy Wilfred Kabs-Kanu , who has served in that capacity for five years  at the Permanent Mission of Sierra Leone to the United Nations in New York.
THE NEWLY-ELEVATED FORMER DEPUTY DIRECTOR-GENERAL, MR. SAWI ( RIGHT ) SEEN HERE WITH THE MINISTER OF FOREIGN AFFAIRS, DR. SAMURA KAMARA
According to reports , the new Minister Plenipotentiary will be assigned to the new Sierra Leone Embassy in South Korea and will work with the Ambassador appointed to that new station, H.E. Mr. Omri Golley.
Mr. Sawi's promotion comes at a time when some Sierra Leoneans are still confused between  the terms of Ambassador Plenipotentiary and Minister Plenipotentiary. Since Sierra Leoneans are not familiar with the post , we bring you a definition of the term MINISTER PLENIPOTENTIARY from  various sources :
OXFORD DICTIONARIES : A person, especially a diplomat, invested with the full power of independent action on behalf of their government, typically in a foreign country.
WIKIPEDIA  : " The word plenipotentiary (from the Latin, plenus + potens, full + power) has two meanings. As a noun, it refers to a person who has "full powers." In particular, the term commonly refers to a diplomat fully authorized to represent his or her government as a prerogative (e.g., ambassador). As an adjective, plenipotentiary refers to that which confers "full powers. Historically, the common generic term for high diplomats of the crown or state was minister. It therefore became customary to style the chiefs of full ranking missions as Minister Plenipotentiary. This position was roughly equivalent to the modern Ambassador, a term that historically was reserved mainly for missions between the great powers and also relating to the dogal (city) state of Venice." Envoys are entitled to use the title "His/Her Excellency"
NOTE : The position is not reserved for career diplomats  only , for historically, Kings and Heads of State appointed ordinary civilians Ministers Plenipotentiary. According to Wikipedia, " As well as diplomatic plenipotentiaries, some permanent administrators are also given plenipotentiary powers. Central governments have sometimes conferred plenipotentiary status (either formally or de facto) on territorial governors. This has been most likely to occur when the remoteness of the administered territory made it impracticable for the central government to maintain and exercise its policies, laws and initiatives directly."  Wikipedia reports that  " The minister plenipotentiary (Dutch: gevolmachtigd minister) represents the Caribbean countries Aruba, Curaçao and Sint Maarten in the Netherlands, where they form part of the Council of Ministers of the Kingdom."
THE FREE DICTIONARY BY FARLEX ; min′ister plenipoten′tiary
n., pl. ministers plenipotentiary.
a diplomatic representative invested with full authority; envoy.
4. A representative of a government, sent to the court, or
   seat of government, of a foreign nation to transact
   diplomatic business.