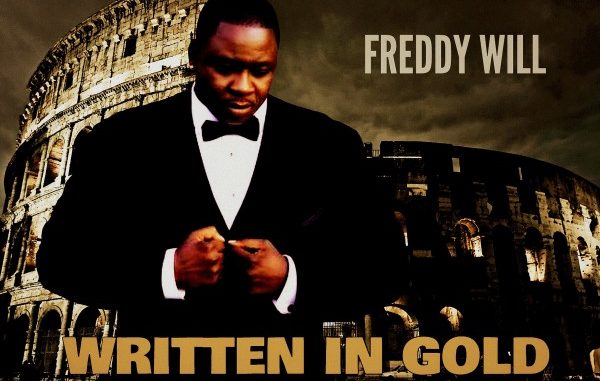 Wilfred Kanu Jr., popularly known as 'Freddy Will', had a lot to say about his last 10 years in music, literature writing and continuing his philanthropic work. The city of Brookfield's native has turned out to be a musical genius who is also one of the most prolific authors of his generation. And he remains humble in his pursuits.
Now comes word that the "2 Passports" rhymer, is working on his fourth and fifth books that will be published in Europe after previously authoring three previous books in Canada. All three books released were accompanied with three corresponding Hip Hop albums.
Reportedly, Freddy Will has already completed his fourth publication which is a poetry book he penned in Old English, entitled "Written In Gold." His management has also announced that "Written In Gold" will be published alongside the ostensible new album, "Wilfred 14 Hits." Look for this book and album to drop this Spring or summer.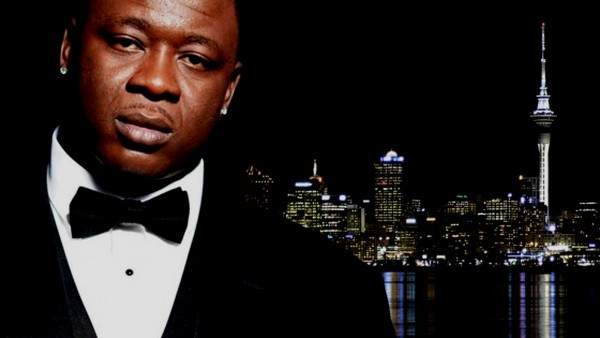 Sierra Leoneans have a thing for intellectualism. When he was a boy, he kept a journal and several rhyme books filled with lyrics and poems he wrote over many years. As a teen, he volunteered as secretary of his social group. No one believed in his dream back then so, at first, he was not taken seriously. Many people thought his dream of becoming a mainstream musician and an author, was far-fetched.
"Our country did not have a Youssou N'Dour, Miriam Makeba or Kanda Bongo Man." He often recalled. "He bares our flag proudly, and he's happy to bring the awareness to the country" a source told us, "We have artists who promote shows in Sierra Leone but they're not competitive outside of the Diaspora itself. Traveling overseas to perform within the Diaspora does not make one an international artist."
Freddy Will has enjoyed successes in his career. The Grammy-nominated artist is the first artist from Sierra Leone to reach that level of recognition and also as a published author. His second book, "The Dark Road from Romarong" was the choice of a professor at the University of Rome and let's not forget his official postage stamps.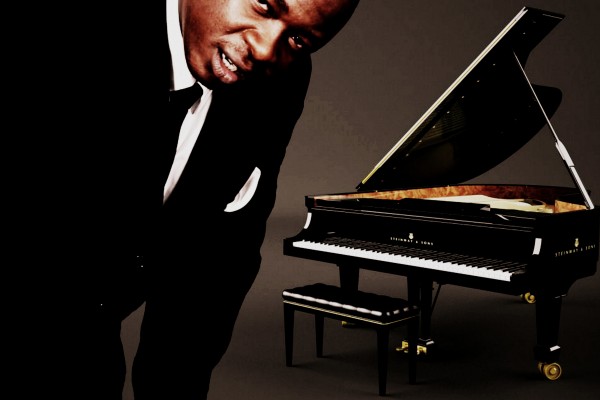 On the philanthropic side, every year since 2007 his charity, the Freddy Will Hope Foundation, has extended a scholarship to at least one student in Sierra Leone. Last year during the Ebola outbreak, FWHF bought bicycles for students in the cities of Bo and Kenema.
In an interview with renowned and awarded journalist, Dr. Jefferson Sackey from Accra, Ghana, Freddy Will spoke about the need for Sierra Leone music to be represented in more genres.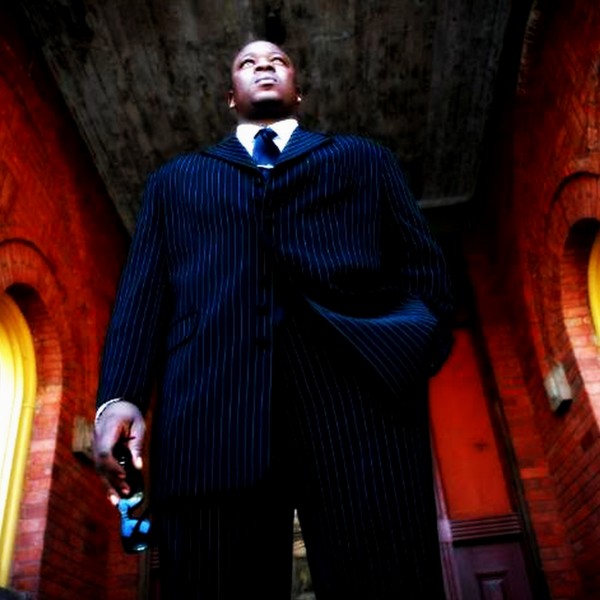 "Sierra Leone music (and the artists) should include other musical genres such as Classical, Jazz, Zouk, Gospel, Calypso, Pop, or Opera because I believe, an organized system that promotes the development of these various genres, will bring opportunities to those musicians".
"The government should launch a "Ministry of Arts" where the country's best Plastic Arts, (which includes fine arts and literature), Performing Arts (which includes performing and auditory arts) and Practical Arts (which includes culinary and practical arts) are celebrated in Sierra Leone. Instead of just a few individual artists launching their own events at the National Stadium, "The Ministry of Arts" could stage an annual state and corporate sponsored Art Festival over the span of one week where the best talents from all forms and genres of arts of Sierra Leone would be showcased, cataloged and televised for all to see. This venture will attract art gurus from all over the world, create jobs, generate revenue and develop while showcasing the talents from this blessed country."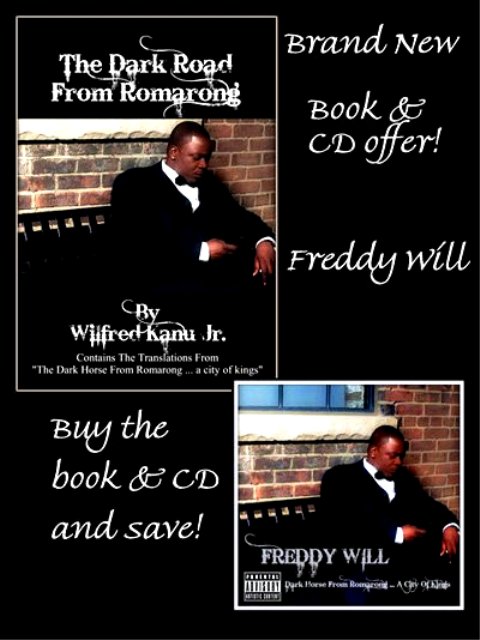 When it comes to the urban scene in Sierra Leone, Freddy Will is very excited to be a part of it. As a pioneer, he is elated that new urban genres have evolved. The "City Boy" MC is known to encourage Salone artists to poetize their lyrics beyond the general lamentation on government, haters trying to block their shine and other cries about despair or impoverishment. He thinks they are important topics to speak on but there is more to life than just those topics. He points out two of his Krio tracks "Angel" and "Senior Man." "Angel speaks about love and the difficulty of finding relationships where "Senior Man" speaks about going from nothing to something.
"Many people consider Sierra Leone to be blessed with many natural resources. When they think of natural resources they often think of diamond, gold, bauxite, oil, rutile or other mineral resources but they forget to include the most precious natural resource of them all. That is the talent and arts of Sierra Leone, especially the traditional arts that showcase the culture, our intellectuals, our sports and the arts of Sierra Leone."
"Hip Hop Kruzade" is the name of Freddy Will's latest book to date,
"I normally do crossovers so everyone can listen to my music and get something out of it. My lyrics are in the conventional Hip Hop style but my beats incorporate components of Jazz, Country, Dancehall, Reggae, EDM, Rock and Roll or Calypso/Soca influences. Being an author, I have to remind people that I started as a rapper so, on my 2014 album, I had songs like "Laboramus", "Inspired Ur Dream", "Never Give Up" and "One More" where I rapped my butt off.
The album "Laboramus Expectantes Vol. 1" is a statement. I only did one crossover this time [which is a Zouk ballad called "Pickin"] because I wanted to reinforce my position as a rapper. I pay attention to the orchestra and consider Sierra Leone as the "Athens of West Africa" so that's what influences my music" he stated.
Listed as one of the notable authors in the "Literature of Sierra Leone," Wilfred Kanu Jr., (the name he uses when he pens his books) strives to be an authentic force of inspiration to everyone who follows his work.
"I capitalize on the 'descriptive' and 'persuasive' aspects of writing" he told Cocorioko. "As one who has worked with award winning musicians from the United States to Canada, the Caribbean Islands and Sierra Leone, I know literature and music goes hand in hand."
Freddy Will is known to encourage unpublished authors to seek opportunities to get their works archived. He offers publishing services through his publishing house, Freddy Will Publishing, on condition that they are committed to the cost and the time involved to set it up, complete, publish and archive the book correctly.
"We, the citizens of Sierra Leone believe in God. We know nothing is guaranteed or permanent so we pray God to bless our plans. In the coming years, I intend to revise my books while doing the second printing of all my books and further my literature catalogue by expanding into e-books to reach even more readers.
"What I am excited about is writing the follow up book to "The Dark Road from Romarong" where I will continue the chronicle of Sierra Leone into President Koroma's era. As I prepare to do this, I'm still humbled by the opportunity. It was my dream to be an author, but now I want to take my writing even further and reach even more people. I know with great opportunity comes great responsibility and with my countrymen and women supporting me, I am grateful to have come this far with God and my family by my side. I'm taking what I do to another level – just watch me" said Freddy Will.