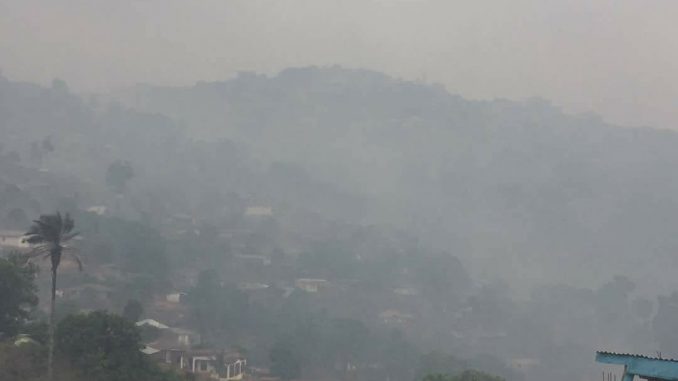 Smoke every where in the city Freetown
WASTE "DISPOSAL" BY FIRE 
🔥

 MERELY TRANSFORMS IT FROM SOLID TO GASEOUS WASTE THAT WE BREATHE IN.
Sustainable Solutions needed
Aftermath of the cleaning exercise. Garbage in front of Ebenezer Church. Although the intention was good the planning was below average. Consideration was not given to how to dispose of the rubbish. We do hope the next cleaning day will be properly planned and the logistics including waste disposal properly executed
RATS ARE NOW ATTRACTED TO FEED ON PILE-UP GARBAGE IN FRONT OF RESIDENCES IN NUMEROUS FREETOWN NEIGHBORHOOD STREETS THAT ARE NOW NARROWED BY THOSE PACKED HIMALAYAS OF GARBAGE.
Maxwell Jimissa
Ambassadors, What is your own suggestion in making this not to happen this way , we still need solution, ApC brought Massada but, it's not enough now we Saturday cleaning.
 Boye Jallo Jamboria 

A few rains and all of it is back where it came from . Sierra Leone is a very unfortunate land full of emotional minds who do things for ego trips and showcasing !
 Jonathan T. Boima 

That's one of our problems besides we tend to look at everything from our own narrow political affiliation.
 Leslie Browne Every problem has a solution.
1. Gov needs vehicles that can handle this load. Manpower to drive such vehicles and hire people to do the clean up.
3.After the clean up sell vehicles to private company to be in charge of the clean up. Or adjust the payment as part of the vehicles.
Jonathan T. Boima Leslie I believe such or similar approaches has been taken before but poor management or corruption brought about it's downfall. City council had enough vehicles and man power to do the job but the vehicles started disappearing either in whole or by parts. The total fuel (diesel) consumption sky rocketed. In the end the project had to be out sourced. Then came in Ajibu Jalloh (clean the city project)….I will let another patriotic citizen take it from there. Leslie I have two words for you " management & corruption "…let's pay to those two words.
2 hrs ·
 With all the additional time from 12 to 4pm, they were unable to clean the entire City till now. You cannot clean a City like Freetown, which is densely packed, within a selected day in every month. Cleaning is done everyday, not in a selected day in a month. Our right was breached in the same cleaning when unlawful additional time was pronounced by a designated Minister, who hadn't been approved by Parliament, to enforce such a degree on us. In my view, that was very wrong. He needs to apologize to the people of this country, especially when he allowed our beloved Military personnel to restrict people's movement almost everywhere in the Country when that additional time was instituted. Also, allowed people to walk by feet on that day. That was wrong,also.
I'm not against the cleaning, but the methodology used was wrong. Period.
— 
feeling sad.
Hoda Sesay This people respect money than lives so what good can you expect from people which such mentality? They received the Chinese money to fund the cleaning and SLPP still can't get it right!
Sallieu Munu Is it right for the President to reintroduce cleaning when we have an elected Mayor? Stop the insult, and let's discuss constructive politics. Social media ain't Bo or Kenema were people are restricted or even beaten to criticize your junta democracy government, which flouted the constitution almost everyday.
Emmanuel Jonjo Sallieu Munu, you haven't asked the most fundamental questions with regards to the cleaning exercise… Was the cleaning exercise necessary and timely? The honest answer will be a "yes" except if you are hell bent on fault finding…Granted a number of issues such as the extension of the time to 4p.m was totally uncalled for but the whole exercise. Any meaningful Sierra Leonean won't much who really brings development to this nation in as much as it benefits everybody they should be o.k with it…Moving on forward I think the govt. should sit down and plan on how to make this whole exercise very effective.
Now, A lot of you guys refer to the new regime as a "junta democracy".. I find so funny that you guys have the audacity to cry about constitutional breach blah blah.. Check the constitutional violations of the past regime…then we can talk