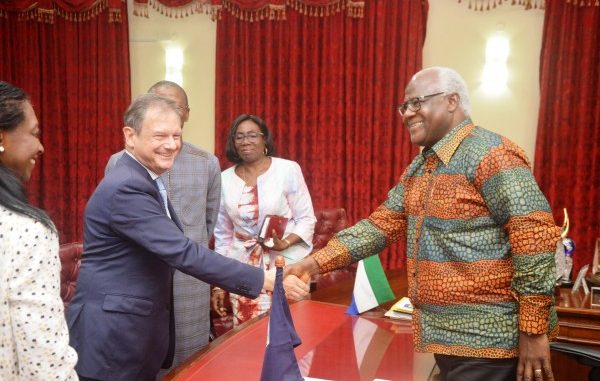 By State House Communication Unit
After over four years of service, the outgoing French Ambassador to Sierra Leone Bertrand Cochery on July 7 paid a farewell courtesy call on President Dr Ernest Bai Koroma at State House in Freetown.
Bidding farewell to the French diplomat, the president said that Sierra Leone and France share a very good history which "we shall continue to build on". He commended the outgoing ambassador for his efforts in further consolidating the bilateral relationship between the two countries.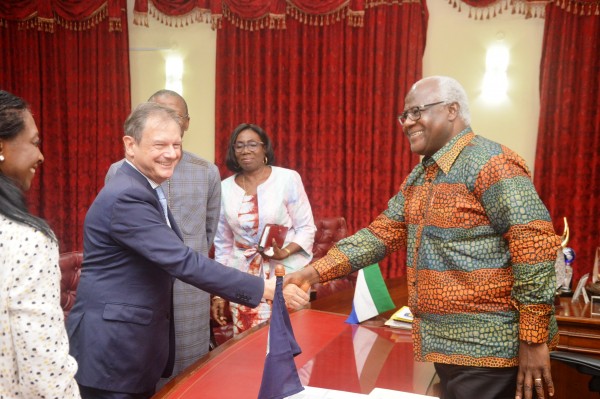 President Koroma also thanked Ambassador Cochery for the interest shown in the private sector during his tenure by encouraging French companies to invest in the country with the recent one being the Orange Company. He also commended him for his collaborative efforts in the fight against the unprecedented Ebola outbreak and consciously reminded him about his promise to take good messages about Sierra Leone to his home country to woo more foreign investments with special emphasis on the tourism sector. President Koroma applauded France for taking the lead to resume flights to Sierra Leone immediately after the epidemic.
Ambassador Bertrand Cochery profoundly thanked President Koroma for not only his transformative strides, but also for encouraging French companies in the country. He assured that the Orange Company among others will give a new colour to Sierra Leone. He said the two countries will continue to remain united as it was exhibited during the fight against the Ebola epidemic and firmly promised to extol Sierra Leone for more French investments.
The ambassador was accompanied by the Minister of State 1 of the Ministry of Foreign Affairs and International Cooperation, Dr Mohamed Gibril Sesay.