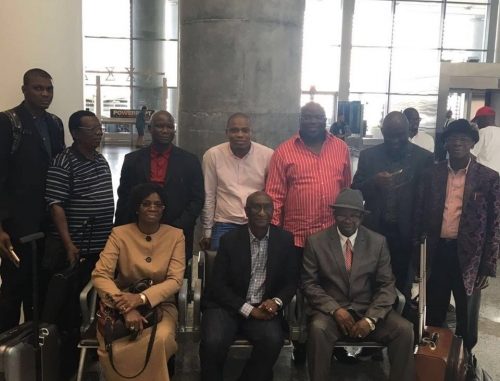 FROM THE PATRIOTIC VANGUARD
We promised our readers a full list of the executive members of the APC-Canada executive a few days ago. The following is the full list with an addition of the ex-officio members. Photos show members of the high-powered delegation from Freetown being welcomed at the airport in Toronto last week.
1. Mohamed Son Samura-Chairman
2. Abdul Karim Kamara-Vice Chairman (1)
3. Ibrahim K. Bangura-Vice Chairman (2)
4.Ibrahim Badamasi Kamara-Secretary
5.Mbalu Dumbuya- Assistant Secretary
6.Gibril Gbanabome Koroma-Publicity Secretary
7.Dominic Kanu-Assistant Publicity Secretary
8.Peter Koroma-Organizing Secretary
9.Salamatu Tarawally-Women's Leader
10.Aminata Kanu-Assistant Women's Leader
11.Prince Thorpe-Youth Leader
12.Modibo Lymon-Treasurer
13.Amadu Kamara-Financial Secretary
14.Marie Turay-Director of International Affairs
15.Augustine Marah-Deputy Director of International Affairs
16.Zainab Conteh-Welfare Officer
17.Hawa Dumbuya-Assistant Welfare Officer
18.Munjuru Jalloh- Auditor 1
19. Alhassan Bangura-Auditor-2
20. Abu Bakar Marah-Director of Cultural Affairs
Ex-officio
21. Joseph S. Lakoh-Principal veteran ex-officio (1)
22. Sheriff Sesay-Prinicpal veteran ex-officio (2)
Board of Advisers
23. Mohamed Bangura (Fine Boy)
24.Nixon Bangura
25.Janet Sesay
26. Brima Conteh
Co-opted members
27. Alex Kabia
28. Ibrahim Samura
29. Agnes Kabia
30. Rogers S. Kanu
Signed this day 7th August, 2016.
Guarantors
1. Honourable Alhaji Minkailu Mansaray
APC Deputy Chairman and Leader and Leader of the delegation.
2. Ambassador Alhaji Osman Foday Yansaneh
APC National Secretary-General
3. Ambassador Alieu Momodu Pat-Sowe
Regional Chairman, Western Region and Chairman of the convention.
4. Honourable Leonard Balogun Koroma
National Elections Coordinator
Transport and Aviation Minister
5. Mohamed Son Samura
Chairman-Elect
APC Canada Branch
6.Joseph S. Lakoh
Principal veteran Ex-Officio (1)
7. Sheriff Rahman Sesay
Principal veteran Ex-Officio (2) and Secretary, Ontario chapter.
Major Stakeholders
1. Mohamed Son Samura
Chairman
2. Abdul Karim Koroma
Vice Chairman (1)
3. Ibrahim K. Bangura
Vice Chairman (2)
4. Ibrahim Badamasi Kamara
Secretary
5. Gibril Koroma
Publicity Secretary
6. Salamatu Tarawally
Women's Leader
7. Prince Thorpe
Youth Leader