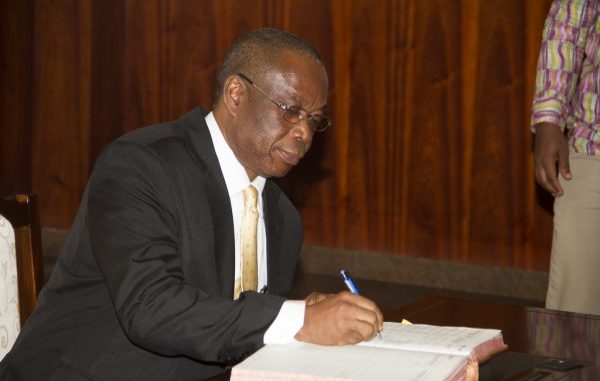 By Idrissa Conteh (Intern- MOHS)
The Ghanaian High Commissioner to Sierra Leone, Rtd. Major General Carl Modey has donated 1,000 bags of rice to the Hastings Ebola Treatment Centre and commends medical professionals at the centre for their growing success over the discharge of 45 Ebola patients that survived the virus.
The Hastings Ebola Treatment Centre since its establishment in September 19, 2014 has discharged a cumulative cases of 123 survivors.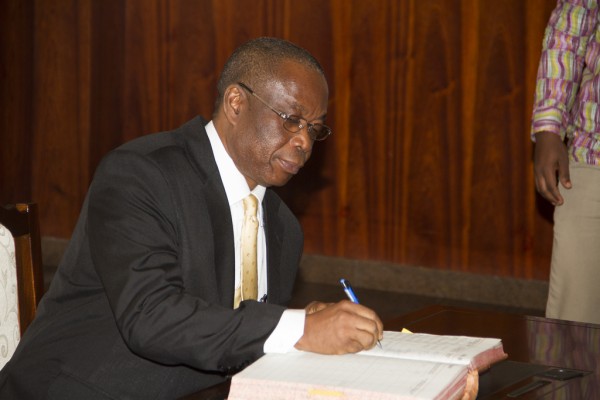 The Ghanaian High Commissioner to Sierra Leone, Rtd. Major General Carl Modey 
Address the survivors at a ceremony held at the Police Training School Keith Lewis hall at Hastings on Tuesday October 21, 2014, the Ghanaian Envoy Rtd Major General Carl Modey commended staff at the Treatment Centre for the good work, adding that the success story is a clear manifestation of their commitment to eradicate the Ebola in the country.
He appealed to society to accept the survivors noting their importance in various areas in the fight against the Ebola virus disease.
Major General Modey described the survivors as colleague ambassadors and encouraged them to sensitize their various communities about chances to survive the virus.
Deputy Minister of Health and Sanitation II, Madam Madina Rahman expressed joy and appreciation over the success story from the Treatment Centre noting that all the staff are all Sierra Leoneans.
Madam Rahman called on the survivors to take the message to their various communities and encouraged them to act as goodwill ambassadors to educate their communities on denial.
She thanked the Police for allowing them to use their facilities and disclosed plans for the construction of another 300 beds Holding, Treatment, and Recovery Centres at Hastings.
The Centre Coordinator, Dr. Santigie Sesay said as a Ministry, they are working hard to break the chain of transmission with a view to preventing infection.
He reiterated the Ministry's commitment to providing professional medical services in the country with a view to show casing Sierra Leone to the outside world.
Dr. Sesay appealed to his audience to educate their various communities that Ebola is real, and if infected, to report early as there are chances for survival.
Sharing his testimony, Thomas Kargbo, a survivor said he got infected when he was caring for his child and the mother, when eventually lost seven of his relatives including his child, and promised to act as ambassador to sensitize communities.