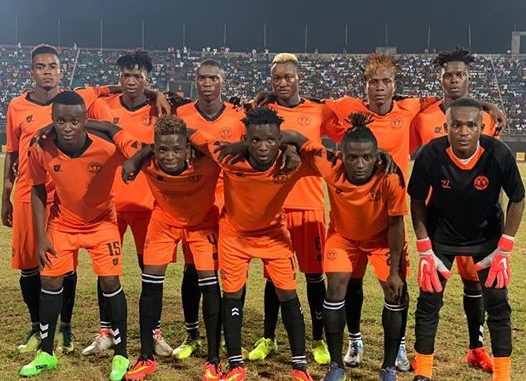 Kwame Nkeita scores to secure draw for Mighty Blackpool against EE Lions
Mighty Blackpool's Kwame Nkeita continued his good run of form as he struck an equalizer for the Tis Tas Boys in their 1-1 Premier League home draw with Defending Champions East End Lions on Sunday at the Siaka Stevens Stadium.
Last season's top goal scorer Musa Noah Kamara had put the Killers in front after 9 minutes but Nkeita leveled 19 minutes later; with both sides coming close to winning the encounter, especially in the second half.
The result left Lions eleventh in the standings on 1 point from 2 matches while Blackpool moved up to fifth on 2 points as their new Coach Chernor Mansaray stayed unbeaten after his second game in charge.
"The Killers took chance of the opportunity to score early in the first half. We had several chances in that same period but managed to make use of only one", the Tis Tas Manager told Journalists.
He continued:"The organization of our defence was very poor during the second half of play but mind you we are building a young team at Mighty Blackpool to compete for the title this season"
"We are going back to the drawing board to teach our players again on what to do in situations like these. These are young boys who have a long way to go; we believe in them and are determined to help the club succeeds".
The home side dominated but fell behind and missed a string of chances before determined Nkeita levelled for the former Champions in the 28th minutes after sneaking in from the crowded defence to finish from close range.
East End Lions were on the back foot and had goalkeeper Mohamed Kamara to thank for keeping Mighty Blackpool at bay before they took a 9th-minute lead from out of the blue.
The Killers' Head Coach John Keister was not happy with what he described as "cheating" from Mighty Blackpool players. "It was a good game but what is worrying me is that a lot of cheating is creeping in, which is taking away the integrity of the game"
"They should put a stop to this now! If you watched the game, you'll see players going down or falling down for two minutes or so which is unacceptable and we have to stop that. If it is coming from us coaches we have to desist from that"
The 49-year old said he was however happy to secure a point at Blackpool, noting that he knew it would be difficult for his side this year after winning the league last season, adding that it was not a 'surprise' to him.
Coach Keister's men are bracing up to host Old Edwardians in 12 days' time whileMighty Blackpool go to Kono to face Diamond Stars next Sunday.
© SLPL Media and Marketing