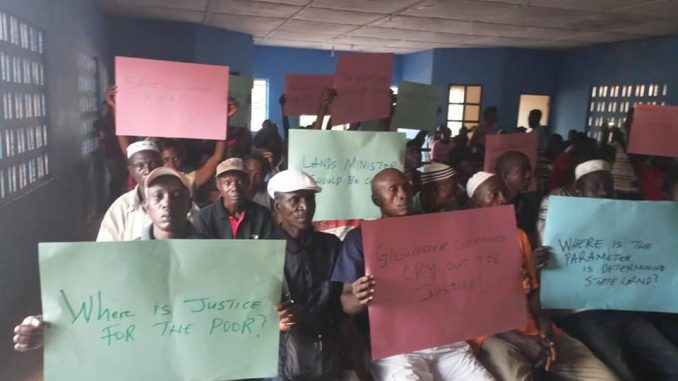 *Press statement issued by stakeholders, Residents and Affected Property owners on the illegal Demolition of Buildings and Land Grabbing in Gloucester Community as being carried out by Ministry of Lands, Housing and Environment under the Directives and Heavy Handedness of Minister, Dr. Dennis Sandy. Delivered by Councillor Zechariah Kanneh of WARD 395, constituency 112 on Wednesday, 5th December, 2018.*
*Courtesies*
Mr. Chairman, Village Head, Community Stakeholders, Members of the Fourth Estate, Ladies and Gentlemen, may i take this opportunity to welcome you to this press conference. We are gathered here today to express our collective disgust, dissatisfaction, dismay and cry over the consistent act of intimidation, harassment and gross violations of our people have been subjected to characterized by the indiscriminate demolition of structures and harassment of residents in Gloucester.
*Background*
Before going into detail, let me give you a brief background of events leading to the current ugly development.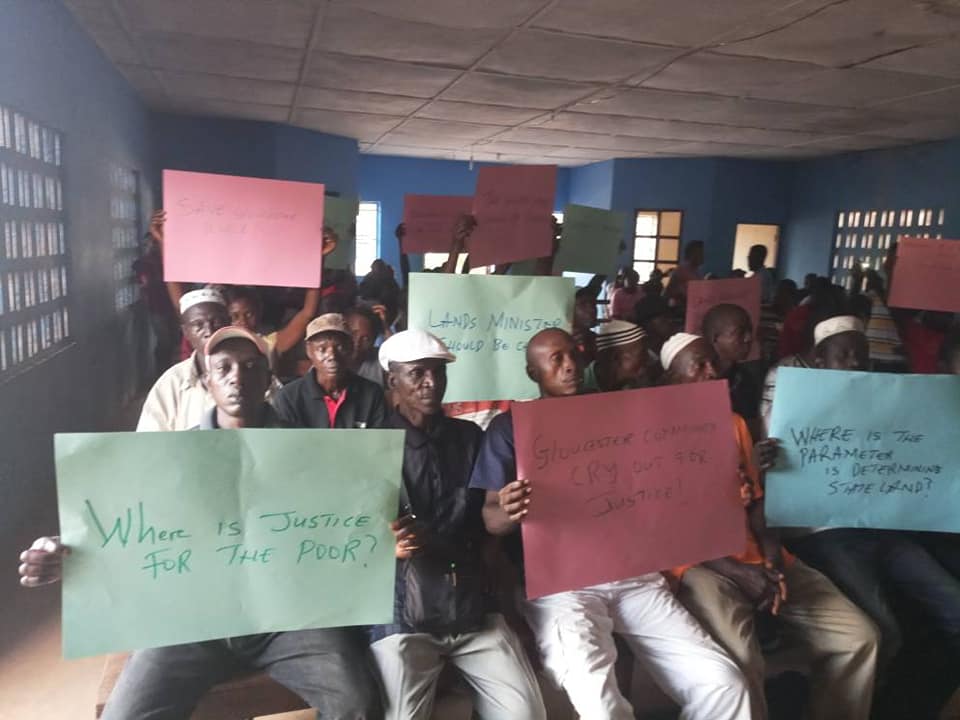 It was during the time of former Minister of Lands of the erstwhile government that an understanding was made between the minister and Community Stakeholders to identity, demarcate and plan state lands in Gloucester community.
The Minister reportedly developed a master site plan for the effective planning of the lands as well as indicating areas for construction of houses, social structures including schools, mosque, churches, health and community centers as well as economic structures like markets.
*Current Developments:*
Mr. Chairman, members of the Fourth Estate and all, I regret to report that since a new Minister in the person of Dr. Dennis Sandy was appointed to the Ministry in April 2018, these are the current developments taking place at Gloucester :
1. The Ministry has refused to work with the village head, Councillor for Ward 395 and Western Area Rural District Council as per section 20:1 of Local Government Act of 2004.
2. The Ministry is yet to show stakeholders a copy of the master site/planning plan of the state lands.
3.The parameter used in identifying state lands is unclear.
4. The Ministry has embanked high number of armed personnel who are intimidating, threatening and even attempting to assault we the authorities and locals of Gloucester who dare to step their feet on the acres of land.
5. Massive and indiscriminate destruction of buildings is being perpetrated.
6. There is an atmosphere of tyranny, fear and threat in the community.
*Appeal/ Demands:*
In light of the foregoing, we the residents of Gloucester community are appealing to the President of Sierra Leone, His Excellency Rtd Julius Maada Bio as the father of the nation, Fountain of Honour, peace and Justice, for his polite urgent intervention with the following demands:
1. That he halt the demolition exercise.
2. That he reign in on the Lands Minister for him to respect, regard and work with the Headman, stakeholders and WARDC.
3. That he orders the removal of the high presence of security personnel in the community.
4. That he as father of the nation ensures priority is given to land owners whose properties have been destroyed i.e for them to apply to the Ministry for those lands.
5. That government provides compensation/ restriction to those whose properties were illegally demolished.
I thank you all for your attention.
Regards
For and on behalf of Gloucester community under Ward 395.
Sign:
Councillor Zechariah Kanneh Ward 395.