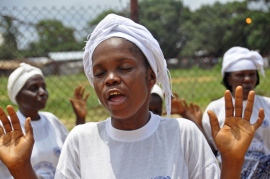 I am very disappointed to read such an unbiblical statement in a newspaper of your caliber. How can God punish Liberia with Ebola ? Are we implying here that God is also angry with the other countries afflicted with Ebola ? If so, why is God not punishing the other nations of the world doing the same things like Liberia, Sierra Leone and Guinea ( Or even worse ) ?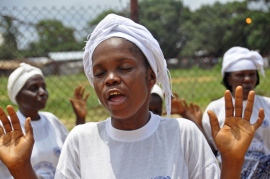 Even if God is angry with Liberia, he will not afflict the nation with a deadly disease. Do we know that we are living in the DISPENSATION OF GRACE ? The Apostle Paul announced this new dispensation in Ephesians 3:1 – 6. Do we know that we are no longer living in the Dispensation of the Law ? This is New Testament Time. God, in the Old Testament, brought plagues on nations that did not obey him. But in his infinite mercy, God sent Jesus Christ to die on the Cross of Calvary to take away our sin. Healing is in the atonement on the cross. Because of Jesus' sacrifice on the cross, God cannot afflict Liberia with a deadly disease even if he is angry with the country . God would rather drive Liberia into repentance through the grace of our Lord and Savior, Jesus Christ , and the atonement on the Cross. If Liberia refuses to repent, then God will judge those who refused his grace when Jesus Christ comes back or when they die. JUDGEMENT IN TIME IS NEGATED BY THE SACRIFICE ON THE CROSS . We are now in a new dispensation where God is now dealing with us through the BLOOD OF JESUS CHRIST and the Holy Spirit.
If God would judge a country like Liberia with a plague , why does he not do the same to countries where the sin of homosexuality, for instance, is glorified and forced on people ? Did he not destroy the twin cities of Sodom and Gomorrah because of homosexuality ? Why would God leave alone countries where homosexuality is glorified and punish Liberia with such a deadly plague ? Homosexuality is not glorified in Liberia. Does the statement from these clergy men portray God as fair ? Do they know the depth of corruption and sexual putrefaction in the West ? If God would richly continue to bless prospering nations of the world where it is even unlawful to call his name, why would he pick on Liberia , a nation where you find churches in every corner and where there is a revival of God's work ? People have their weaknesses in Liberia, like anywhere else, but at least in Liberia, lots of people are serving God.
I am speaking here not in an official capacity but as an ordinary man .  I cannot help commenting on this very misleading statement . I am speaking also as an ordinary, common man who loves Liberia. This characterization is biblically unfair to Liberia. There are worse nations than Liberia when it comes to disobeying the word of God. Such misleading biblical exegesis is responsible for the misconceptions that keep people away from God.
Yes, God dislikes sin and will punish it but he will not rush to afflict a whole nation with Ebola . He will give them the chance to repent first. "The Lord is compassionate and gracious, slow to anger, abounding in love" (Psalm 103:8). It is when we do not repent and allow ourselves to die in our sins that we will be judged in eternity . It was the God of the Old Testament who warned Israel : "I take no pleasure in the death of the wicked, but rather that they turn from their wicked ways and live. Turn. Turn from your evil ways! Why will you die, O house of Israel?" (Ezekiel 33:11). It is the same God that says in the New Testament : " The Lord is not slack concerning his promise, as some men count slackness; but is longsuffering to us-ward, not willing that any should perish, but that all should come to repentance" ( 2 Peter 3: 9) . Also : "God demonstrates his own love for us in this: While we were still sinners, Christ died for us" (Romans 5:8). Many Liberians have repented and accepted Christ, so why will God punish them with Ebola along with the unrighteous ?
If the ministers had said that Ebola is a consequence of our disobedience to the charge that we should avoid eating bush meat, they would have been right. If they had said that AIDS is a result of man disobeying God's edicts on sexual sin , they would have been right. This is because , though Jesus Christ has died for us and the grace of God is available to us, we will pay the penalty if we do not obey spiritual and natural rules . The consequences are not punishments from God, per se, but punishments from our own acts of lawlessness to God's Word. They would have been right even more if they had said that pestilences like Ebola are among the horrible things Jesus Christ talked about as events that would precede his Second Coming ." For nation shall rise against nation, and kingdom against kingdom: and there shall be famines, and pestilences, and earthquakes, in divers places ( Matthew 24 : 7 ) . However, for them to say that God is angry with Liberia and that is why he has brought this Ebola on the nation is wrong.
I am also correcting this apostasy as a man of God myself.
The statement also undermines sensitization efforts to stop the spread of Ebola. This deadly disease is caused by people eating bush meat like bats, monkeys and chimpanzees. What the church should be doing is praying for the country and helping to sensitize the people about the causes of Ebola and the precautionary measures that would help to stop the spread of the disease. The church should also help to mobilize and distribute medical supplies and resources to help our hard-working and endangered health care professionals at the frontline . This should be the role of the church, not needlessly putting spiritual guilt trip on people. If God should punish nations in such a deadly fashion, how many other nations of the world would remain standing ?
I have great respect for the DAILY OBSERVER and I would admonish the publishers to be very careful about publicizing erroneous and unbiblical statements from clergy. One of the roles of newspapers is to educate the people. I hope the newspaper will find space to publish our rejoinders so that the confused citizens will know that Jesus Christ died for them on the Cross and they are no longer under judgement and since they are not under judgement, God is not punishing them with Ebola. .They are under Grace now. If they accept Jesus Christ as their Lord and Saviour, he will come into their hearts and cleanse them from all unrighteousness. God is not standing in the corner with a baseball bat waiting to bash off the heads of Liberians for their transgressions. Rather, God's arms are open to them , calling them to repentance and a new life in Christ Jesus.
May God help Liberia, Sierra Leone and Guinea in our moment of health crisis and take away Ebola from our sub-continent.
REV. LEEOY WILFRED KABS KANU
FORMER INSTRUCTOR OF EDUCATIONAL PSYCHOLOGY
KAKATA RURAL TEACHER TRAINING INSTITUTE
REPUBLIC OF LIBERIA
AND PRESENTLY
CO-PASTOR
COVENANT CHILD WORLD MINISTRIES
SOMERSET, NJ 08873