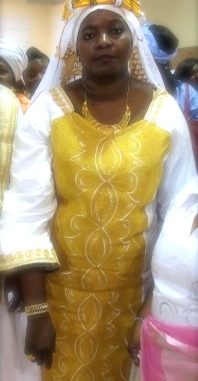 نا لله وإنا إليه راجعون

Inna Lillaahi Wa Inna Ilayhi Raaji'oon 
(From Allah we came and to him we will return)
Dear Family, Friends and Acquaintances.
Assalamu alaikum wa rahmatullahi wa baraktuh. (May the peace, mercy and blessings of Allah (swt) be upon you),


The Funeral service for the Late Haja Sally Savage will take place on Sunday 26th January 2014: 9:00 AM at theAndersen Funeral Service, 201 Sanford Street, New Brunswick New Jersey, 08901  Tel: 732-545-7312, in accordance with Aku Mohammedan Tradition. 
Salatul Janazah Prayer will commence at 1:10PM after Zuhr Prayer at the Islamic Society of Central Jersey located at 4145 U.S. 1 Monmouth Junction, NJ 08852. Tel: 732-329-8126.  
Repast at the Ukrainian Hall located at 135 Davidson Avenue. Somerset N.J. Tel: 732-356-0090
May Allah (swt) bestow his guidance and mercy on all of us and our families. Armeen.
Wa alaikum assalam was rahmatullahi wa baraktuh.(And peace, mercy and the blessings of Allah (swt) be upon you)
وَاعْبُدْ رَبَّكَ حَتَّىٰ يَأْتِيَكَ الْيَقِينُ
And worship your Lord until there comes unto you the certainty of death.
BY AHMED TEJAN KOROMAH