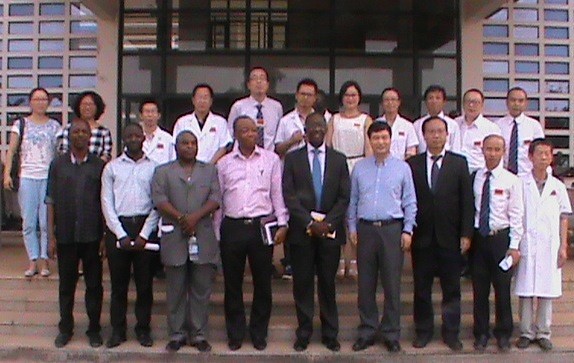 Freetown, April 19, 016 (MOHS) – Health and Sanitation Minister Dr. Abu Bakarr Fofanah has reassured the newly arrived China medical Team of Government's commitment to building the Jui Friendship Hospital human resource capacity to a satisfactory international standard.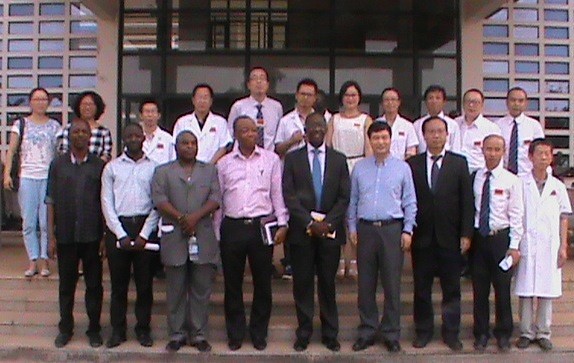 Group photo of the Minister, Chinese Ambassador and China Medical Team
Addressing the team during an Assessment tour of the facilities in the hospital on Monday April 18, 2016, Dr. Fofanah called for a comprehensive list of equipment to be overhauled or replaced, and the required number of staff to effectively run the hospital.
Health and Sanitation Minister, Dr. Abu Bakarr Fofanah
The Jui hospital he disclosed, would benefit from a Vacancy Notice on the AU Website to add to the existing medical staff, adding that plans are currently underway to establish the newly enacted proposed University Teaching hospital with the Jui Friendship hospital with a view to making it a more viable institution for effective service delivery.
Dr. Fofanah noted the challenges with the past team whilst appreciating their service during their stay in Sierra Leone, pointing out that they were able to work amicably, and produced results. He said together with the same spirit of commitment they would be able to resourcefully achieve the desired goal for both China and Sierra Leone.
He commended them for their infection prevention and control measures during the height of the Ebola outbreak, observing that no health worker was infected, and survival rate was very high.
Dr. Fofanah having explored some of the priority areas and key issues plans to dialogue with his colleague Ministers of Energy and Water Resources with a view to improving the water and power supply system in the hospital.
Making his remarks, the Chinese Ambassador to Sierra Leone Zhao Yanbo noted that the management of the hospital is imperative with the political support from the Minister and the government.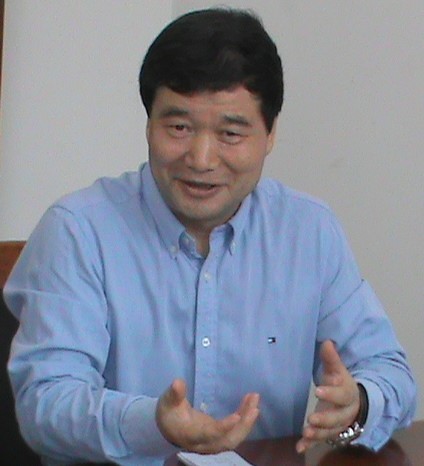 Chinese Ambassador Zhao Yanbo
The current situation of the hospital he reiterated needs transparency and accountability in the management of funds and coordination with the Directorate of Hospitals and Laboratory Services in the Ministry of Health and Sanitation.
The Envoy expressed appreciation noting that the Health Ministry intends to integrate the hospital for the proposed University Teaching hospital, this he said would help step up efforts to train specialists in country.
He implored the Medical Superintendent of the hospital Dr. Alex Kanu and the Chinese Medical Team to put together during internal meeting items that needs urgent action noting that the Health Ministry is poised to raise standard of care and service delivery to clients.
Visit to the operating theatre
A conducted tour of the various facilities led by the Medical Superintendent, Dr. Alex Kanu formed high point of the Minister's visit.
JAK/KK/MOHS/SLENA