By Jonathan Abass Kamara
(PRO-MOHS)
Health and Sanitation Minister, Dr. Abu Bakarr Fofanah has returned home after attending a high-level stakeholders meeting held in Geneva, Switzerland on Building Resilient Systems for Health in Ebola-affected countri
The high-level meeting was held in recognition of 2014 Ebola virus disease outbreak in West Africa unprecedented impact in the absence of a functional health system that has adversely affected all critical economic and social sectors.
The Sierra Leone delegation comprised the Minister of Health and Sanitation, Minister of State Finance and Economic Development, and the Executive Director Christian Health Association (CHASL) Reverend Carew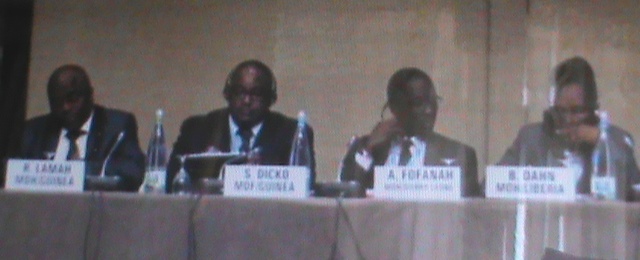 Photo of the High Level Meeting (high table): second from right Dr. Abu Bakarr Fofanah
Speaking to the Sierra Leone News Agency (SLENA), Dr. Fofanah said the meeting also provides an opportunity for Health and Finance Ministers from Ebola affected countries to identify pragmatic solutions and need investments to enable an adequate coverage and quality of health services for the population, and to ensure that these strengthened health systems will be better prepared to cope and sustain core services with future crisis, and the rebuilding of the economy and social stability.
Commenting on the specific objectives of the meeting, the Health and Sanitation Minister said the meeting further aimed at identifying constraints and challenges faced by countries in rebuilding and developing more resilient health systems, investment in national and sub national systems that deliver basic essential quality health services that can also respond adequately to future emergencies and crisis.
Dr. Fofanah while dilating on the comparative advantage of each entity, said the meeting agreed on the roles and responsibilities of the all stakeholder groups, governments, non-state actors, donors and international technical agencies on their contribution to building resilient health systems in countries in a coordinated manner under country leadership, and to develop an agenda for action, including the nomination of a working group to chat the way forward.
Other highlights of the meeting include technical and Financial Support, ands pledges under the leadership of the various governments as per the Paris Declaration, specifically the World Bank 2015 Health Agenda for Guinea, Liberia and Sierra Leone, WHO's commitment to support development of a sector-wide recovery plan that includes other relevant affected sectors, and plans by partners to strengthen international health regulations to ensure emergency response, strengthen the health system, making them resilient to disasters, emergencies, and providinquality health care for the attainment of Post-Millennium Development Goals.