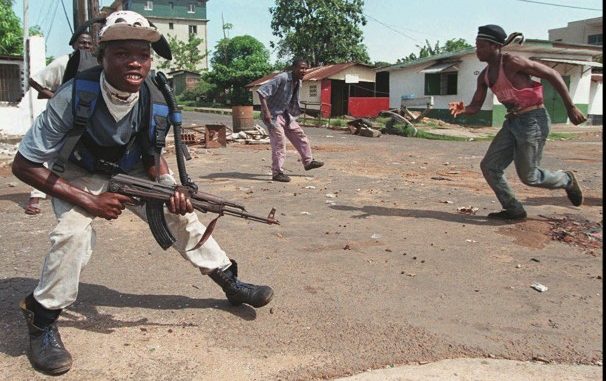 In an era of terrorism and destabilization of nations, security authorities in Sierra Leone must be on top of things and must not treat lightly the events reported to be taking place around our borders with neighbouring Liberia.
Yesterday, there were widespread fears among Liberians at home and abroad after reports that a scary and disturbing situation occurred in Bomi, not far from the border , where a strange helicopter allegedly landed and also sporadic shooting took place that forced residents to flee their homes in fear. Radio stations in Liberia and the country's mainstream newspapers carried reports about the event and the Superintendent of Bomi, Samuel Brown , confirmed the event but advised citizens not to panic.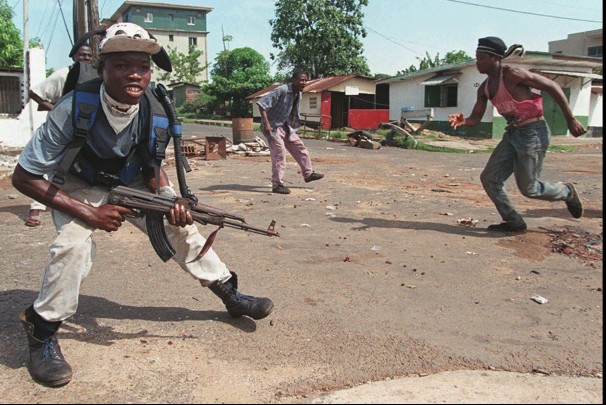 The situation would have passed without notice in Sierra Leone but then came an audio circulated in the social media by an unidentified woman who claimed that armed men from Liberia were planning to attack Sierra Leone and she implored the authorities not to take the report lightly.
This may have been a nuisance and mere scare-mongering event . Who can doubt that when many ( Not all ) Sierra Leoneans  have become very  foolish, evil,  reckless, irresponsible  and sick in the head with  miscreancy on the social media and garbage and gutter online forums , which they have reduced to a theatre of jealous  gossip, lies, character assassination , false rumours, false alarms and a quarry for those they are insanely envious of —Just as you know them to do even in real life. It is the common practice to ignore most of the gutter activism online by Sierra Leoneans and dismiss them  as the work of people who need to have their heads quarantined
However, we are taught by U.S. Security operatives not to underestimate any security matter these days. While the internet , social media and garbage forums are populated mainly   by depraved ,  idle and mentally -ill revisionists   looking for kicks to escape their boring, uncelebrated, colorless , unfulfilled and frustration-packed  lives , when it comes to national security, nothing must be taken for granted. We must look beyond the sickos and try to see if there is any cause for credible concerns. There is nothing wrong in investigating just to be certain all is well. Eternal vigilance is the price for our liberty, Pa Shaki used to say.
The woman on the audio may be playing pranks. She may be fear mongering . She may be playing to the gallery of the mischievous Sierra Leoneans in the social media . How many times have we not seen it happen ? But we cannot be sure and the best way to respond, given the times in which we live today,  is to investigate ,  make sure that our nation is safe and relay this assurance to our people to calm their hearts.
A clear example of Sierra Leonean mischief and demented behavior on the social media was seen yesterday when a loose canon posted a fake story that Sierra Leone had been attacked and there was shooting at the Congo Cross Bridge, which Information and Communications Minister , Hon. Mohamed Bangura, has already refuted .
The sooner our government started dealing with dastardly elements who abuse the social media, the better. Some people need to suffer legitimate penalties in jail before they learn that spreading alarm in the social media is undesirable.
However,  the borders with Liberia must be always closely monitored .  It is better to be wrong and safe than be complacent and pay the price as the very Liberia experienced in 1989 when repeated complaints about "Strange men shaking the bushes"  at the Liberian-Ivorian border were ignored. The paramount chief of the area was even ordered arrested by the then Minister of Internal Affairs, Col. Edward Komo Saccoh , for spreading fear, only for the minister to be proved wrong later when the chief's fears came to pass as Charles Taylor's rebels took over Butuo Town and launched an insurrection, whose results we all know .  President Samuel Doe was so angry when it became obvious that his minister had erred that he drove himself to the prisons and freed the chief and then went to the Internal Affairs Ministry and fired the Minister.
Let us find out what is happening on the Liberian border as the woman in the audio warned  and how it impacts on us in Sierra Leone, given the historical fact that whenever Liberia sneezes, Sierra Leone catches cold. The same with Liberia. They suffer if chaos overtakes us.
We do not want to catch cold again.
______________________________________________
READ HOW THE VARIOUS LIBERIAN NEWSPAPERS REPORTED THE EVENT
UPDATE: A Scaring Situation In Bomi County, Supt. Brown Confirms Presence Of Strange Armed Men With Sporadic Shooting In His County
Fresh report filtering on some local radio stations speak of strange armed men being spotted in a local village called 'Fula Hill' around Klay Distric in Bomi County, a situation report said has created fears in villagers who spent sleepless night over the weekend.
A caller who spoke on a local radio station said the situation is worrisome and called on the national security to move in right away to find out and bring to the public the motive of these deployed armed in the County which is a bordering Liberia and Sierra Leone.
As a result of this scaring report, men and women of the Armed Forces of Liberia (AFL) and some members of the Liberia National Police (LNP) Emergency Response Unit (ERU) have been dispatched to the scene to ascertain the facts surrounding this report.
Meanwhile, the Superintendent of Bomi County Samuel Brown has confirmed that yes indeed the presence of strange armed men and shooting in a farming area, Fula 'Fula Hill' in Klay District, Bomi County.
Speaking to our reporter, he said the firing of light weapons were heard in the Fula Hill area on Sunday morning, something he said created panic among citizens who spent sleepless night at the weekend in the region.
But in an interview with journalists Monday morning, Superintendent Brown called on citizens of the county not to panic as all  will be done to address the prevailing situation.
According to our reporter, the farmer now considered as a principle witness of the situation was prevented from speaking with media by state security forces.
Our reporter is quoted as saying the farmer was seen heavily guided by officers the Emergency Response Unit (ERU) of the Liberia National Police.
Fact finding investigations, according to Superintendent Brown and Bureau of Immigration and Naturalization Commissioner Col. Lemeul Reeves are ongoing as the identities of these reported strange men are  yet to be known, while at the same time no arrest has been made.
The Bomi county Superintendent at the same time instructed that Community Watch teams reinforce their operations in a bid to help the prevailing situation.
The report comes less than two months after the draw down of the United Nations Mission in Liberia from the Western county.
Who Carried Out Shooting On Monrovia-Bomi H/Way?
Tue, 08/09/2016 – 00:43
tjohnson
Security Cordons Sasstown Community
By:
C.Y. Kwanue and David A. Yates : LIBERIAN DAILY OBSERVER NEWSPAPER
An overnight shooting which engulfed Sasstown Community on Sunday was as though a large scale fighting had erupted between military actors from opposing sides, according to residents.
The sounds of guns were so sporadic that residents in the area fled their homes under the cover of darkness, shortly before midnight on Sunday, August 7.
By daybreak the following morning, the Armed Forces of Liberia (AFL) had dispatched a squad of counterinsurgency unit to the 'troubled spot' and coordinated joint security operations with Liberia National Police officers who were earlier deployed to the area.
It was reported that a late-night insurgency involving an unidentified helicopter had entered Liberian territory, prompting a manhunt for those who reportedly carried out the shooting along the Monrovia/Bomi highway in Western Liberia.
Based on the reports, Defense Minister Brownie J. Samukai, Jr. told the Daily Observer that the country's joint security forces were in firm control of that, and any, situation.
"There is no need to panic because the reported shooting incident was being investigated by the joint security forces," Minister Samukai assured the public.
He described the report of 'sporadic shooting' and the landing of an unknown helicopter on Liberian soil as "scheme of wildcat campaign of speculation, which has no grain of truth to instill fear in the minds of anybody due to the fact that we are on top of every security situation."
He, however, explained that a male villager and his two children had earlier discovered an unspecified quantity of spent-shells, which he claimed might have been left in the bush by fighters of the country's warring factions during the 14 years of civil war.
In Sasstown,
Meanwhile, Daily Observer reporter, who visited Sasstown yesterday upon hearing the report, said calm was restored to the community immediately after the security forces arrived.
"They arrived in their numbers and went in search of the shooter, but returned and said there was nothing serious and that we should go about our normal activities," Boima Perry, a resident said of the security forces.
Mr. Perry said on Sunday night, residents did not see any strange movement of people in town prior to the shooting incident.
Surprisingly, he said by 9:00 p.m., while residents were preparing to go to bed, a "very large gun sound" took over the entire town, but we did not know which way the sound came from, and also who carried it out and for what reason.
"Right now, we don't know who shot the gun, therefore, we are afraid of the next course of action," he said.
The incident took place about 9:00 p.m. Sunday night, according to eyewitnesses.
Up to press time last night, the security forces did not make any arrests, but did confirm there was shooting in the town. The Defense Ministry said that several shots were fired from a pistol, which was later found in a nearby bush. No further explanation was given.
But an eyewitness told this newspaper in the town that an unidentified gunman carried out the shooting, but that was only in the air.
Some of the residents also denied ever hearing of any shooting in the town as their kinsmen had claimed.
Our investigation continues.
Villagers in Fear After Reported Helicopter Drop Off, Heavy Shooting in Fulah Hill Community
 LIBERIA FRONTPAGE AFRICA NEWSPAPER :
Fulah Hill, Bomi County – Villagers in several towns and villages in Bomi County are living in extreme fear after reported helicopter drop -off followed by the shooting on a farm in the Fulah Hill Community in Dewein District, Bomi County.
---
Report by Al-Varney Rogers, a.rogers@frontpageafricaonline.com & Samwar S. Fallah, samwar.fallah@frontpageacfricaonline.com
---
"I was on my farm yesterday, I went with my grandchildren while we were there, and we heard gun fire pa-pa about six times. So myself I got scare and told the children for us to leave but for me I was thinking that because the men them in the bush now (Traditional Poro school is ongoing) and no man was around there, so I told the children for us to go to the town"- Zinnah Freeman, cassava farmer
---
Villagers in nearby Vazilon few kilometers from the scene of the reported incident told frontpageafrica that on Sunday night they heard heavy shooting on a farm in the Fulah Hill community, something that have led them to be living in extreme fear unable to go on their farms.
A cassava farmer Zinnah Freeman said on Sunday while she had gone on the farm with two of her grandchildren she heard gun sound but didn't have any thought that it was unknown men.
"I was on my farm yesterday, I went with my grandchildren while we were there, we heard gun fire pa-pa about six times" Freeman said.
She continued "So myself I got scare and told the children for us to leave but for me I was thinking differently because the men got the bush now (Traditional Poro School is ongoing) and no man was around there, so I told the children for us to go to the town".
Freeman said it was when she got back to her village before she heard the news that a farmer in the next town saw some unknown armed men in his cassava patch which according to Freeman is not far from her farm.
"I didn't talk anything but my brother came from Sass Town and said that people came from their farm and said they heard gun sound and saw men with arms," Freeman explained.
Freeman though admitted hearing gun sound but said she didn't see anybody.
"I told him that I went on my farm and that I heard the gun sound but I never see (saw) somebody," she said.
For Freeman going to the farm to begin her normal work is not a decision for this week saying the situation reminds her of the past.
"From yesterday, I left that farm I have never been there, last night I was scare. I was afraid and I couldn't come out in the morning to pray, Freeman added.
She says all the villagers are afraid to go on their farms "All of us are scare, it reminds me of the time we used to pack our things and run, we want the government to help us with security," she said.
Shocking event
Narrating the incident Dewein District Commissioner Foley Siryon said he got a call late Sunday evening about the presence of strange men with arms in the district.
"It was yesterday after 4:00 PM, they called me about this shocking news that some unknown people have entered our territory, you know the people do their livelihood around a place call Fulah Hill where they do their cassava farming and burn charcoal," Commissioner Siryon said.
Siryon continued:  "One of the farmers was there packing his charcoal and he saw strange men, he ran to Sass town and told the town chief, they were in military regalia, they had arms but they were at the distance and they could not see the farmer."
According to the Commissioner, the farmer became afraid due to the mood of the unknown men adding that the farmer panic and ran to Sass Town.
"He (farmer) saw approximately six to seven persons, what got us here amazed, is that they said they saw a helicopter in the area hovering just hanging and dropped people there but the Chopper later on came and took the people away, that is the mystery part of the whole investigation," Commissioner Siryon said.
Commissioner Siryon said that visiting Fulah hill (where the incident occurred) one will see signs of people gathering. "You will see the grass down."
Visible signs of movements
During a tour by frontpageafrica in the vicinity of where the reported shooting occurred, about 20 minutes' drive from the main road and another 15 minutes' walk from the dirt road, there is visible sign that several people might have walked along the road in the last few days with several fresh footprints along the road.
In a cassava patch, a carton of Club Beer is seen lying with several empty bottles of what is known as Small Beer scattered in the grass.
Eleven of the beer bottles were pilled together with the grass around the empty bottles completely flat, a clear indication of a group of people sitting on the grass to drink.
Some of those who consumed the Beer sat on a tree stump where they also left two other empty bottles. The entire area looks a warzone, as there is no sign of human activities.
The reported appearance of the armed men comes less than two months after the departure of the United Nations Mission in Liberia.
The incident could increase the already existing fear about the ability of Liberian security personnel to handle the security of the country.
A team of frontpageafrica reporters who visited the scene observed that the farm on which the beer bottles were found has four kitchens made of bamboo roof and constructed with rattan sticks.
In one of the kitchens where the farmer who spotted the unknown men was said to be residing sits a pile of abandoned cassava that he accordingly left due to fear.
In an attempt to allay fears, Dewein District Commissioner said that a joint-security meeting was held in the morning adding that their presence boost confidence in the people.
"This morning the joint security forces came for me. I'm not a security personnel BIN, NSA, LNP last night they deployed PSU and ERU to keep the peace until daybreak, last night the town was quiet, normally when these things happen the security presence gives them assurance, they are doing everything to attain the facts," Commissioner Siryon added.
The Commissioner also said "No casualty, we telling our citizen to remain calm, we have our community welfare team who will comb the area, we will mobilize our own resources to support our community watch team."
A student Siaka Sherriff who burns charcoal said that coming from the bush Sunday he met his town very quiet.
"When I came from the bush, I met the whole town looking quiet and when I asked my parents they said they saw a helicopter that put some people down and they later left," Sherriff said.
For Sherriff his greatest worry about the presence of unknown armed men is that it might put him out of school.
"For some of us we are worry, for me I'm still in school I'm worry about my future, hearing this thing I'm scare and thinking about my future, when I heard the news I thought about war, I don't want this to be true," Sherriff said.
Another resident Junior Norris said early in the morning their town was greeted by huge security presence that short-lived.
"This morning we saw group of police passing and they went to the place where the thing happened after that they passed they went back," Norris said.
According to Norris most of the men in the town were busy with their traditional poro school.
"We are having Poro society business when I came she started to give me the news that she heard certain gun sound," Norris said.
Norris continued: "This news make me to feel bad because I don't want us to go back to where we came from (14 years of war) I don't want us to go back to where we came from."
"We have many activities to attend to in the bush because that is where we can get our food from but here you see everybody in town sitting," he said.
Empty shells reportedly collected
Frontpageafrica has gathered from credible sources that the Liberian National Police collected two empty shells and one undischarged bullet from the area and are examining the shells.
One source said it is likely that up to six bullets were discharged but so far only three were collected on the scene.
Meanwhile, the Ministry of Information, Culture and Tourism late Monday announced that Defense Minister Brownie Samukai will today (Tuesday) address the nation on the reported military activities in Western Liberia.
According to the Liberia News Agency, Minister Samukai will address a special MICAT press briefing at the ministry at 11am local time, requesting all media institutions to be seated by 10:45am.
It can be recalled in May a ship was found abandoned along the Atlantic Ocean in Grand Cape Mount County.
The abandoned ship which raised fear was later claimed by some Nigerians with the Liberian government yet to provide further information on how the ship was left along the ocean, who took it there and other details.
Liberian security agencies continue to complain of lack of support. Police Director Chris Massaquoi has said the police needs full support through budgetary allocations to help the force perform in the absence of UNMIL.