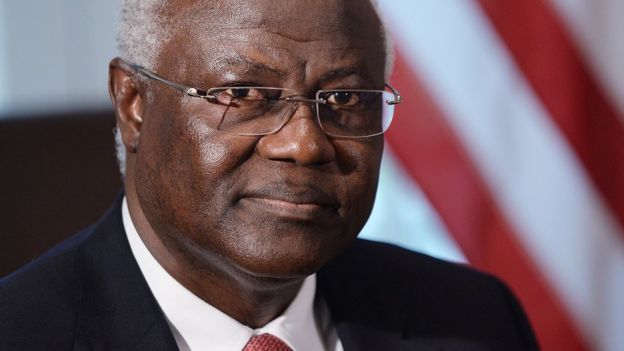 By Awareness Times Newspaper​
Few days ago at the start of this month of February 2019, three senior staff of the Sierra Leone Commercial Bank (SLCB) abruptly tendered their resignations from the Bank. The Head of Information Management (ICT), the Head of Human Resource Management and most shocking of all, the Company Secretary and Legal Adviser, Abdul Rahman Bangura Esq. Speaking to this newspaper without asking to be identified for now, staff of the SLCB said the three bankers are resigning because "they did not want to be a party to certain unscrupulous steps including one which SLPP politicians want the bank to engage on as a horrible plot to embarrass the former President of Sierra Leone Dr. Ernest Bai Koroma".​
​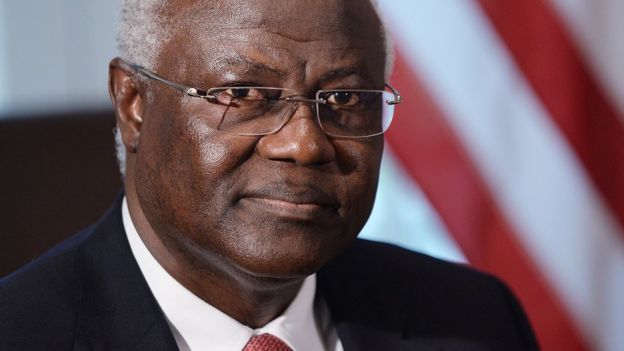 Indeed, the plot unfolded Wednesday February 13th 2019 at the Justice Biobele Georgewill Commission of Inquiry (COI) when the public was told by one Mr. Moses of the SLCB that the former President Dr. Ernest Bai Koroma, owed the sum of over 850 million leones (equivalent of one hundred thousand United States Dollars) to the bank as an "unpaid loan" or, as is was described all over social media, as a "bad debt".​
​
This newspaper set out to investigate the actual facts around the shocking news of Koroma allegedly refusing to pay a bank debt. We have found out that nothing could be further from the truth. Instead, our findings indicate a deep plot stage-managed at some of the highest levels to embarrass the former President. Wednesday's developments in front of Justice Biobele Georgewill was plotted, planned and executed with high level of connivance by senior functionaries of the State.​
​
The truth is that ever since the GTT Report was released in July last year, the former President had been embarrassed to learn that SLCB bankers were told to "freeze" that his personal checking account and block him from accessing or paying any money in or withdrawing anything from that bank account which is a personal account he has owned at the SLCB for over 30 years now since he was a very young man in his thirties.​
​
The truth is that the said account is an account that was opened by the former President over thirty years ago and we are informed most credibly that it is one of only two bank accounts he owns. It is an account which has enjoyed varying amounts of overdraft facilities for at least 30 years and records as explained to us by SLCB bankers, will show that when he became President, it indeed remained to be his personal account from where he operated all his personal financial activities with regular in and out flows of cash. It is a personal checking account with overdraft facility of up to one billion leones that was always replenished regularly.​
​
"Applying overdraft facilities to that checking account of Ernest Koroma is nothing new. Since from even before the year 2007 at a time he was Sierra Leone Opposition Leader, our Bank used to apply overdraft facilities to that particular bank account of Ernest Bai Koroma based on his creditworthiness as an Insurance and Business Financial executive," said one of the senior staff of SLCB who is extremely disturbed at what unfolded to the extent the person says as soon as another job opportunity comes up, the person is planning to ditch the SLCB job as well.​
​
Continuing, our source said when Koroma became President, he continued to enjoy the same overdraft facilities and it reached a limit of one billion leones which would be quickly replenished.​
​
"They presented it as if it is Koroma who has a bad debt when the truth is that after GTT Report was published, Sierra Leone Commercial Bank was ordered by President Bio Government to immediately stop Former President Koroma from accessing his bank account at our Bank. On receiving those directives, we informed Koroma that SLCB has been ordered to freeze his accounts and he cannot do anything with the accounts until the Government gave directives for the account to be unfrozen," our source said adding that many other former APC ministers also have had their bank accounts frozen.​
​
Our source said that even after he was no longer President, between April 4th 2018 until early August 2018, the former President was continuing to enjoy the one billion leones overdraft facility and was freely signing cheques from that checking account which were honoured as the Bank knew he replenished the account regularly.​
​
"It was by July, August 2018 that we received directives not to allow Ernest Koroma access to do anything with that account so the account was frozen on the directives of the State. Since the account was frozen, no money was allowed to be paid into it so how could Ernest Koroma replenish what had been withdrawn? See the plot? See the bad games that made my colleagues decide to just leave this bank?" our source lamented.​
​
Awareness Times Newspaper contacted the former President at his residence in Makeni that same evening to cross check the matter with him. He declined to comment much on it other than to confirm that he is indeed an SLCB customer with that checking bank account for over thirty years and that indeed in July last year, he was informed by Sierra Leone Commercial Bank that he has been blocked from doing anything with the account based on a directive from President Bio's government.​
​
The former president also expressed "deep surprise" to this newspaper over what unfolded at the Commission of Inquiry concerning a bank account that had been made completely inaccessible to him after being frozen by the current Government. He confirmed that nobody wrote to him from either the Bank or the Commission of Inquiry to notify him that such a matter was going to be discussed.​
​
Although he declined to speak further, one of his personal assistants later told this paper that the Former President has been subjected to most malevolent embarrassments possible at the hands of President Bio's Government. The assistant said the latest plot to freeze the bank account and then present the frozen and inaccessible bank account as being an "unpaid debt" is just one of a litany of long humiliations that the former president has suffered at the hands of this regime. ​
Our source said Former President Koroma is no longer allowed to use the presidential wing of the Lungi International Airport whilst other countries' ex-presidents and former prime ministers use the presidential wing of the airport when they transit or visit. ​
​
We are informed that one time when the Former President was travelling out of the country, he was told to walk on his feet from the Terminal Building to the plane rather than for the protocol courtesy VIP vehicle to drive him to the plane.​
​
Asked why he never raised a public alarm over the freezing of his bank account since July last year, Koroma's assistant softly told Awareness Times that Koroma was not a person to make loud public protestations on such matters as he did not want to unsettle the national polity by publicly protesting over personal ill-treatments he suffered.​
​
"He has a lot of followers. He does not want them unsettled so he prefers to keep quiet," Koroma's assistant said.​
​
Meanwhile, Sierra Leoneans on social media and public discussions places were last evening pondering over the claims of "racketeering" that Ernest Koroma has been accused of.​
​
"If Koroma was really a thieving racketeer, when he needed funds, he would just have been plotting to be collecting government funds. But what we now see is that Ernest Koroma was a honest man who instead took out overdraft on his personal bank accounts than steal from government. This Government should not think citizens can't see things," said Mammie Yeabu Kamara of Congo Market.​
​
Many persons close to the former president say he is a very patient and humble man who prefers to remain silent than voice out humiliations he has endured at hands of Bio's regime.​
​
"For them to stage-manage freezing of his bank account, refuse to give him access to replenish the account with funds and then present the frozen account as if it is a loan he took, is heartbreaking to us his family," said a relative of Koroma on Wednesday night.​
​
© *Awareness Times Newspaper*​
Thursday February 14th 2019