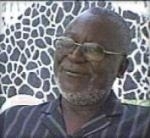 By Chernor Ojuku Sesay
Cocorioko Correspondent in Freetown
Friday January 27, 2006
Chief Hinga Norman, the former SLPP Deputy Defence Minister, Internal Affairs Minister, National Coodinator of the Civil Defence Forces and now an Indictee of the Special Court for crimes against humanity continued his self defence which he started last Tuesday at the Special Court in Freetown.
Chief Norman informed the court on Wednesday that after the overthrow of President Tejan Kabbah on 25th May 1997, the entire SLPP government including himself went into exile in Conakry, Guinea.
He explained that when he realised that President Kabbah was residing at Bellevieu in Conakry, he attempted to see him on seven consecutive days but was not permitted to see him. He said he therefore decided not to see him again.
A day later, according to Norman, he received a telephone call from  someone whom he later identified as President Kabbah who told him (Norman) that there is only one Captain to a ship and that he (President Kabbah) was that Captain. Chief Norman said in response, he told the President that "if I'm aboard a ship that is about to sink and I have one or two things to do, I will do all I could to help it not to sink".
Norman said two days later he was reached at his Novotel hotel by four foreign diplomats who were in Sierra Leone at the time of the coup namely; Ambassador John Hirsch of the American Embassy, Peter Penfold, the British High Commissioner, Berhanu Dinka, the UNDP Resident Representative and Chief Alhaji Abubakarr, the Nigerian High Commissioner.
Their mission, according to Chief Norman was to broker reconciliation between him and President Tejan Kabbah which was not cordial at the time.
Norman said during the meeting with the four diplomats, Chief Alhaji Abubakarr told him that their countries were ready to assist Sierra Leone from sinking further but that assistance would depend largely on the combined efforts of all including himself and President Kabbah.
Norman further disclosed that he was further reassured that the former Nigerian Head of State, Gen. Sani Abcha was prepared to convince other ECOWAS Heads of State to assist Sierra Leone and have the government re-instated .Norman then said that it was then that President Kabbah directed that  they would need the hunters of the country to help in that respect with the assurance that arrangements had already been made for Norman to be flown to Liberia to meet with some ECOMOG military officers.
Chief Norman said after the reconciliation between him and President Kabbah, he was later appointed as the National Coordinator of the Civil Defence Forces (CDF) comprising of all the local militia fighters in the country with President Tejan Kabbah as the Chairman of the War Council which also comprises of other notables like Dr. Prince Harding, Momodu Koroma, Momoh Pujeh, Ho. Ansu Kaikai, late R.E.S.Largao, Thorlu Bangura and T.K. Vandy.
Norman said he was sent to Liberian on the 17th of June where he met the then ECOMOG Commander, Gen. Victor Malu and the other day they held a meeting alongside other Kamajor Commanders.
He added that ECOMOG promised to support the Kamajors with food, medicines, arms and ammunition and cash. He added that he was constantly in communication with President Kabbah reporting to him every moment on the progress since the President was the Defence Minister and Commander-in-chief and therefore his immediate boss.
Hinga Norman further testified that following verbal reports he made to President Kabbah, the hunters of Sierra Leone were supplied between 500 to 5, 000 pieces of short guns and cartridges as well as oil, rice and dollars . Norman contined his explosive testimony by revealing that Mr. James Jonah, who was then Minister of Finance, sent him a satellite communication set which was delivered by Mr. Momoh Pujeh.
Hinga Norman said he was sent the equipment after he moved to the BASE ZERO Camp of the Kamajors in Sierra Leone following threats by Liberia's then President Charles Taylor that if he did not stop moving  into his country to and from Guinea , he will have him arrested.