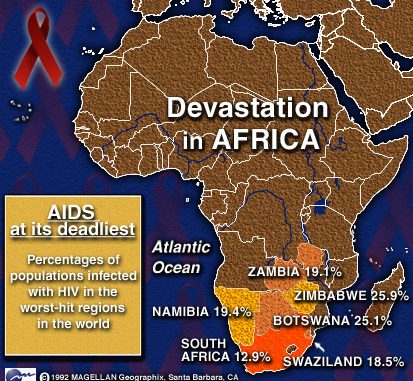 Press release
22 October 2014
Media contact: Kate van Niekerk | Tel: 082 855 9443 / 011 268 0479 | E-mail: kate.van.niekerk@gga.org
HIV/AIDS, diarrhoeal disease and malaria deadlier than Ebola
While recent fears about the spread of the Ebola virus in west Africa have gripped the world,
more people died of HIV/AIDS in Africa in 2012 than any other cause of death, according to the
2014 Africa Survey to be released October 28th in Johannesburg.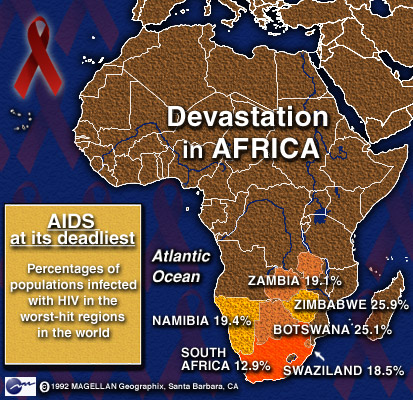 Good Governance Africa (GGA) publishes the Africa Survey, a comprehensive annual collection
of social, political and economic indicators for the continent's 55 countries compiled from a
wide range of sources.
Ebola has killed over 4,500 people, mainly in west Africa. In contrast, almost 1.2m Africans died
as a result of HIV/AIDS in 2012, according to the latest World Bank figures. In Nigeria and South
Africa, HIV/AIDS killed 480,000, or 30% of the world total.
Among Africa's other deadliest diseases, almost 320,000 children under five died of diarrhoeal
disease in 2012, over half the global number.
In addition, there were 102,788 reported malaria deaths in Africa, although the World Health
Organisation estimates that this figure could exceed 550,000.
Despite the huge number of deaths, the situation is improving, in many cases substantially. In
sub-Saharan Africa, 35% more people with advanced HIV infection received antiretroviral
treatment in 2012 than in 2009. Malaria deaths decreased in most African countries between
2010 and 2012 – by 97% in both the Republic of Congo and Kenya, for example.
"Increasing immunisation and fewer deaths from these diseases give hope," said Kate van
Niekerk, a GGA researcher. "However, these illnesses continue to kill millions because of poor
healthcare systems – which gives cause to the alarm about Ebola's rapid spread."
Join GGA at the formal release of the 2014 Africa Survey:
October 28th, 5.30pm for 6.00pm at GIBS, 26 Melville Road in Illovo. RSVP to allyf@gibs.co.za
Good Governance Africa is a research organisation that promotes better government management.
Its main publications are the Africa Survey and Africa in Fact, a journal that tracks government performance and proposes solutions.
Good Governance Africa | 4 Biermann Avenue| Rosebank (JHB) 2196 | South Africa
Telephone: +27 (11) 268 0479 | Fax: +27 (11) 268 0478 | www.gga.org | info@gga.org