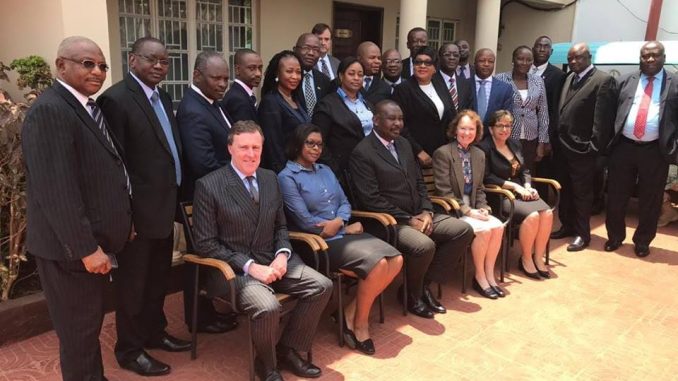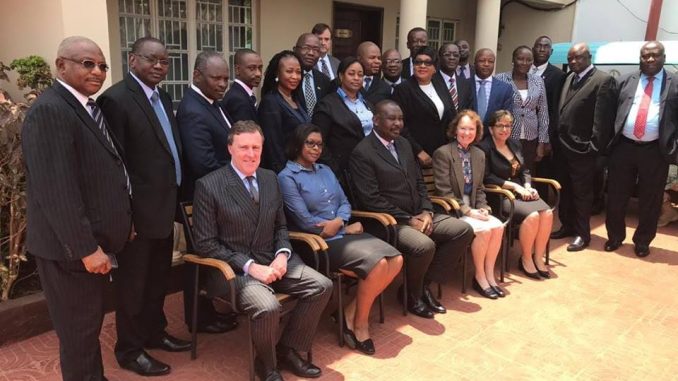 *Hon. Chief Justice Edwards Empowers Judges with Advanced Training*
The Judiciary of Sierra Leone through the Judicial and Legal Training Institute (JLTI) in collaboration with UK / Sierra Leone Pro Bono Network and the Judicial Institute for Africa (JIFA) with support from ROLE UK, on 25th March 2019, conducted one day advanced refresher course for experienced Judges of the Judiciary of Sierra Leone at the INTEGEMS Centre, Technical Drive.
Addressing Judges and team from the United Kingdom including faculty members, the Hon. Chief Justice of the Republic of Sierra Leone Hon. Justice Desmond Babatunda Edwards said, the training was part of his commitment to the people of Sierra Leone that his leadership will build a Judiciary that will ensure that cases are tried expeditiously and judgments delivered on time.

The Hon Chief Justice maintained, the content of the training was rich enough to address some of the key challenges judges have been facing more especially when it comes to case management, advanced judgement writing tools, bail and sentencing etc.

Handling the topic "Judicial Ethics and Independence in Practices", former Special Court of Sierra Leone Judge, Hon. Justice Teresa Doherty said, the role of the court is to uphold the laws as stated in national and international legal documents and to ensure that people's rights are protected. Citing Lord Woof, 2011, Hon. Justice Doherty said, the existence of a proper functioning democracy and a flourishing economy is dependent upon the existence of an effective and efficient independent and impartial legal system that upholds the rights of the individual citizen.

On Advanced Case Management, Simeon Mallett said, active and advanced case management includes: encouraging the parties to co-operate with each other in the conduct of the proceedings, identifying issues at an early stage, encouraging parties to use alternative dispute resolution procedure if the court considers that appropriate and facilitating the use of such procedure, deciding promptly which issues need full investigation and trial and accordingly disposing summarily of the others and also fixing timetable or otherwise controlling the progress of the case etc.

Other topics like Bail and Sentencing best practice and Advanced Judgement Writing Tools were handled by HHU Carr, Judicial Role in Arbitration, by Andrew Cannon and Hannah Ambrose of Herbert Smith Freehills.
*Judges and Trainers Posed with the Hon. Chief Justice Edwards*