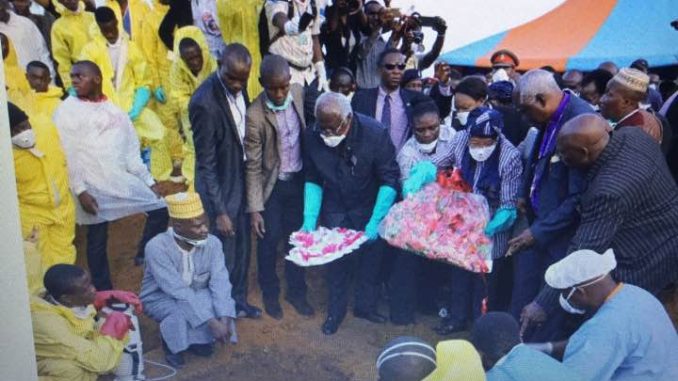 By KABS KANU :
GRIEF and sorrow lay thick on Freetown, the Sierra Leone capital, yesterday  as hundreds of people killed in Monday's deadly landslide were laid to rest in mass graves at Waterloo, near the stricken coastal city.
Visiting Liberian President, Mrs. Ellen Johnson-Sirleaf, joined a visibly moved and sad President Ernest Koroma and hundreds of mourners to take part in the multi-faith funeral service and burial.
The government provided buses and vans for families to attend the burial.
President Koroma was seen with teary eyes as he led the nation to bury her head .
HERE IS A STATEMENT DELIVERED BY THE PRESIDENT AT THE FUNERAL ( STATE HOUSE COMMUNICATIONS UNIT PROVIDED IT ) :
"My fellow compatriots, we have come here together in grief to pay our last respects to our loved ones, our neighbours, our friends and to our colleagues. We have come to comfort and to reassure the bereaved families that they are not alone in this difficult moment. We have come together to share the agony inflicted upon our nation by those pitiless floods and ferocious mudslides. "

"This is another painful episode in our nation's history; hundreds of our unsuspecting compatriots were swept away from their sleep onto untimely deaths. They all had their plans for the next day; they had their hopes and aspirations for a bright future like the six innocent children who went to study in the home of one of their brightest colleagues; like the young man who was due to get married tomorrow; like the husband who had worked so hard to get his family a new home and had just moved them in. These heart breaking accounts and many more are as painful as they can get and have badly shaken our beloved nation."
"We will bury our loved ones but we will not bury our hopes. We will not bury our resolve because we believe our Lord God is on our side and will give us the strength to accept this loss. And like the resilient people we always are, we will rise above this tragedy and begin once again the process of moving our great nation forward."
Meanwhile, the search continues for hundreds more of the victims killed by floods and landslides that wracked the hilly settlements around the capital on Monday morning. So far, about 400 bodies had been recovered .