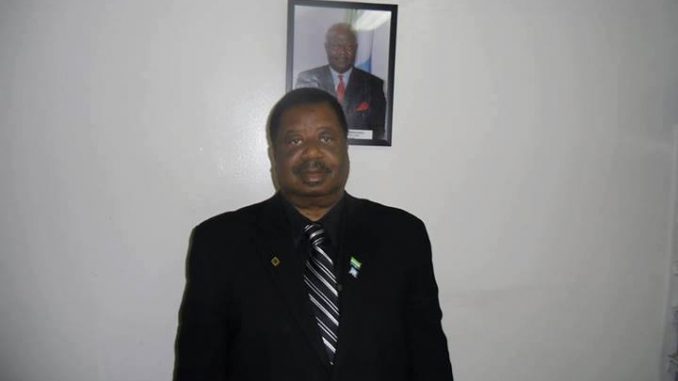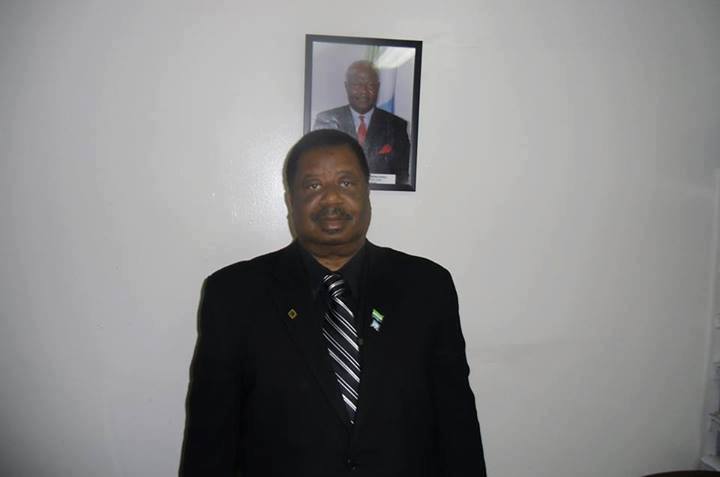 By KABS KANU :
It was a fortnight to remember. First,on Wednesday February 26, 2014 I underwent a critical heart surgery at the RobertWood Johnson University Hospital in New Brunswick, New Jersey.  I cruised closer to the portals of death because  after posting a status update on Facebook, I had a sleepless night of chest pains and shortness of breath  and,  as I found out later , it was a delicate surgery and many things could have gone wrong  but God helped me by making the surgery successful .I want to thank the Almighty for his goodness.  On the eve of the surgery, my boss , President Ernest Bai Koroma, a very caring man indeed, had called me to assure me that everything would go on well. My President helped to strengthen my faith in God and I was very delighted about it . As I said earlier, God truly intervened and the surgery went on successfully.
A day after the surgery, I made this status update to my numerous friends, well-wishers, Cocorioko fans, media and diplomatic colleagues on  Facebook  .I did not want them to get the wrong report from another source . This was the status report :
Praise be the name of The Lord. I have successfully undergone a heart procedure and I am recuperating at the hospital. I thank God for helping me go through it successfully. My faith was tested because the Devil brought fear,  considering  all that had happened in New Jersey during the past two years with deaths upon deaths  but I knew my God will be with me. God is so good. His goodness endureth forever. I thank my beloved wife, Tigi and my children , especially my ever- present daughter for being with me to support and strengthen me before and after the operation .  Thanks too  to my father and mother-in-law for their own support.
I also want to take this opportunity to specially thank my big Boss , President Ernest Koroma , the greatest boss that God can give anybody  and my mentor Ambassador Bockarie Stevens , Transport Minister Logus Koroma , Defence Minister Parloh Conteh, Ambassadors Osman Keh Kamara  and Amadu Koroma ,  the HOC at the Mission , Alusine Sesay and Madam Zainab Bangura , the Special Representative of the UN Secreatary General on Sexual violence in Conflicts , Mr. Pavi Jalloh , the APC -New Jersey President and his Deputy , Professor Abdul Rahman Kamara  for their measureless support and words of faith and assurances that all will be well. I add a special THANK YOU  for my church members at Covenant Child World Ministries . my brothers , Tobangay Max-Kanu of Atlanta, Georgia ; Francis John Kanu of Banjul, Gambia and Allie Kanu of Bo also did well to boost my faith. Francis and Allie kept calling every now and again to find out how I was doing. My nephew, Emmanuel Lahai of Bo , Foday Mansaray , Joseph Kamanda ,  Bankole Gibson and Nannette Thomas of Freetown also checked on me regularly.  Pavi Jalloh, Mr. Abdul Rahman Kamara, Mr. Kalawa, Thoronka , Dr. Abdul Rahman Kamara, Mrs. Khadi Bangura , Mrs. Princess Dumbuya,  Mr. Alex Fallah, Ms. Maggie Lawrence, Ms. Nenneh Bah, Ms. Fasia Ngobeh, Ms. Facia Kamara, and Alimamy Turay of New Jersey, and Mrs. Iris Macarthy of New York , thanks for your calls.Special thanks to the Queen, Abie Bangali-Mansaray , Rosetta Zizer as well as Rev. Kemoh Sulimani for providing comfort.
APC -Boston members, Abdul Sesay and brother Alhaji Ibrahim Sei , thanks also for your calls.
I did not want to mention names because there is the problem of always leaving out names . Sorry if your name was not mentioned . If I omitted your name, forgive me. I will mention it in my next release.
Thanks to you all my Facebook family, fellow employees, church members, my colleague APC Members in the U.S  and beyond , media colleagues and friends and well-wishers for your moral support . I will write whole night if I decide to mention you all by name . It is not humanly possible . But your words of faith and encouragement are well appreciated.
My battery is dying so I will stop here for now.
The goodness of God can never be measured in words
_____________________________________
My post caused an outburst and outpouring of get-well wishes and prayers on FACEBOOK and the APC Forums. Such was the outpouring of sympathy and best wishes that I was truly overwhelmed .
H.E, YOUR SUPPORT HIGHLY APPRECIATED
__________________________________
On the third day of my admission at the hospital, I made this status update :
A VISIT FROM STATE HOUSE –Ajibu Jalloh in the house :
One person who provided solid support to me since I was admitted at this hospital  is President Ernest Koroma. Not surprisingly, President Koroma has proved once more that he is not only a Head of State or the BIg Boss. He is a father, brother and uncle to his people. Not only does he take care of our nation, but in a remarkably caring fashion, he takes care of his people,  whether APC, SLPP, PMDC Or what have you. My President, my boss and my brother has been in touch with me personally and through the People's Ambassador, Mr. Bockarie Stevens,  who is also a very caring person.  State House has been with me .
And today, State House descended on me at the hospital in the form of an affable and smiling personality –the Special Assistant to President Koroma, Mr. Ajibu Tejan- Jalloh . I just saw the smiling young man standing over me . I thought it was a dream, but Ajibu was in the house !!!
Here are some of the pics I took with Ajibu.
MR. AJIBU JALLOH FROM STATE HOUSE 
IN THIS SECOND PICTURE, THERE IS ASSOCIATE PASTOR GIBRILLA DUMBUYA AT THE BACK. HE ALSO DID VERY WELL WITH HIS CALLS AND VISITS.
Sorry it was not possible to take pics with all those who have visited me so far. Most of them arrived when it was not feasible for photos. However, I want to thank all of them for their visits, words of comfort and concern. These include the President of the APC New Jersey Chapter, Mr. Pavi Jalloh. The APC in America has been calling . Thanks to them too .
_______________________________________________________
THEN, AFTER MY DISCHARGE FROM HOSPITAL, I WROTE THIS :
THANKS TO YOU ALL FOR YOUR MORAL SUPPORT
This is to thank you all , my valued Facebook family , for your unbelievable outpouring of moral support to me after I underwent a heart surgery at the Robertwood Johnson University Hospital last Wednesday. I am now home to continue my recuperation and do more follow-up treatment. In America, patients of such surgeries are also encouraged to exercise , and not spend all their time in bed to avoid developing blood clots that may be fatal.
One of you, Mr. Mohamed S. Mansaray , in wishing me speedy recovery, made this poignant statement , which is indeed true to the core : "In good health, everybody seems to be your friend, but only in sickness and/adversity that you will know your real friends. " Nothing is as truthful as this statement. You have proved to be real brothers, sisters, friends and well-wishers during my indisposition . I felt loved and I am very appreciative.
Some people often wonder why we bring our joys, triumphs, dreams and setbacks to FB. In case , they do not know, FB is an extension of our extended family system. It is wonderful to share with people that love you . We may have our varied socio-political and religious views ,but it is events like this that remind us that we are one family.
It is not possible to thank you all by name. Then I will have to write a book. I however want you to know that I appreciate your soothing words of comfort, inboxes, e-mails and phone calls.
The Devil wanted to take me away before the magnificent milestone in my life this week —My 60th birthday on Friday March 7–but his plans failed
Once again, thanks to you all. Please continue to pray for me for my full recuperation.
After several more days , I was discharged from the hospital to return home to recuperate. It was a return not only to recuperation process  but to a big event : My birthday on Friday March 7.
For the benefit of all my fans, friends and well-wishers who might be curious ,  I gave the following update .Also, Facebook was already seething with birthday greetings for me. So I wrote this :
Sixty years ago , a bouncing baby boy was born in Freetown, Sierra Leone to a proud husband and wife –Mr. Togbangay Lamina Kanu and Mrs. Yabu Kanu -of No. 13 Pratt Lane, Freetown, Sierra Leone.
The day is still young here ;it is only 11: 50 am and I am already totally overwhelmed by your outpouring of birthday greetings and support. My inbox has been thudding all night as the birthday greetings kept coming in, some with colorful photos of flowers, birthday cakes and other images.
Last week, it was profuse expression of sympathy  from you after my surgery . Yesterday and today, it is birthday greetings and I am totally overwhelmed .
I am thankful to God because he has been good to me throughout my life. My whole life is a miracle and I can't thank God enough for his kindness to me. He has always intervened meaningfully in my life and moved me to another level once things start getting unfavourable in one level. God has steadfastly shielded me from adversity and defeat by my enemies. People have fought me throughout my life but God has always helped me to prevail over them. God has always directed my steps and through his grace I have avoided the fateful mistakes others of my age group have made. I have also enjoyed the goodness of good people of this earth and may God bless them. Without some good members of my family and other good people I would not have been what I am today. I am very grateful to all of them.
Only last week, I was in the hospital fighting for my life after a delicate heart surgery. I did not know that I would have survived and reached this landmark age today , but God was so good he delivered me. Though recuperating at home and waiting for the operation wounds to heal, I thank God that he has made me see this day. And your outpouring of birthday greetings and wishes have truly made my day. I am also grateful to all of you.
God has indeed been very good to me. One of my greatest achievements in life is being a member of the government of the best Head of State in Sierra Leone since Independence , Dr. Ernest Bai Koroma. Imagine the glorious things I will be recounting in my memoirs when I start writing it.
Let me take this opportunity to thank all of you busy sending me birthday greetings. I have had a sleepless night because I have stayed up late to continue acknowledging your birthday greetings . This is how much I value your birthday wishes. I will write a more elaborate THANK YOU later.
Then my wife's birthday followed on Saturday March 8, 2014. I made this update :
HAPPY BIRTHDAY TO MY BELOVED WIFE
Tigidankay Kabs-Kanu, the Director of Nursing and Pastor at Somerset, New Jersey, is celebrating her birthday today, a day after mine yesterday.
I hope you will all join me in wishing my beloved wife a very happy birthday and every good thing she wishes for herself.
Her birthday falls on a very important day, the International Women's Day , a testament perhaps to the commendable manner she has worked very hard to empower girls and women in her profession and calling.
May God bless you and give you grace and favor with Himself and with his creation, in Jesus' mighty name. Thank you for all the stress and "Yagba" during my difficult heart procedure last week. May your days be long , according to His Will.
This photo was taken during a Caribbean cruise .
Me and the madam on arrival at the Caribbean Island of Aruba during our vacation two years ago. 
Aruba is a very beautiful and picturesque country and it is Dutch. It is an island of stunning beaches, rolling hills, a cactus-strewn landscape and African – like resorts .
______________________
Again followed another round of a flurry of birthday wishes.
The impression this has left me with is that I have droves of people who love me and I need to celebrate that and not bother at all about those who do not love me. The volume of support I have received was truly overwhelming and I did not know that people loved me this much.
It was quite a week to remember and another thing I got from it was how much God loves me and cares for me. I can never thank God enough for his continued goodness to me.
DURING MY PERIOD OF INDISPOSITION ,  AMBASSADOR STEVENS , UDM LEADER AND PRESIDENTIAL SPOKESMAN VISITED  ME AT HOME TO SYMPATHIZE WITH ME 
Sierra Leone's Ambassador to the United States, HIs Excellency Bockarie Kortu Stevens , the Leader of the opposition United Democratic Movement Mohamed Bangura and the International Media Outreach Coordinator, Abdulai Bayraytay today visited me at home in Somerset, New Jersey to sympathize with me for the heart surgery a week ago. I am seen here standing with the Ambassador while on the left is Mr. Bangura and on the right Mr. Bayraytay.
 Meeting MR. Bayraytay for the first time . I have worked amicably with the Sierra Leone Government International Media Coordinator and Spokesman Mr. Abdulai Bayraytay for years . We finally met for the first time today when he and Ambassador Stevens and UDM Leader Mohamed Bangura paid me a visit at home today to sympathize with me for my recent heart surgery. Here am I shaking hands with MR. Bayraytay.
Mr. Abdulai Bayraytay , Government spokesman, and opposition UDM Leader Mohamed Bangura at home with me today to sympathize with me for my recent heart surgery
I am seen here , second from right, with Government Media Coordinator Abdulai Bayraytay -right- and Ambassador Bockarie Stevens and UDM Leader Mohamed Bangura -far left- who came to visit me today to sympathize with me for recent heart surgery.
ALSO, EARLIER , THE TWO DPRS AND THE HOC OF THE PERMANENT MISSION OF SIERRA LEONE TO THE UN VISITED ME 
FROM LEFT THE DEPUTY PERMANENT REPRESENTATIVE (POLITICAL) AMBASSADOR AMADU KOROMA , THE HEAD OF CHANCERY MR. ALHUSINE SESAY AND THE PERMANENT REPRESENTATIVE ( LEGAL) AMBASSADOR OSMAN KEH KAMARA WHEN THEY VISITED ME AT HOME. 
THANKS TO YOU ALL FOR YOUR SUPPORT .
I WILL POST THE MESSAGES FROM FACEBOOK AND THE APC FORUMS IN ANOTHER RELEASE.