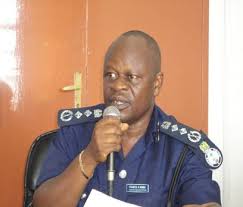 SLP Communications Unit :
The Inspector General of Police Francis Alieu Munu and the Chief of Defence Staff, Major General S. O. Williams on Friday 15th August 2014 visited police and military Ebola deployments in Bo and Kenema on a fact finding mission and to boost the morale of personnel on the ground. In Bo, the Inspector General and entourage were received by the Regional Police Commander South, Assistant Inspector General David Sesay, who briefed them about the state of preparedness of police personnel and other security actors deployed in strategic locations to contain the Ebola outbreak. AIG David Sesay said eleven areas suspected to have inhabitants who have been infected with the deadly Ebola virus had been quarantined in the Southern region, so as to control the movement of people and prevent the spread of the killer virus to unaffected areas.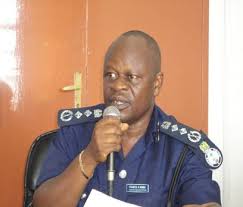 INSPECTOR GENERAL MUNU
In his statement, the Brigade Commander, South said that both the police and the military had been working in synergy by manning checkpoints and providing quarantine services. He intimated that the two main security actors would be erecting a checkpoint in Jembe, the boundary between Bo and Kenema as they had been getting intelligence that people are by-passing the main checkpoint erected in Bandama, thereby spreading the virus to people in other areas.
In a rather no nonsense mood, the Chief of Defence Staff, Major General S.O. Williams informed personnel about the seriousness of the Ebola epidemic and the dire need to seal off Kailahun and Kenema from the rest of the country so that the deadly virus would not spread to across the country. The military boss emphasised that the people of Sierra Leone rely on the security sector to step up the necessary security measures geared towards tackling the epidemic and cautioned personnel not to betray the confidence and trust which the people have reposed on them, noting that they should be vigilant, professional and ethical in the exercise of their duties. Major General S.O. Williams also addressed the military Brigade Command in Bo and Kenema.
The Inspector General of police Francis Alieu Munu in his address to police personnel said that the role of the police in the fight against the deadly Ebola outbreak is crucial as the disease is very serious and has the tendency to wipeout an entire generation. The police boss said that the disease is spread through body contact and everything should be done to contain it, as the mortality rate is very high.